Over the years, we've accumulated many of our children's crafts, as well as made it a family tradition to get each family member a commemorative ornament for that year. For example, it's my son's first year in band? His ornament is a musical note this year.
On top of what the children make at school with their school pictures and teachers, or pine cones from our yard we sprinkled glittery on, clothespin and Popsicle-stick reindeer, coffee-filter angels, whether they are crafts made with grandma or with us at home, we've collected quite an eclectic collection of homemade ornaments for our tree, that each year spent putting them on our tree makes me happier than the last. We relive each year, each memory, as we place these cherished ornaments on our tree.
"Look! It's your baby picture!"
"Look! This is your ornament from that vacation three years ago!"
"Look at how much you've changed from kindergarten to now!"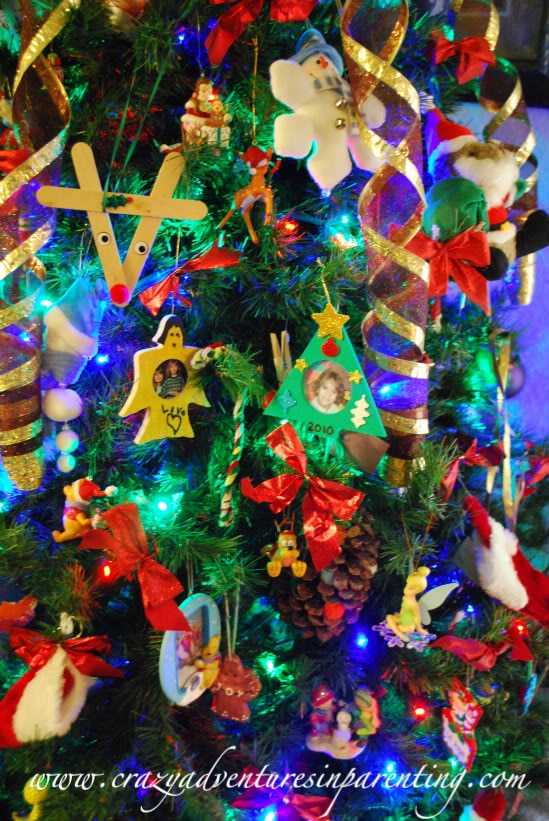 Our tree twinkles differently with these homemade ornaments on them, and not because we now have LED lights on it, but because the tree, I feel, is as proud of the memories that sit upon its branches as we are in putting them on it.
I recall first buying my very own Christmas tree. When you first start out and are single, there are no children, no crafts, no memories made just yet. It's store-bought balls and matchy-matchy decorative ornaments and a tree that resembles a department store's display, too new and shiny and with no individuality.
There is nothing store-display-esque about ours today. It is magnificently hand-crafted with all of our family's adventures, one-hundred and fifty percent us, topped with a bow on top to represent the present this tree, our memories, and this holiday is to us. A gift in it's own right.
And other than having to constantly watch my youngest like a hawk to ensure they all remain on the tree unscathed? I wouldn't have it any other way.
Never miss a thing! Subscribe today for all kinds of crazy parenting fun!