Did I just say "Spinach Artichoke Dip Lasagna?"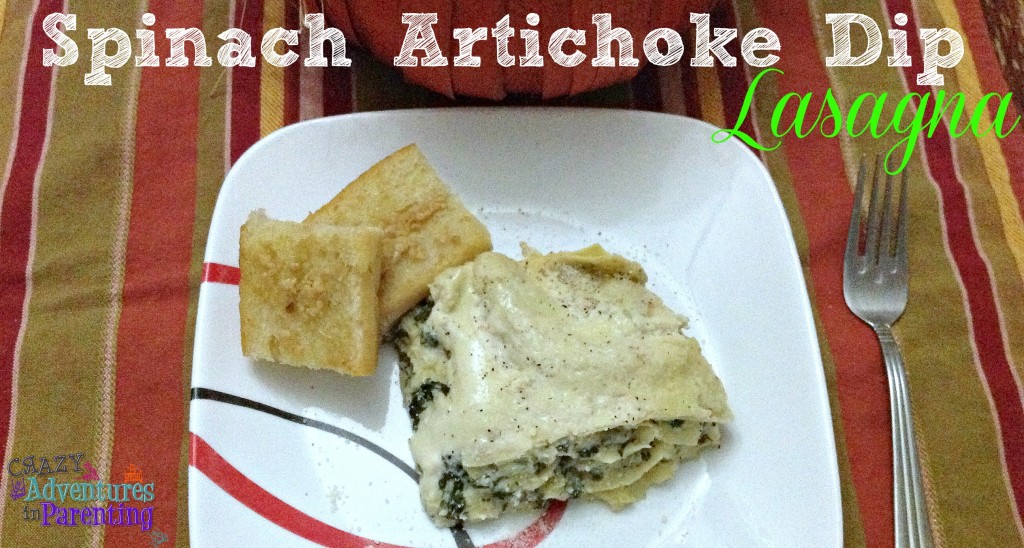 Crock Pot Spinach Artichoke Dip Lasagna
YES! YESYESYES!
Ohhhhhhh friends. Hold on tight, because this is going to be one crazy ride.
Spinach and artichoke dip in lasagna, mixed together with some ricotta cheese and mozzerella and OHMYDANG it's onnnn!
Even better is that it's cooked in the slow cooker or crock pot. Let's do this!
I don't think I can begin to put into words the deliciousness of this dish. There were certainly a lot of mumbled jubilations coming from the overstuffed mouths of my family as they tore through that four-layer lasagna like it was going out of style.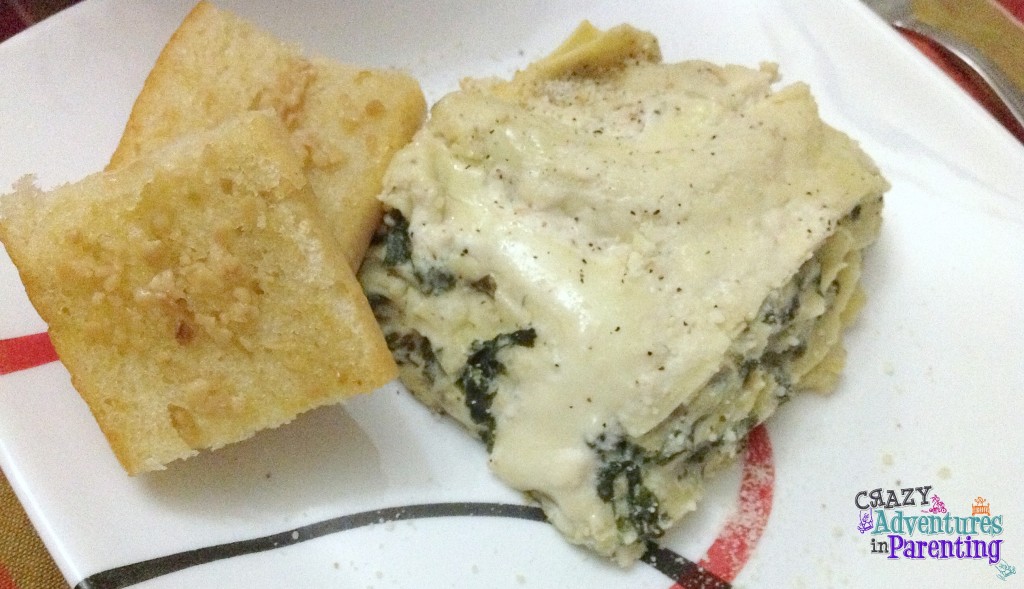 My husband gave me the thumbs up with his cheeks like a chipmunk, and later called it the "best lasagna he's ever eaten." I'd call that a win, wouldn't you?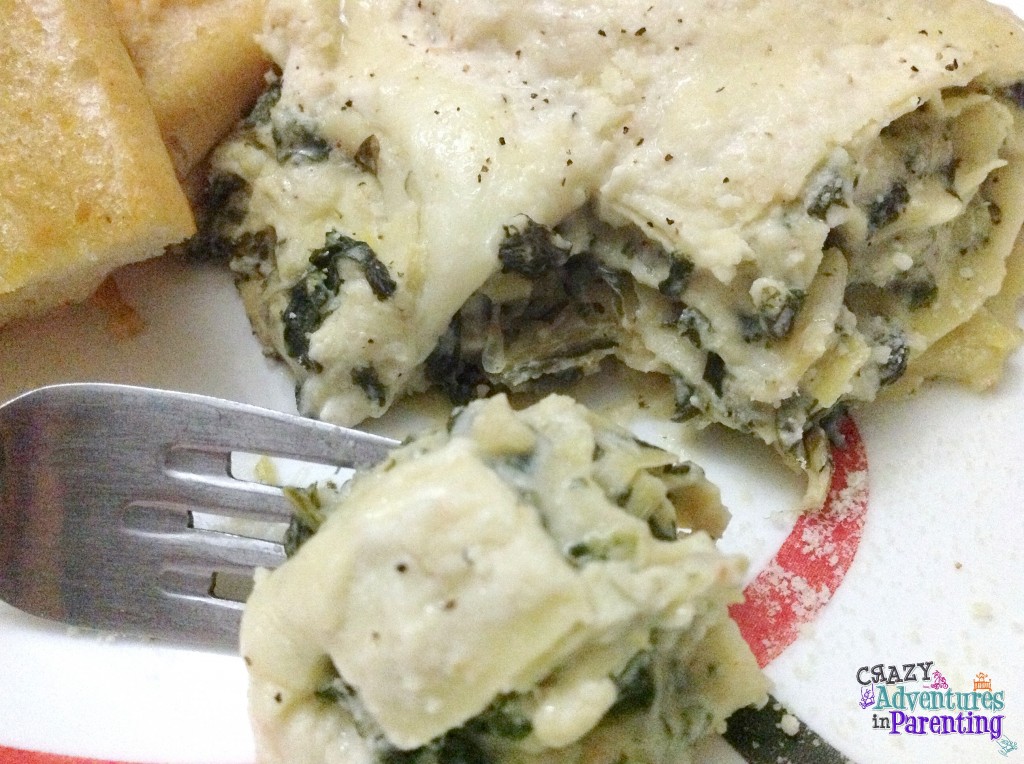 Here's a related tip for you – have you ever purchased italian or french bread from the store, and it became too hard to use before you even had a chance to use it?
If you still want to use it as garlic bread, cut it half, length-wise, slather it with plenty of butter and some minced garlic, and freeze it. When it comes time to use it for a recipe (like this spinach artichoke dip lasagna), place it into a casserole dish that you can cover with foil and bake for ten-or-so minutes. Steaming it in the casserole dish in the oven, coupled with butter, brings it back to life. It was DELICIOUS!
If you don't want to use it as garlic bread, you can cut it up into one-inch bite-sized pieces, place it into a gallon bag drizzled in olive oil and seasoning, and bake it in the oven for homemade croutons! And should you not use all the croutons, pulse it in a food processor for some homemade breadcrumbs, too!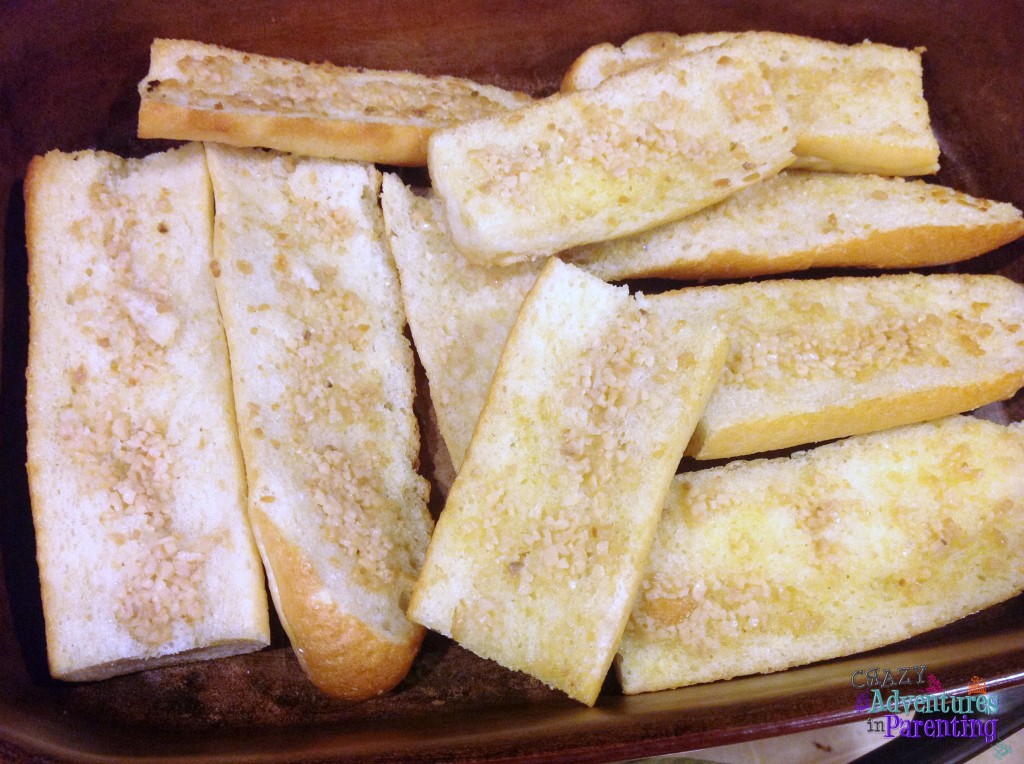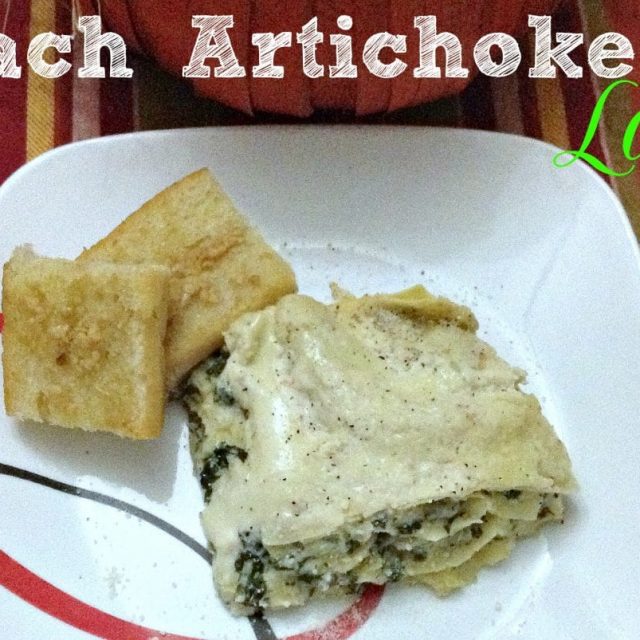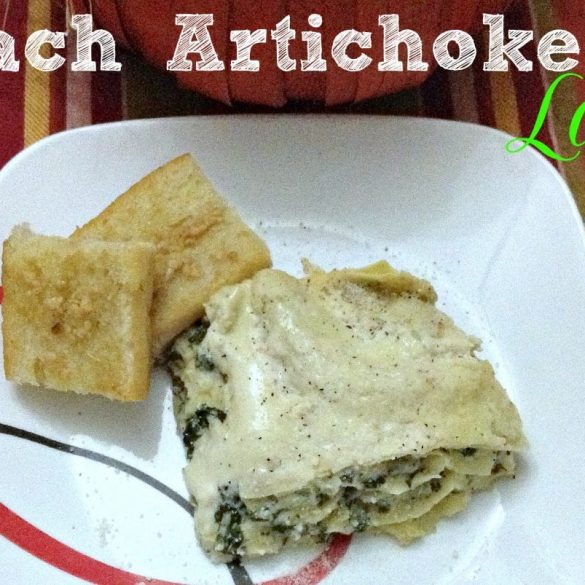 Crock Pot Spinach Artichoke Dip Lasagna
Using the slow cooker, this flavorful and cheese-filled lasagna is paired with spinach and artichoke dip to create this fantastic meatless addition to your dinner repertoire.
Print
Pin
Rate
Ingredients
1

box

Barilla no bake lasagna noodles

1 14 oz

cans

artichoke hearts

drained and chopped

1 16 oz

bag

frozen chopped spinach

thawed

1 15 oz

container

fat free ricotta

2 8 oz

bags

shredded mozzarella cheese

8

oz

cream cheese

whipped cream cheese works best

2

cups

milk

1/2

cup

mayo

1/2

cup

sour cream

Couple sprinkles of favorite hot sauce

optional, but recommended

minced garlic

measurements below

parmesan cheese

measurements in instructions below, just have on hand

seasonings

such as salt, pepper, onion powder, garlic powder, Mrs Dash table blend
Instructions
For the alfredo sauce
In small saucepan, add milk and cream cheese, beating together until mixed, and heat thoroughly until bubbly.

Add 1/4 cup parmesan and 1 teaspoon minced garlic, and season to taste.
For the spinach and artichoke dip
Chop artichoke hearts coarsely and place into mixing bowl.

Add mayo, sour cream, 1/4 cup parmesan, hot sauce (if desired), and 1 teaspoon of garlic, blend together.

Spray medium saute pan with cooking spray and add spinach and only 1/2 of alfredo sauce mixture, saving the rest of the alfredo for later. Mix well.

Add 1/3 cup mozzarella cheese to alfredo mixture, blend together.

Add spinach alfredo mixture to artichoke mixture.

Add ricotta, blend and season to taste.

To create the finished product
Spray crock pot with cooking spray, lay three no bake noodles in the bottom. Place 1/4 of the spinach and artichoke mixture onto the noodles, spreading evenly. Sprinkle parmesan and some mozzarella on top.

Lay three more noodles down, another 1/4 of the spinach/artichoke mixture, and keep layering until 4 layers of spinach and artichoke are down.


For the top and final layer, you should have four no-bake lasagna noodles left. Break one noodle in half, lay it on the outside to cover the gap, and lay the three down on top, pouring the remaining alfredo on top.

Season and sprinkle more parmesan and mozzarella and set your crock pot to low for 1.5 hours.
What do you think? Have you ever salvaged hard bread before? Do you think your family would love this lasagna dish?
Disclosure: This dish was prepared in my Ninja Cooking System, a product sent to me to try, and I am so freaking in love with it. Beware, many more ninja cooking system recipes with this forthcoming.
Current ninja cooking system recipes: Slow Cooker Potatoes au Gratin
Slow Cooker Overnight Breakfast Casserole
The Best Homemade Chili Recipe
Slow Cooker Barbecue Chicken
Knock Your Socks Off Pork Carnitas
Overnight Slow Cooker Pumpkin Beer Bread with Crumb Topping