If you're looking for the absolute best homemade chili recipe, you will find this Easy Slow Cooker Chili Recipe is IT!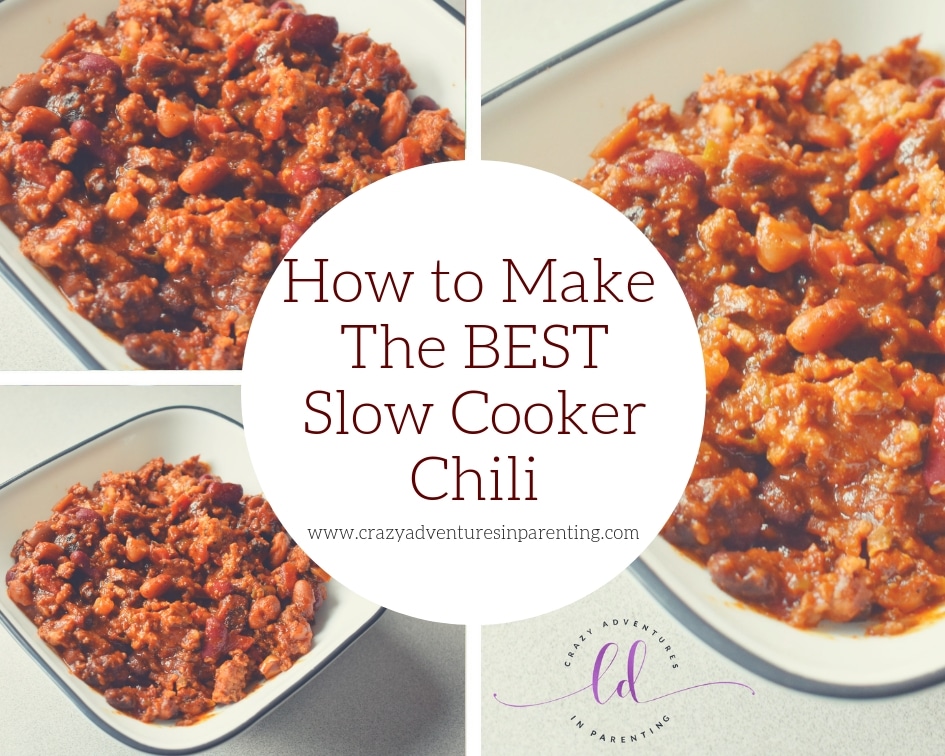 The Best Homemade Chili Recipe on The Planet
When we first started preparing chili for our family, we didn't know what we were doing. Our point of reference was other folks' that we'd tried, or what came out of a can. When we first starting making it, we would use the chili recipe on the back of a package of seasoning, or from a cookbook, but it never tasted "right," you know? It wasn't perfect, it always needed something else.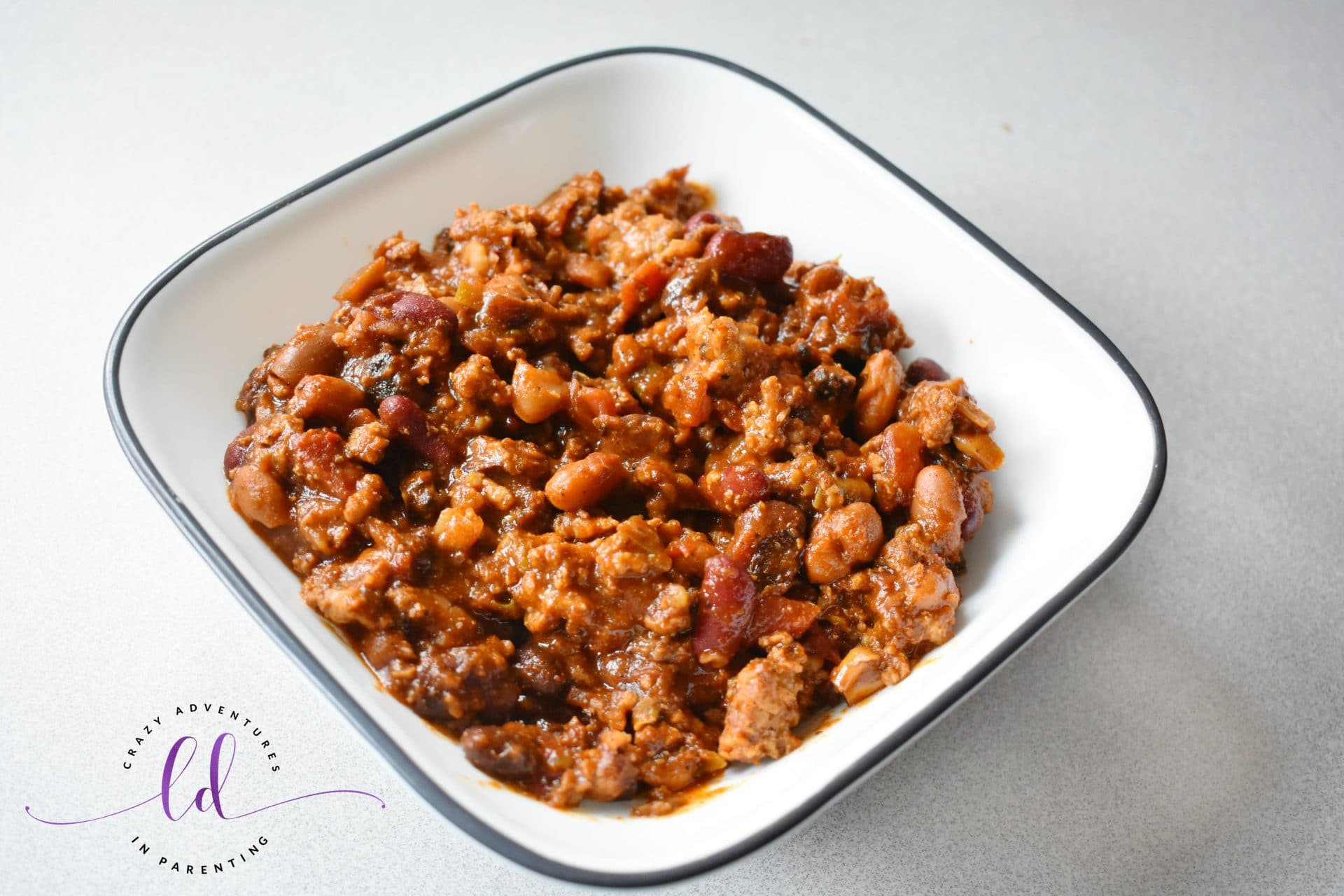 The Best Slow Cooker Chili Recipe
One day, I'd done it. I'd perfected this fantastic chili, and we wholeheartedly decided it was THE chili for us. And stupid me didn't write the ding-dong thing down, GAH! It was one of those, pinch of this, a little of that, but thankfully I had the gist of it. It took us a few more tries after that to remember it and get it exactly the way we wanted.
And here it is!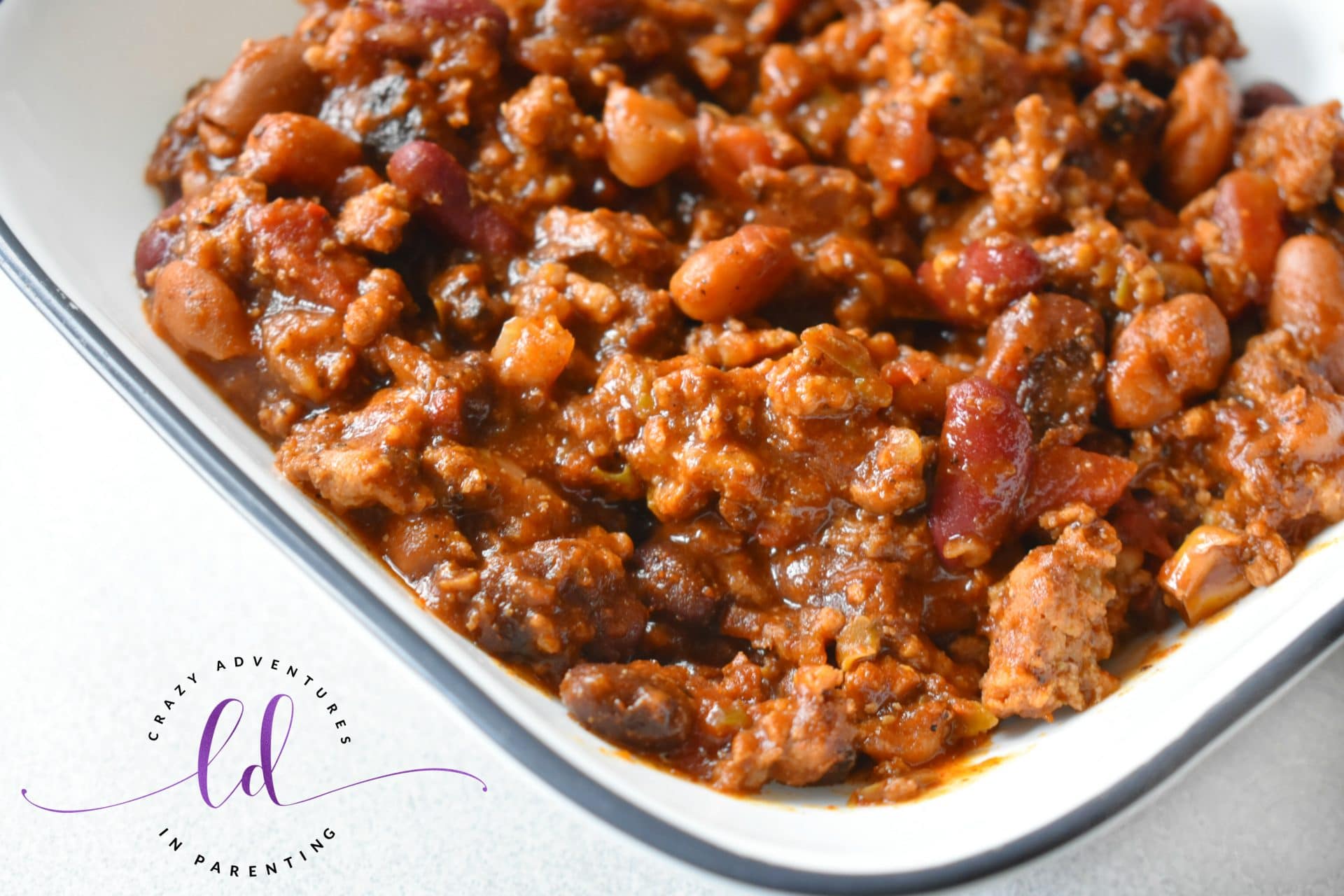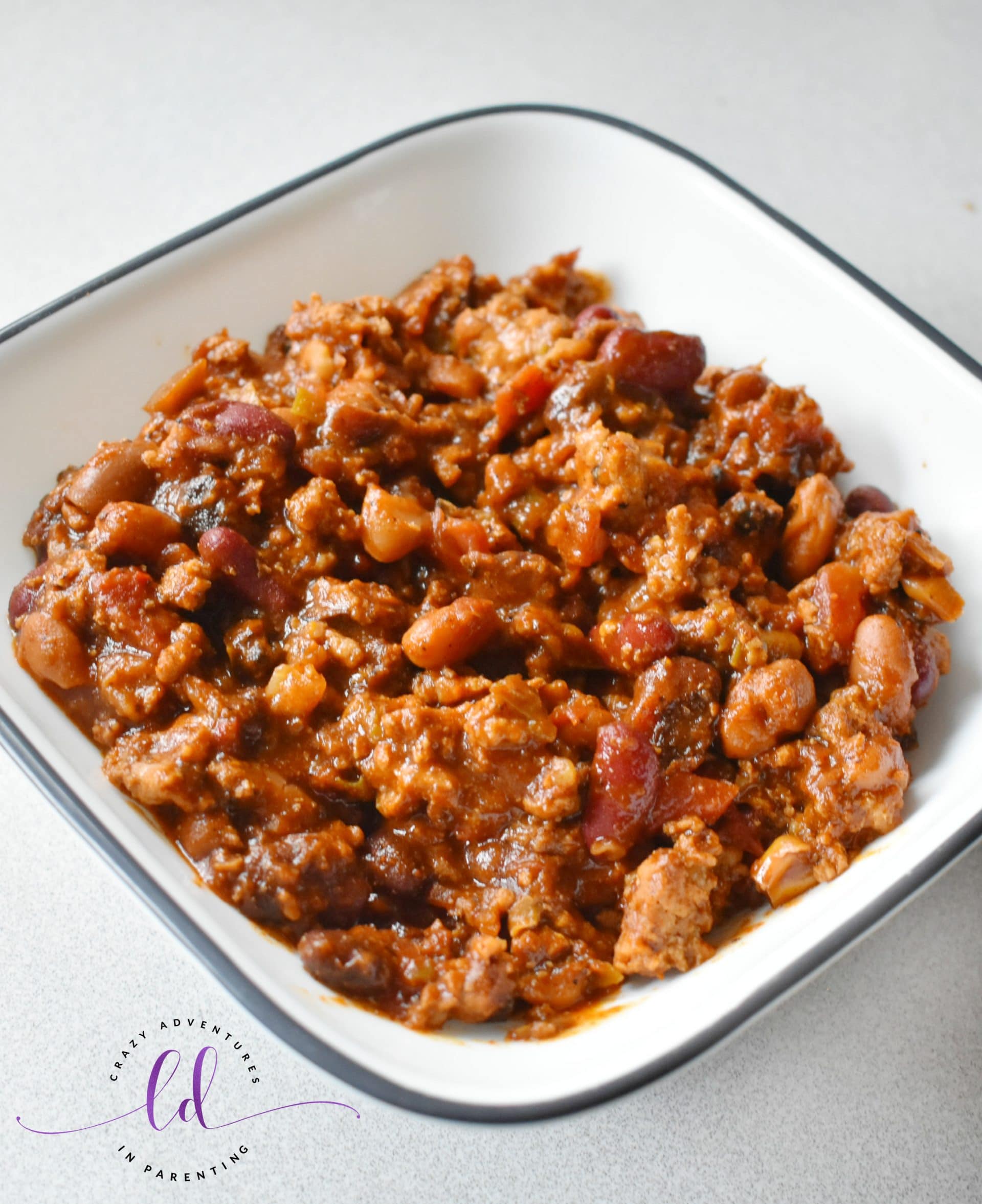 As you can see, I used my Ninja Cooking System to prepare this, but you could just as easily prepare this in a stock pot on your stove, because you can prepare and serve right away. I liked cooking it in the Ninja, because it was truly just a "one pot meal." I browned the beef and veggies right in it using the stovetop settings, then let it simmer on low until dinnertime.
You simply must try this chili. The different beans with different add-ons truly make this dish. So many lovely flavors together – it's meaty, it's bean-filled, and it's purely delicious.
Don't forget to serve it with my tasty corn bread recipe. Mmm.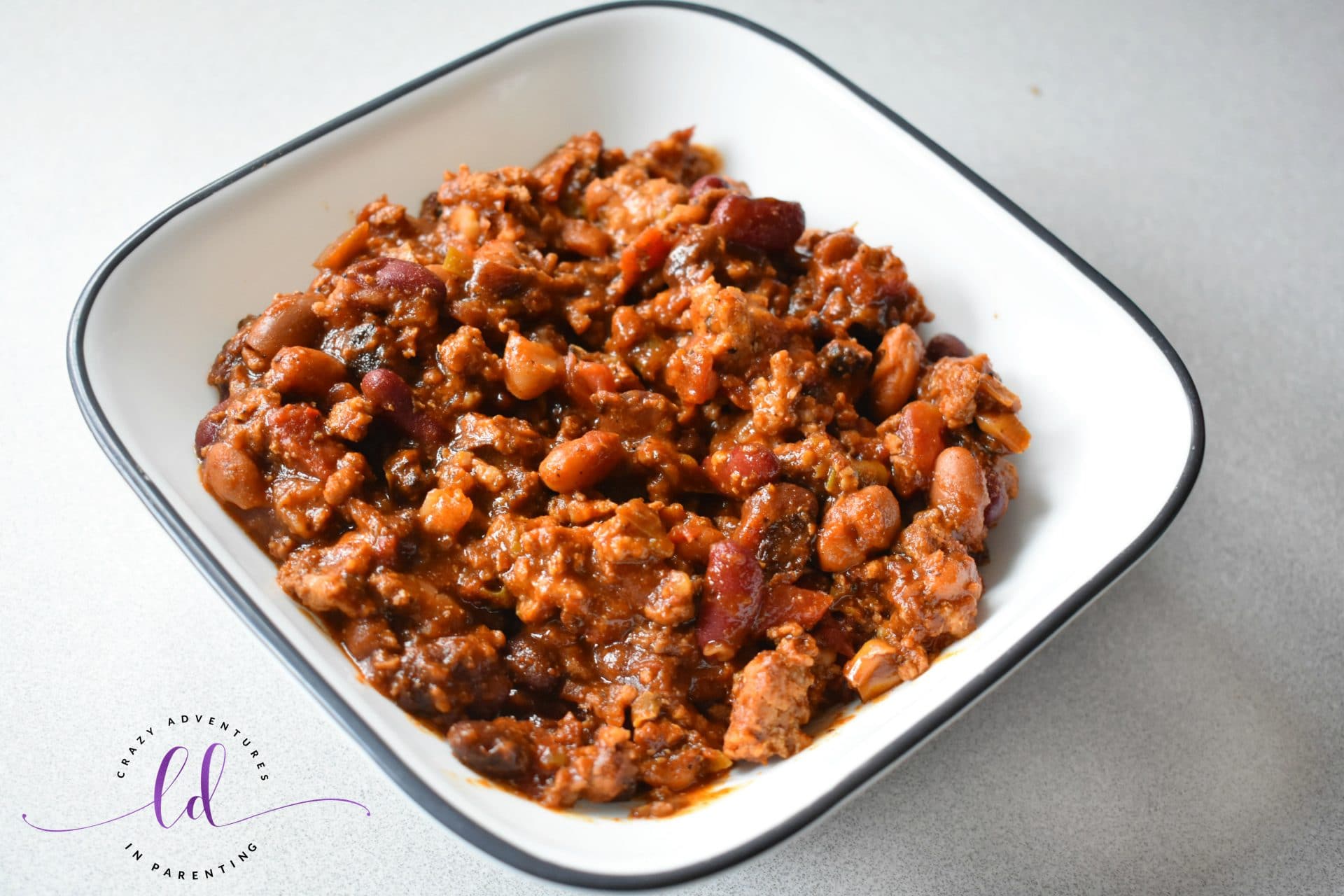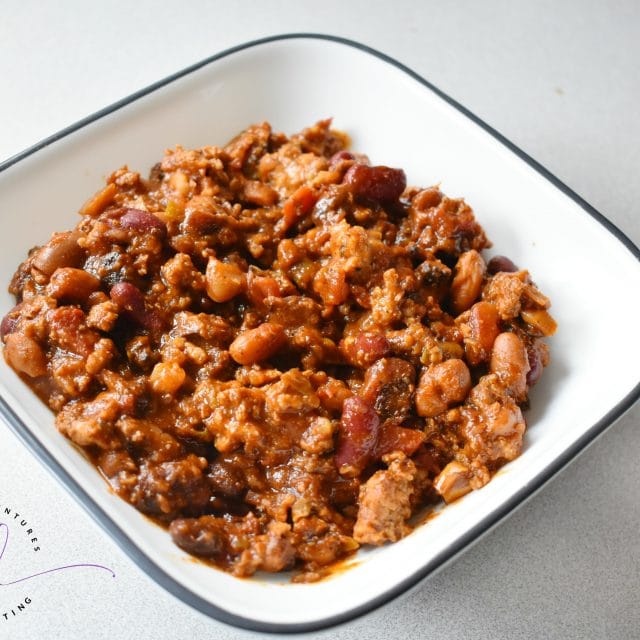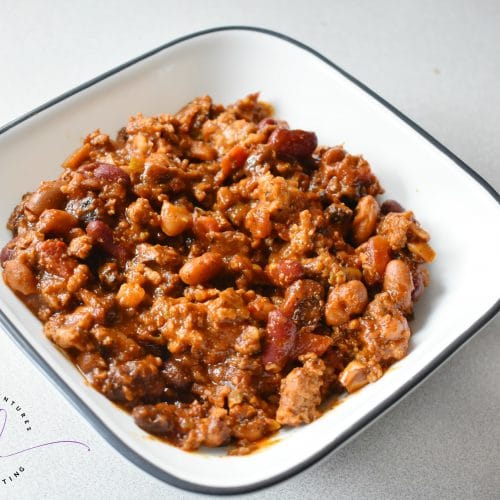 The Best Chili Recipe EVER!
If you're looking for the absolute best homemade chili recipe, you will find this Easy Slow Cooker Chili Recipe is IT!
Print
Pin
Rate
Instructions
Brown turkey and beef; drain.

Sauté onion and pepper for five or so minutes until soft and lucid; add garlic.

Add meat back in, mix together; add green chilis.

Drain and rinse black and kidney beans, opening all other cans without rinsing or draining.

Once meat mixture is heated through, add all cans and seasoning mix, stirring together until well mixed.

Cook thoroughly, until heated completely.

You can serve as soon as it's heated, or let it simmer on low for hours until you serve.

When ready to serve, crush up some tortilla chips into the chili and stir around, and top with some shredded cheese. I promise you, the chips add a lovely flavor.
What do you think?
Be sure to check out my recipe index for more tasty recipes like these.
Disclosure: This dish was prepared in my Ninja Cooking System, a product sent to me to try, and I am so freaking in love with it. Beware, many more ninja cooking system recipes with this forthcoming.
Current ninja cooking system recipes: Slow Cooker Potatoes au Gratin
Slow Cooker Overnight Breakfast Casserole
Crock Pot Spinach Artichoke Dip Lasagna
Knock Your Socks Off Pork Carnitas
Slow Cooker Barbecue Chicken
Overnight Slow Cooker Pumpkin Beer Bread with Crumb Topping