Yes, this is the recipe you've been waiting for all your life. (Okay, maybe not all your life, but pretty darn close.) I alluded to it in my school lunch wrap-up post last week that I had created the bestest of the best corn bread recipes ever, and I am sharing it with you today! Hooray!
(Are you excited? Because I AM EXCITED! And hungry. And I very well might eat the rest of this in my fridge in excitement RIGHT NOW because it's addicting.)
The Best Corn Bread Recipe EVER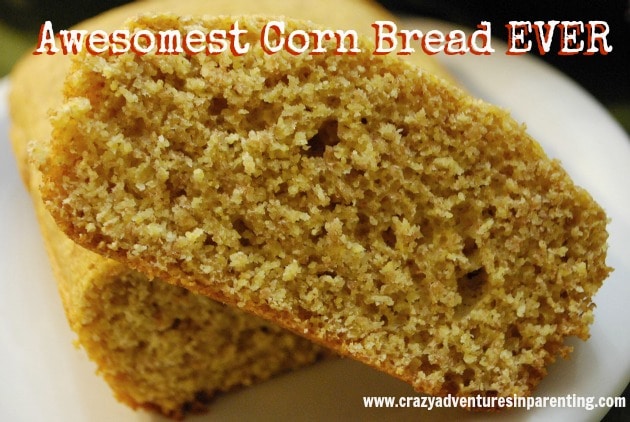 Best Corn Bread Recipe EVER
If you're looking for a sweetcorn bread recipe to finish off a mexican dish perfectly, this is YOU!
Print
Pin
Rate
Ingredients
1 1/4

cups

whole-wheat flour

can use white, but wheat tastes better

1

cup

corn meal

we used Quaker

1/4

cup

organic sugar

1/2

cup

of raw honey

2

teaspoons

baking powder

1

cup

organic milk

we used 2%

1/2

cup

oil

1

whisked egg
Instructions
Heat your oven to 400 degrees.

Spray your loaf pan with cooking spray.

Using a large bowl, whisk your egg until beaten and add milk, honey and oil together, beating together until frothy and well combined.

In a separate, smaller bowl, combine the whole-wheat flour, corn meal, sugar and baking powder, stirring until well mixed.

Mix dry ingredients into the wet, stirring until all has combined well.

Pour gently into loaf pan and bake 25 minutes, or until pick or knife inserted into the center comes out clean.

Serving warm is best recommended.
You simply cannot go wrong with the sweetness in this corn bread, it is simply superb and complements the spicy and salty you usually find in mexican dishes SO well.
Even better? It makes a fantastic corn dog recipe, too!
DIY Mini Corn Dog Muffins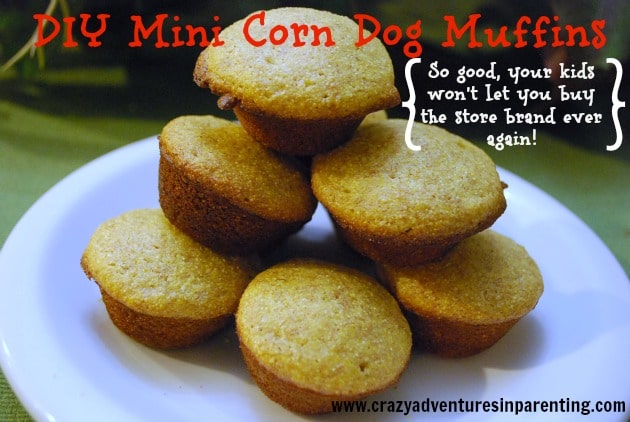 DIY Mini Corn Dog Muffins
Looking for a treat for your kids without the added chemicals? Try this DIY corn dog recipe using a mini muffin pan!
Print
Pin
Rate
Ingredients
corn bread recipe from above, mixed and ready to go in a bowl

1

package

all-natural hot dogs
Instructions
Heat your oven to 400 degrees.

Spray your mini muffin pan with cooking spray.

Once your corn bread is mixed together, cut up one hot dog into quarters, and place in the bottom of each mini muffin.

(Please note, you may want to place a dollop of corn bread mixture at the bottom before placing a hot dog down. Your choice.)

Using a small teaspoon, spoon the corn dog mixture gently over top the hot dog until well covered.

Continue chopping hot dogs as you go, spooning mixture over top, until you're out of your corn dog mixture.

(Note: If you only make the corn bread mixture for this corn dog recipe, you'll be making a lot of mini corn dogs).

Place in over for 10-15 minutes, or until slightly brown on top and they rebound when pressed with your finger.

Move to a plate to cool, and let cool down before serving
See that cute little hot dog in there? He's happy to be there. And tasty.
What do you think? Would your kids go nuts for something like this? I know mine have. And I may have gone a little nuts for this corn bread myself. Ahem.
(P.S. Don't forget to read this post about the subscription changes to this blog. And be sure to check out my recipe index for more tasty recipes like these.)