Okay, fellow parents. We need to talk. How many of you out there are parents to boys?
Now that all three of my boys are all using the restroom (not necessarily properly, buuuuut…), I have a question for you – do you find it difficult to keep them IN their underwear?
And I'm not referring to my soon-to-be-a-teenager, of course, I've never had that problem with him, especially now. (Ha!)
I'm talking about my eight-year-old and four-year-old. Both boys haaaaaaate their freakin' underwear. With a FIERY PASSION. They'd rather go commando all the time, and see every last pair of their underwear suddenly get blown up, or something. This makes me uncomfortable.
I mean, boys get cool decorated underwear with super heroes and pee holes and color elastic bands. What's not to like about them?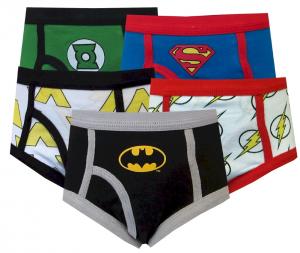 See? Those are freakin' COOL! They even make boy underwear for girls because of how cool boy underwear is. So what's not to like?
I know I don't understand because I'm not a dude and I don't have boy parts, so I'm hoping a few dads can weigh in on this for me. Do all boys go through a period of "commando only" or something? Because I'd rather my boys in SOMETHING as opposed to NOTHING.
Is it uncomfortable for them, particularly at first? Do you think they'd rather have boxers? I can understand my four-year-old's issues, it's only been about six months of potty only for him, but you'd think he'd be used to it by now? And what's my eight-year-old's excuse?
Parents, what's the deal with little boys and underwear, man? Can anyone relate?