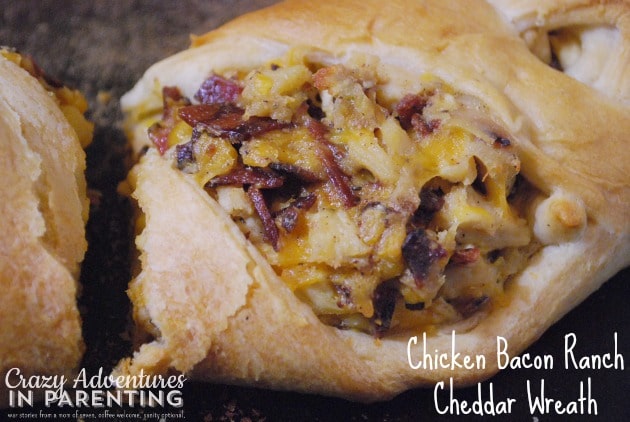 You saw last month's Chicken Broccoli Spinach Artichoke Wreath, right? We knew some of the kids might revolt over how many veggies were crammed into that thing, so we created this Chicken Bacon Ranch Cheddar Wreath for them, serving their veggies on the side. (I have a couple children who don't like veggies mixed "in" or "touching," do you?)
This is quite similar to my Chicken Bacon Ranch Quesadillas, except in Pampered Chef wreath form. Boom, baby!

Chicken Bacon Ranch Cheddar Wreath
Bacon and ranch fans rejoice! This Pampered Chef remake includes cheddar, garlic, and bakes to bacon-y ranch perfection!
Ingredients
2 cans of refrigerated crescent roll dough (we used Immaculate Baking Co)
2 cups of cooked chicken, chopped
8-10 strips of turkey bacon, cooked and crumbled
1 tsp minced garlic (or a couple garlic cloves in the garlic press)
½ cup of mayo
½ cup cream cheese
3-4 tsps dry ranch seasoning
1½ cups shredded cheddar cheese
1 tsp Himalayan Sea Salt
Instructions
Preheat your oven to 375 degrees.
Mix the mayo, cream cheese, and ranch seasoning together to form a thick ranch sauce; add in all your ingredients together in a bowl while popping open your cans of dough.
Arrange the triangles on the large round pizza stone as depicted in the photo below:
You'll want to use the Baker's Roller to smoosh the creases together to lay the mixture upon. The triangles in the center will be overlapped and look a little crazy, but that's alright, though.
Use the medium scoop (the absolute best size for cookies, meatballs, and ice cream) to scoop the ingredients into the wreath.
Next, braid the triangles over the mixture, overlapping each, while tucking them underneath until all the triangles are folded over.
Bake for 25-30 minutes (according to the directions) but I keep watch until the top of the wreath is browning slightly, the crescent roll dough is nice and puffy, and the mixture is bubbly and heated through.
Slice and serve with the pizza cutter when somewhat cooled.
Please don't hate me for bringing this into your life. Just be sure to fist bump your kids for me.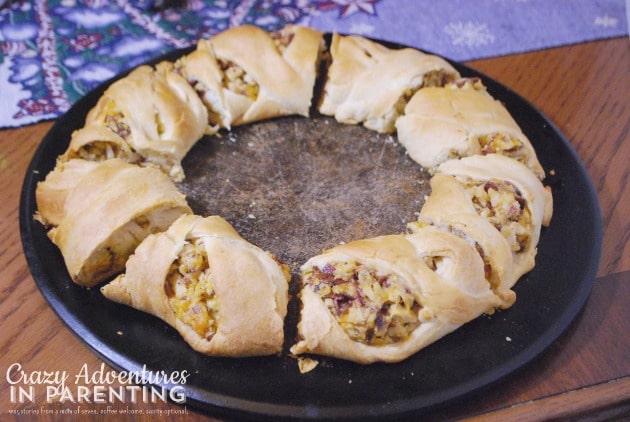 Are you a huge Ranch-o-holic like I am?
If you like Pampered Chef recipes, try these:
Pampered Chef Chicken Broccoli Wreath Recipe (my own take on how to make it)
DIY Homemade Uncrustables Sandwiches
Easy Pizza Bread recipe
Chicken Broccoli Spinach Artichoke Wreath
Princess Doll Cake from The Pampered Chef's Batter Bowl (and how NOT to do it)