Ohh, friends. This Easy Pizza Bread Recipe is one of those special recipes that your kids will ask for again and again. (That is, if you let them have any. Heh.)
Adapted from The Pampered Chef's "Pepperoni Pizza Twist" recipe, this pizza bread uses two refrigerated loaves of french bread and whatever pizza fillings tickle your fancy.
Easy Pizza Bread Recipe
This easy-to-prepare pizza bread will make your kids and guests ecstatic!
Author:
Lisa Douglas, adapted from The Pampered Chef
Recipe type:
Dinner, Appetizer
Ingredients
2 packages Pillsbury Simply French Bread refrigerated dough
2 tablespoons organic flour
1 teaspoon minced garlic (or 1-2 cloves)
grated Parmesan cheese (to taste)
½ cup mozzarella cheese
1 tsp basil
1 tsp oregano
½ tsp thyme
½ tsp rosemary
1 cup of preferred pizza fillings (such as pepperoni slices, browned ground sausage, peppers, onions)
pizza sauce, if desired (to be served on the side, to dip in)
Instructions
Preheat the oven to 375 degrees.
Dice up your pizza fillings, and place into a bowl with the seasonings, cheeses, garlic and flour.
Open up the refrigerated dough packages, stretch them out to appropriate size, and take a serrated knife and slice down the middle, lengthwise, about ⅔ of the way through the dough to create an opening.

Using a rolling pin, work into the opening to create a "well" large enough to hold the pizza toppings.
Add pizza toppings into the "wells" on the bread; pinch and press seams firmly together to hold the ingredients in.
Place seams side down, moving together side by side, and twist each loaf around the other.
Cut a slit in each top loaf to allow steam to escape, and place in the oven for about 30 minutes, until golden brown.
Let cool for 10 minutes; cut into 16 slices.
Warm pizza sauce just before ready to serve to serve on the side.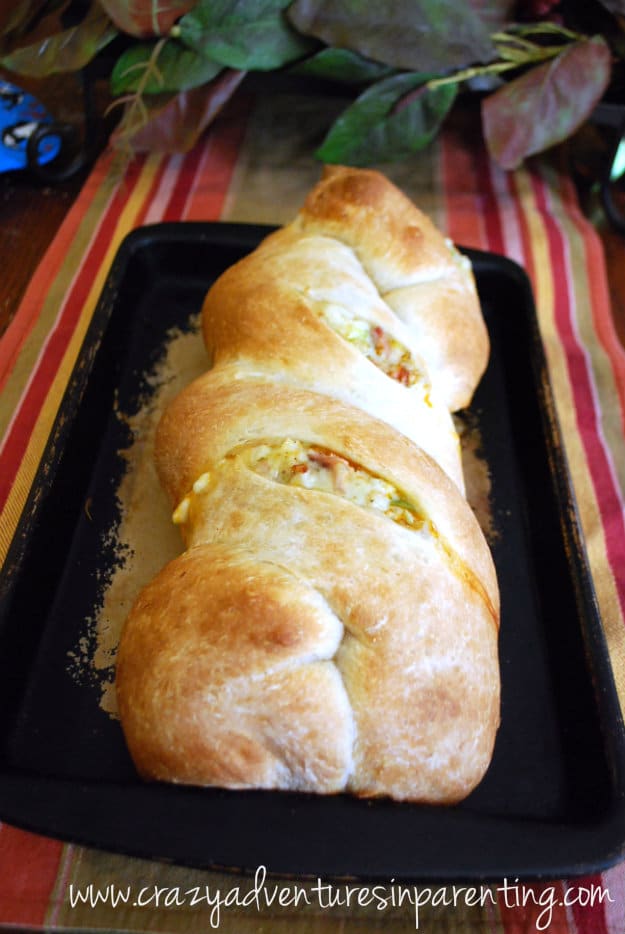 Look at those fillings. Mmmmm. This was truly as good as it looks.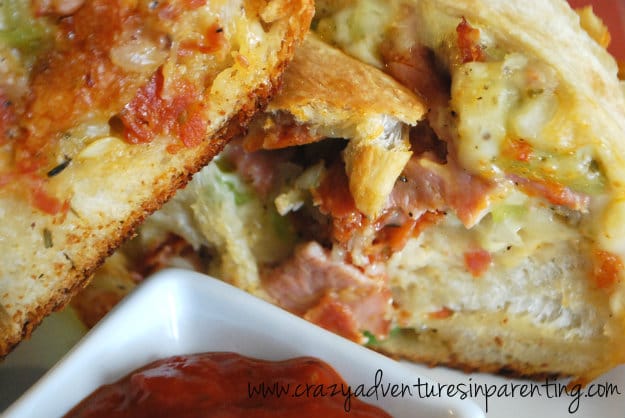 What do you think? Is this something you could see making for your family? What pizza fillings will you add?
P.S. If you like Pampered Chef recipes, you'll LOVE trying these:
DIY Homemade Uncrustables Sandwiches
Pampered Chef Chicken Broccoli Wreath
Princess Doll Cake from The Pampered Chef's Batter Bowl (and how NOT to do it)