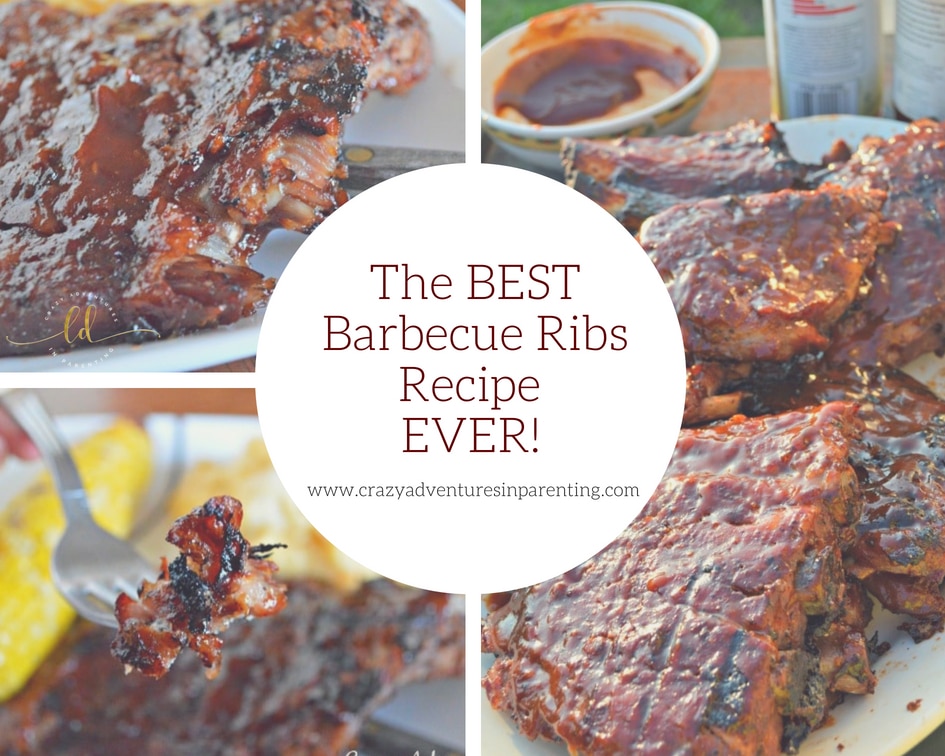 I promise you, my many year of research, preparation, and careful planning has yielded the best barbecue ribs recipe ever in the history of ever.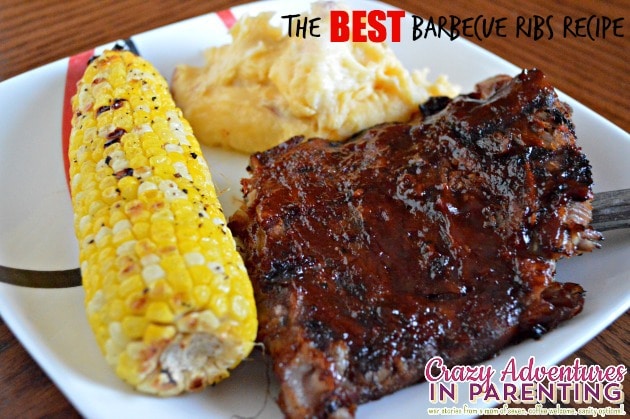 The Best Barbecue Ribs Recipe Ever!
It really wasn't meant to be our intended dinner, it just happened. We were in Whole Foods, admiring the samples and sales, when we saw them – the gorgeous racks of ribs $1 off a pound. "Hey, we could grill these for dinner tomorrow," my husband suggested.
Done! Don't have to tell me twice!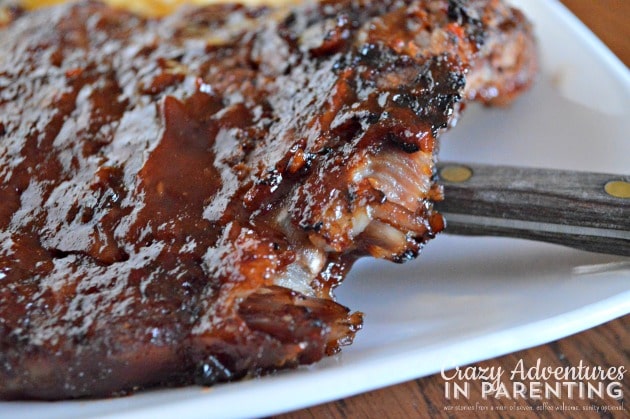 The Best Barbecue Ribs Recipe Ever!
Barbecue ribs are one of our favoritefavorite dinners to make, and usually only made for super-special, one-of-a-kind special events or celebratory birthday dinners. This time, we simply couldn't resist. It might not be a birthday, but it was AWESOME!
Here's what you'll need to get started to getchyo ribs on for the best barbecue ribs recipe ever! (Minus the fave barbecue sauce you'll be using later.)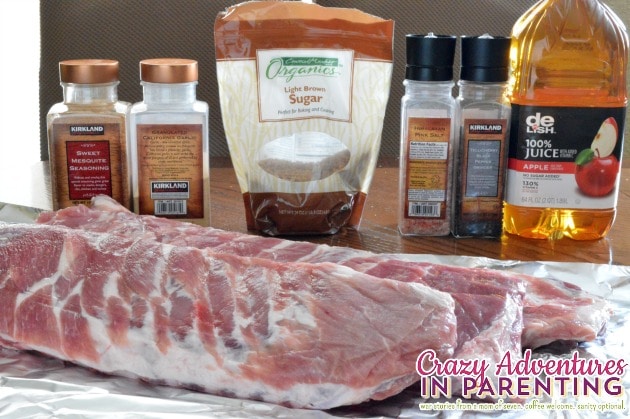 How to Make The Best Barbecue Ribs Recipe Ever!
To start, rinse your ribs, pat 'em dry, and season them well on both sides with fresh ground salt and pepper, along with garlic salt and barbecue seasoning (we use the Kirkland kind, but there are many others out there).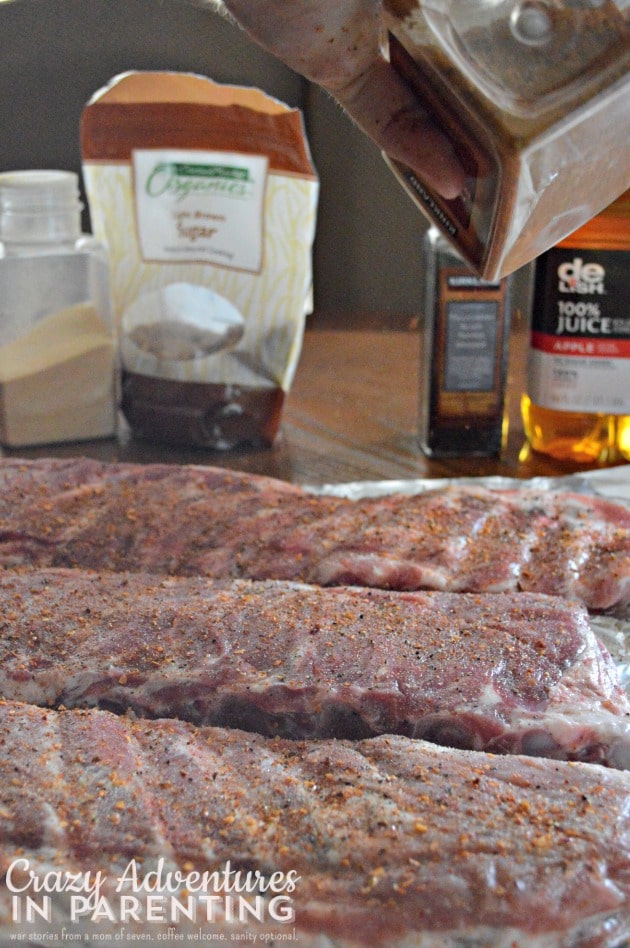 Massage and pat down the seasonings on both sides real good.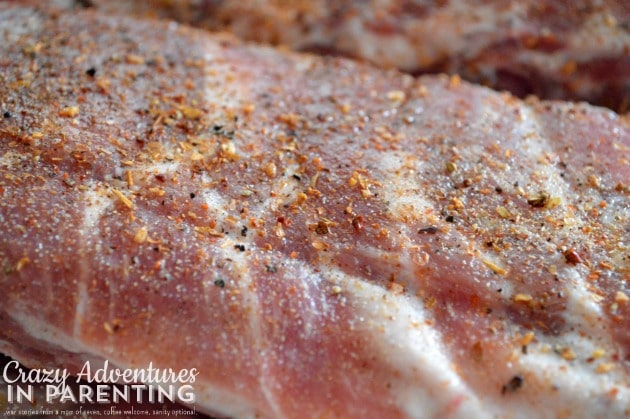 Next is the brown sugar. Sprinkle generously.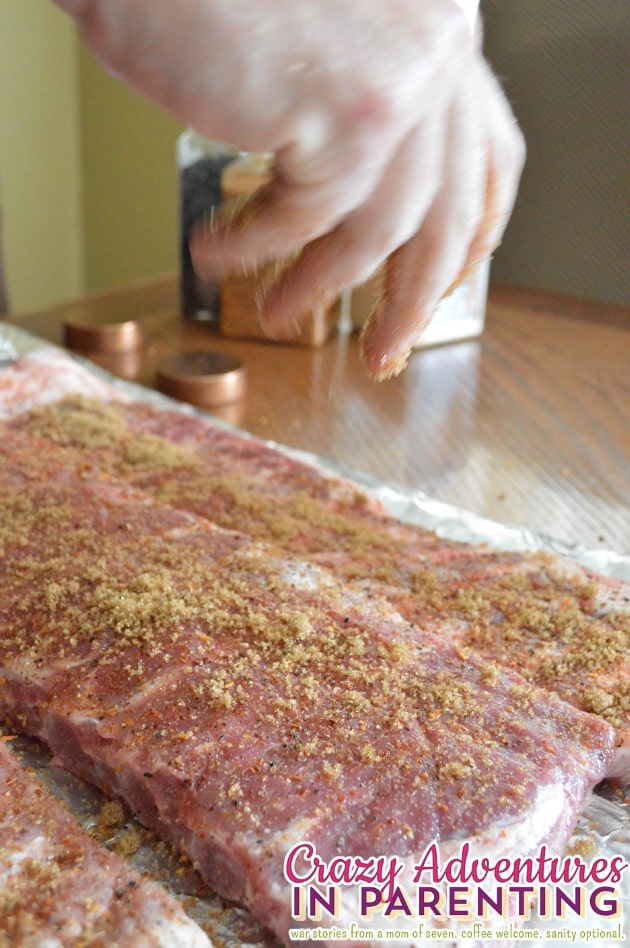 Pat the brown sugar into the meat, too.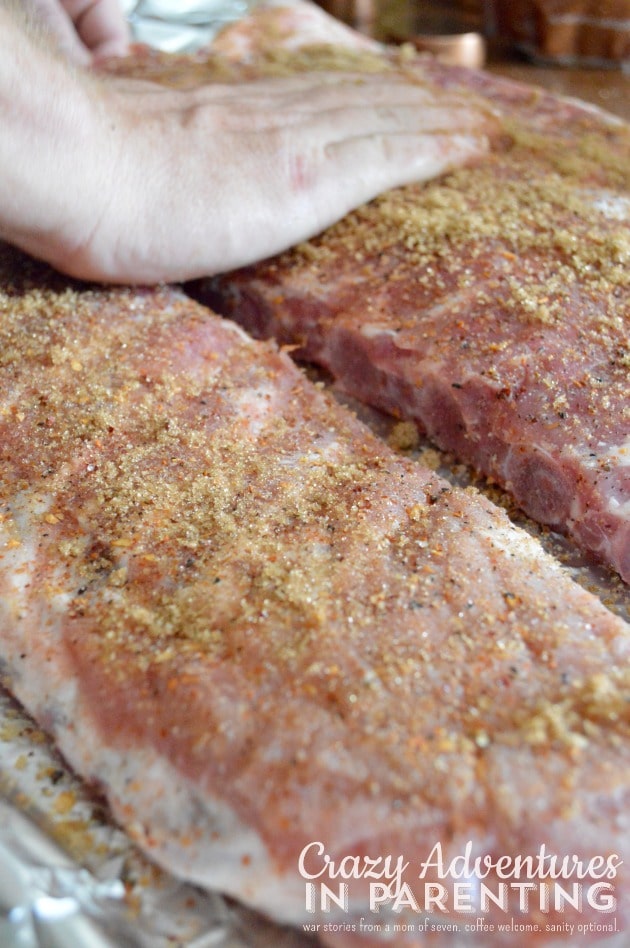 At this point, let the seasonings sit on the meat for a few minutes while the oven heats up. Or, if preparing a day in advance, wrap them in plastic wrap and refrigerate overnight for extra awesomeness!)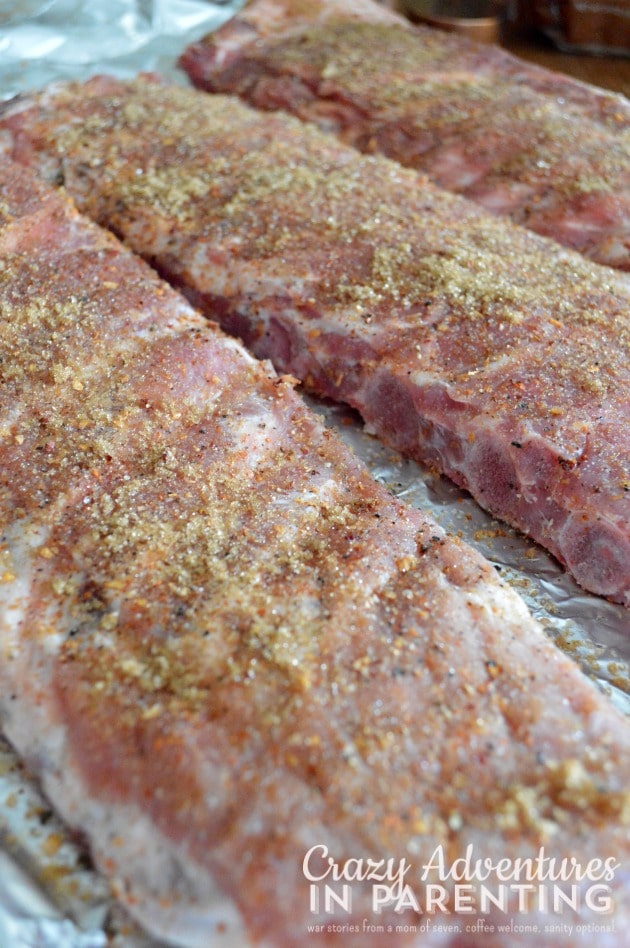 Once seasoned to perfection, break out the foil, it's "go" time! Grab your apple juice, and pour about 1/4 cup or so underneath your ribs. This will help flavor and tenderize the meat while it cooks by being steamed in the pouch.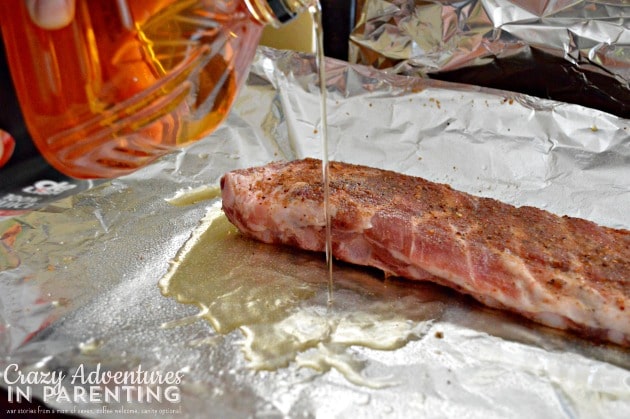 Pouch? Yes! Here's how you properly fold this steamable pouch around ribs:

Got it? Easy-peasy. I simply had to include this image of my girls, preparing some corn on the cob for dinner while were busy with the ribs. Aren't they cute?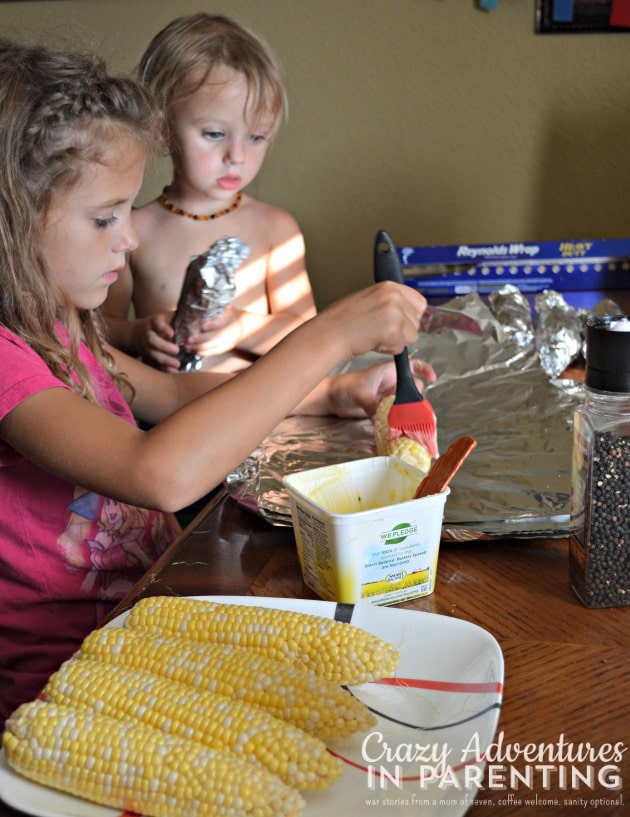 Back to the ribs – after baking in the oven for some time (2-3 hours), they're ready for grillin'! Here's what it looks like when you first open that foil. Mmm!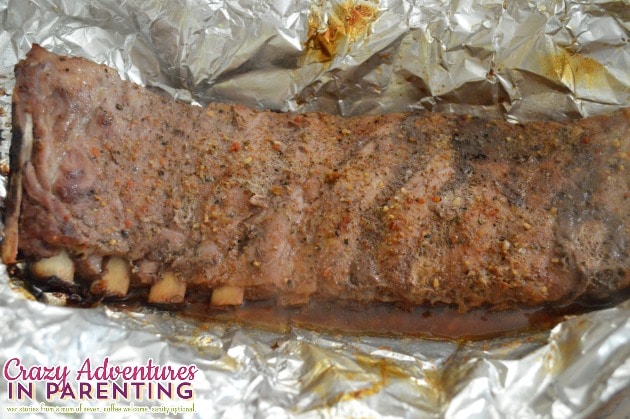 Place them onto a cutting board or plate for the grill, just be careful! They're so tender, they're might be pulling off the bone (so be gentle).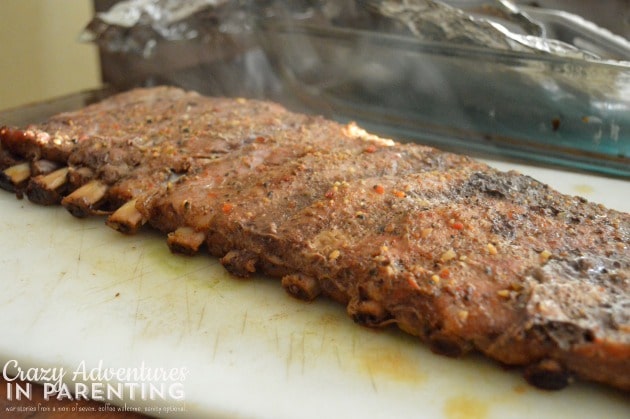 We cut ours into smaller sections so it would be easier to handle on the grill. Look at that steam risin'!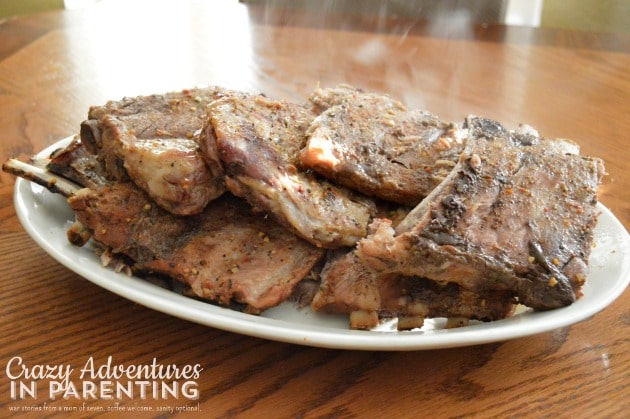 Oh yeah, baby. They are seasoned to perfection and the meat is tasty already! When I meant "the best barbecue ribs recipe," I really meant "the best barbecue ribs recipe!"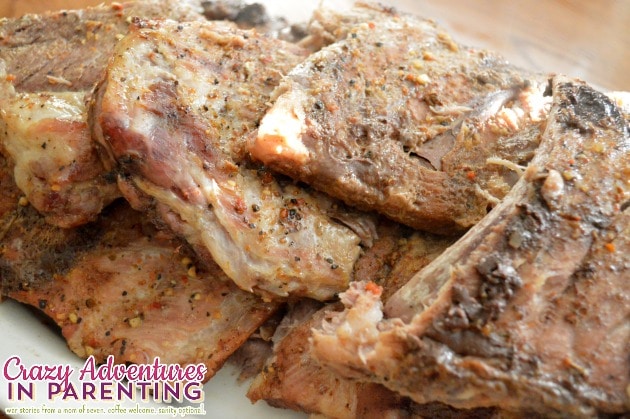 We chose two different sauces to work with for this go-around: Smokey Mesquite by Stubbs is perfection in a bottle, and the Sweet Heat was straight up AMAZING on my husband's ribs, but too spicy for the little ones.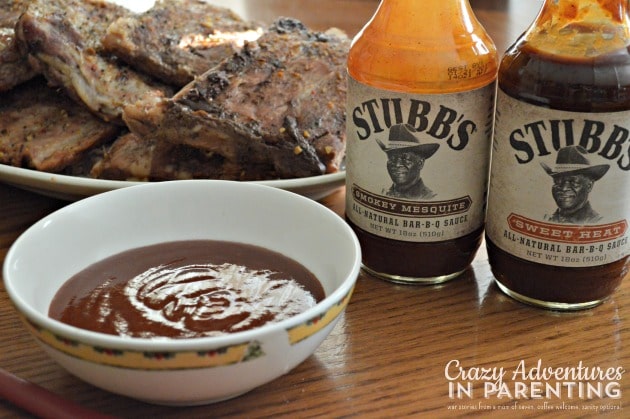 On an already hot grill, place your ribs on the grill racks, slathering your beloved barbecue sauce onto each piece with a baster brush, being quite generous with the sauce.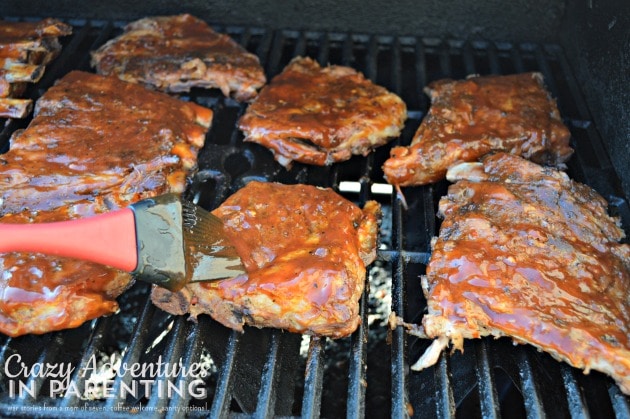 We simultaneously cooked the corn on top as we cooked the ribs on the bottom.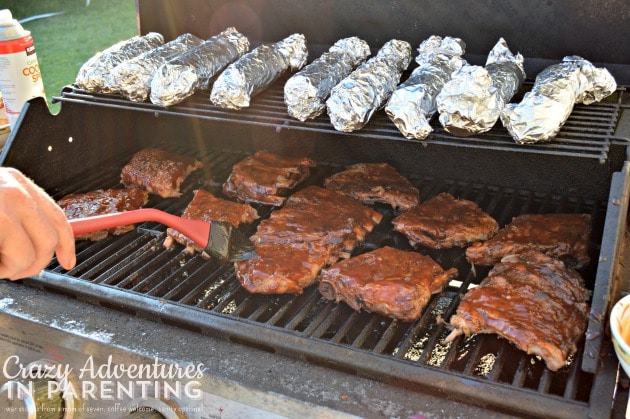 Flip them over about five-or-so minutes in. Here's how ours looked before and after that first flip, mmm: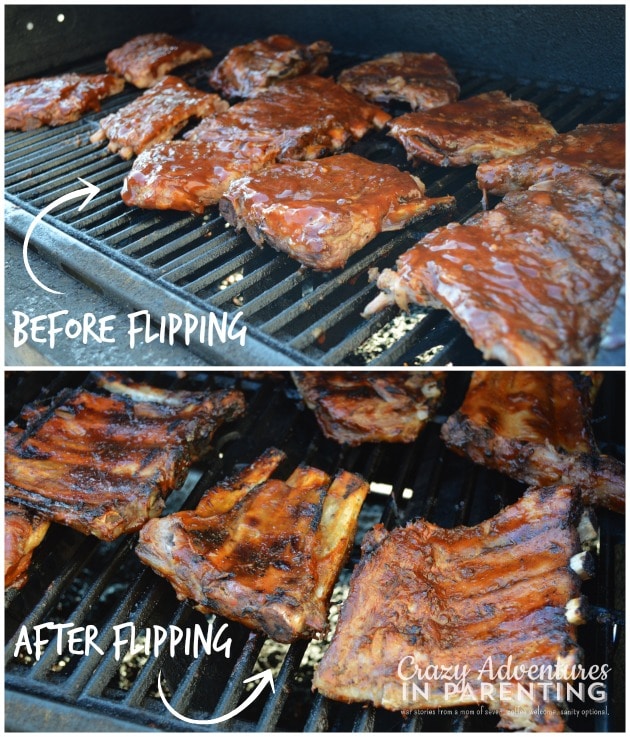 See that perfect char forming around the sauce, now getting caramelized to perfection? These ribs are already cooked, no need to grill 'em to death. All you're doing here is getting the sauce nice and sticky with a slight char. No need to overdo it, a low heat and quick flip after a few minutes will do nicely. See?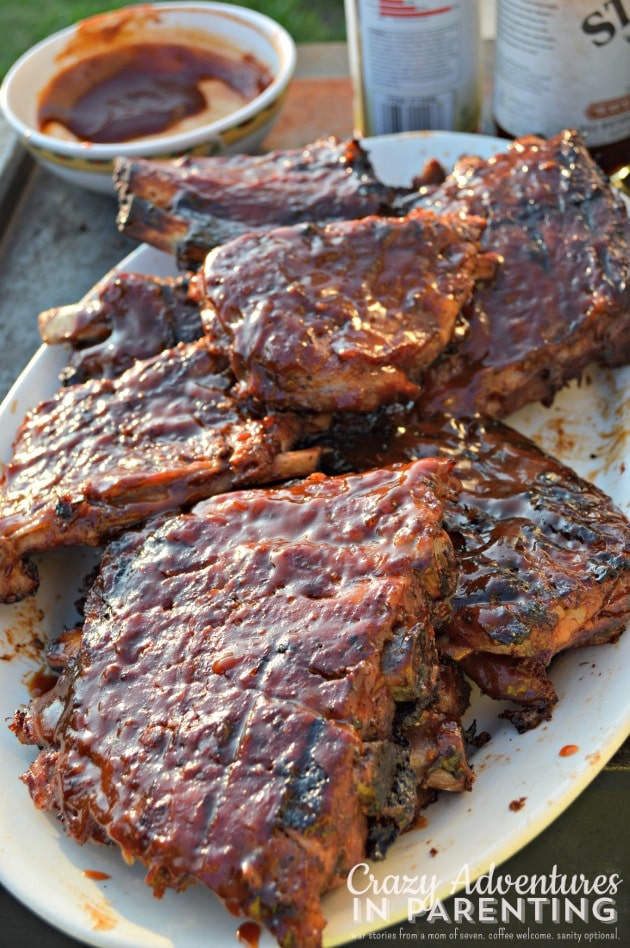 Finger lickin' good, friends. Better than restaurants, I promise.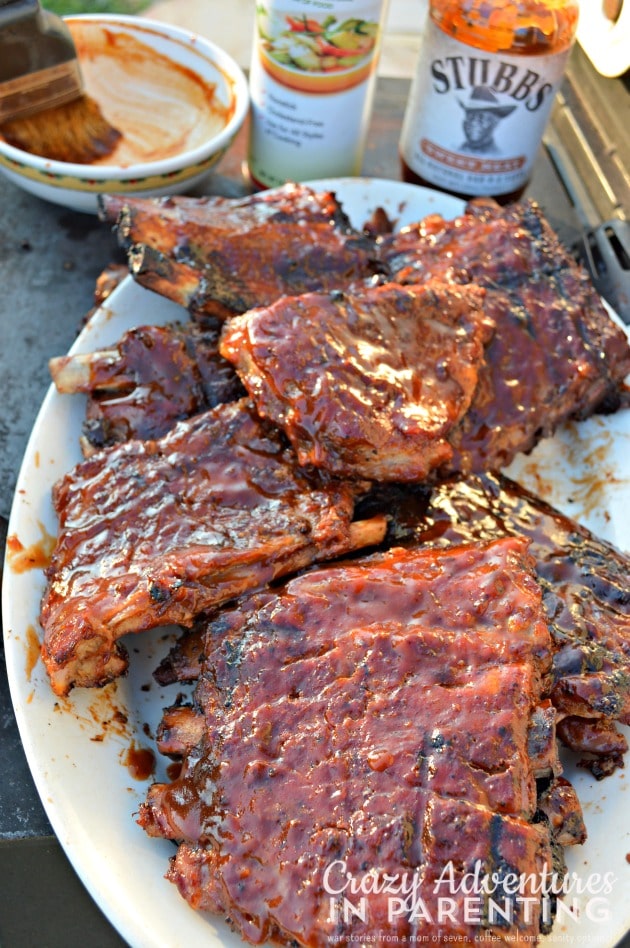 Please, promise me that sometime this summer you'll try these ribs? And maybe pair it with some grilled corn on the cob or my friend Cindy's air fryer corn on the cob and cheesy potatoes, just like we did?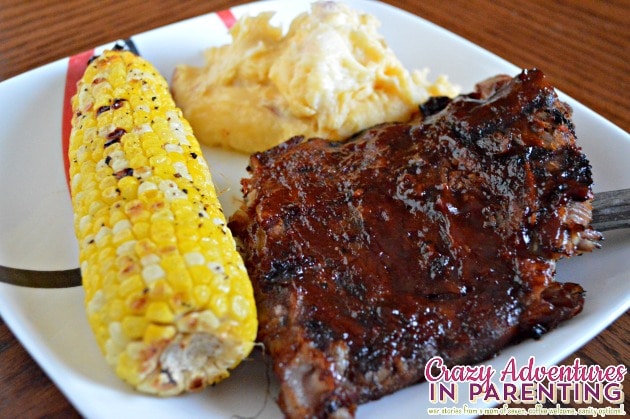 Look at that sumptuous bite, daaaang! So juicy, so meaty, so fall-off-the-bone amazing. I'm so sad we didn't have any leftovers!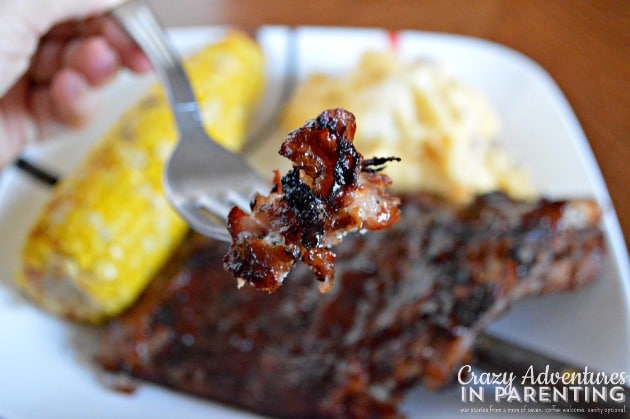 If you enjoy barbecue, check out these barbecue recipes!
Instant Pot Pulled Barbecue Chicken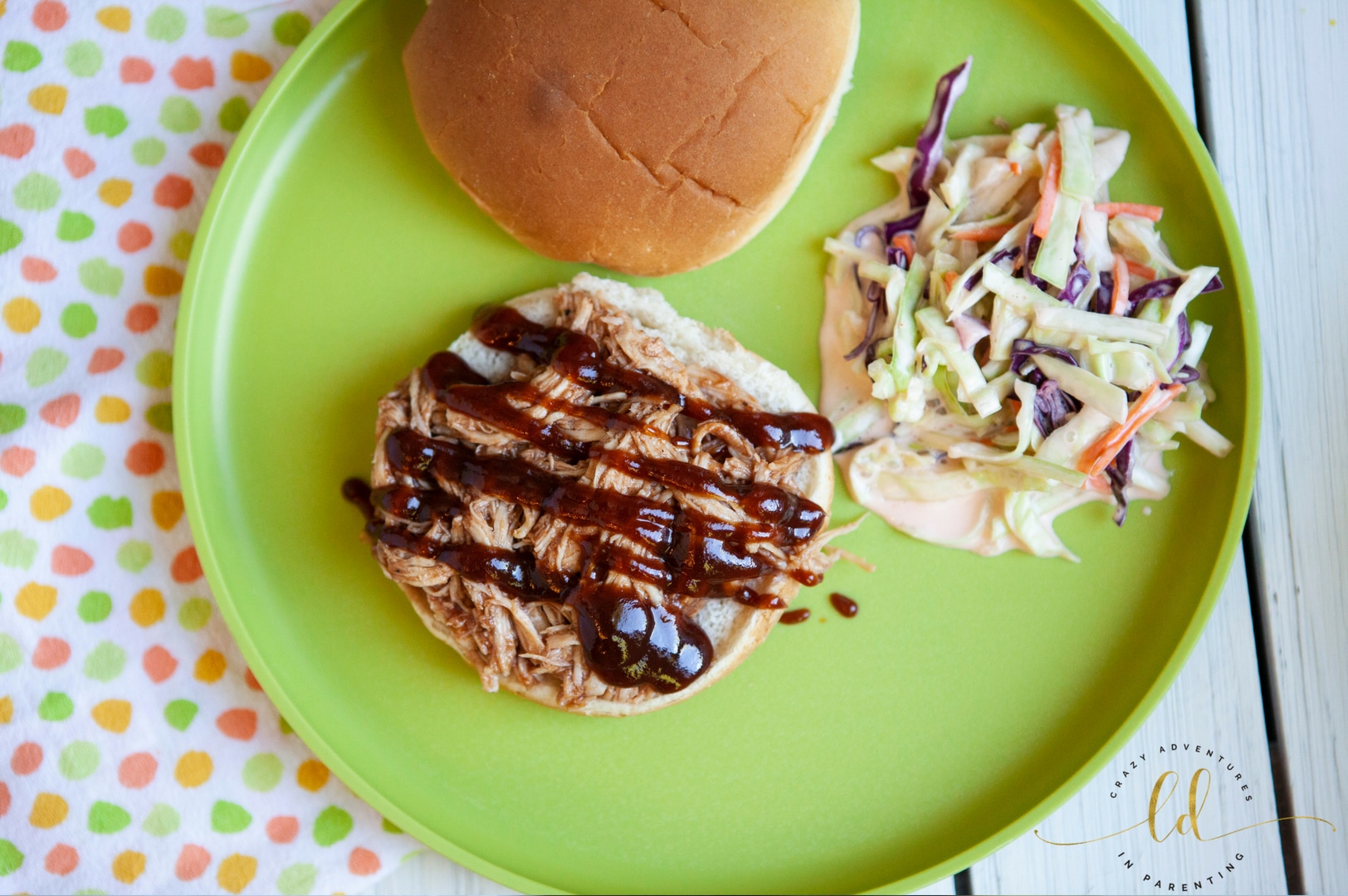 Barbecue Pulled Chicken and Pork Nachos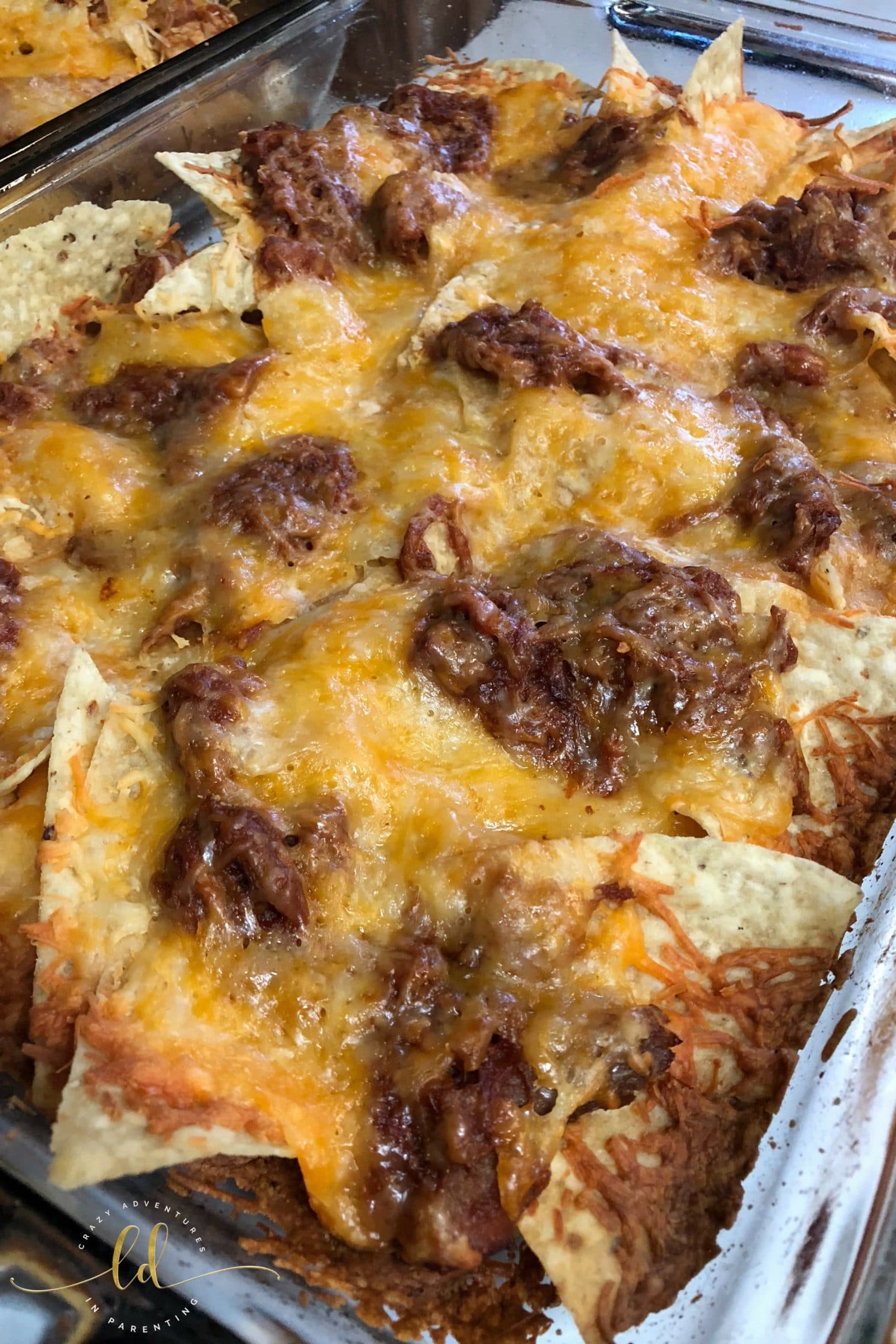 Slow Cooker Herbed Barbecue Chicken Legs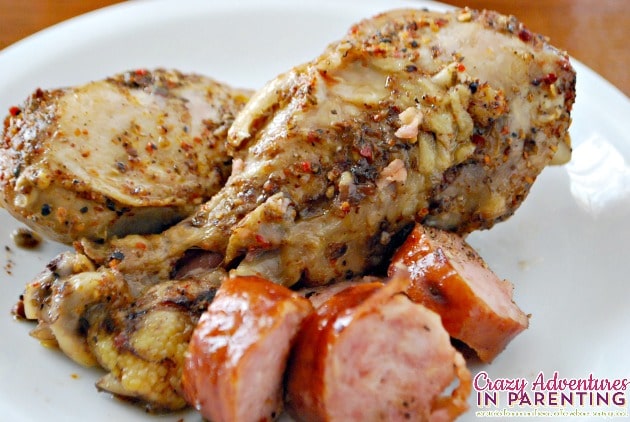 Do you enjoy barbecue ribs? What favorite sauce will you use to make the best barbecue ribs recipe ever?

Here's the recipe: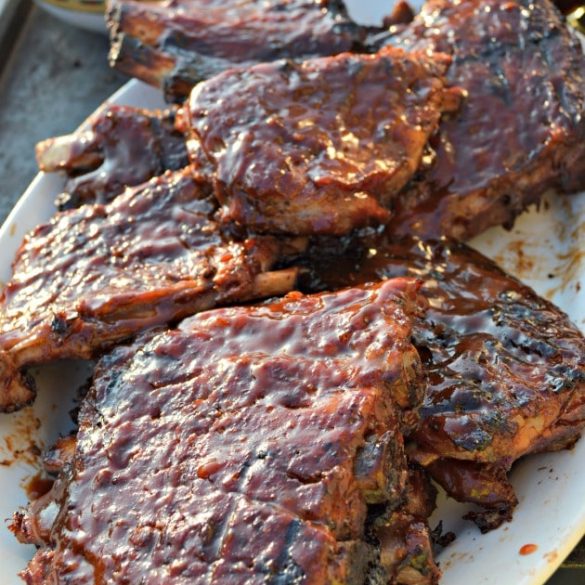 The Best Barbecue Ribs Recipe (Ever!)
I promise you, my many year of research, preparation, and careful planning has yielded the best barbecue ribs recipe ever in the history of ever.
Print
Pin
Rate
Instructions
Open the ribs from their packages and rinse gently, patting dry.

Rip large sheets of tin foil for every rack of ribs you're preparing and spray them with cooking spray.

For each sheet of foil, lay one rack of ribs onto it, and begin seasoning each rib rack in layers; first the salt and pepper, then the garlic powder, followed by the barbecue seasoning, pressing the seasonings down before adding the brown sugar.

Press the brown sugar down, and flip to the other side and repeat seasoning/pressing on the other side of the ribs.

Let the seasoned ribs rest for about 15 minutes while the oven preheats to 325 (or overnight, wrapped in plastic wrap, if being prepared the day before – for extra flavor)

Pour approximately ¼-⅓ cup of apple juice underneath the seasoned rib racks, being careful not to spill it on the ribs itself.

Fold the sides of the foil in first, laying loosely over the rib rack.

Fold your foil about an inch away from the sides of the ribs on either side, folding straight upwards.

Match the ends at the top until they are flat and even.

Fold over until all the way down.

Lay your wrapped ribs into a baking pan or baking sheet.

Bake in the oven for 2-3 hours, untouched.

Remove from the oven and the foil and preheat your grill.

The meat will be well-cooked, very juicy and tender, almost falling off the bone (if it isn't already), so you'll have to be gentle removing it from the foil. (You may want to cut it into smaller pieces to grill.)

Pour your favorite sauce into a bowl and get your baster ready.

Set your grill temperature to low, baste your ribs and place them on the grill for no more than 5 minutes; turn, baste again.

Cook for another 5 minutes on the second side; turn and baste again.

Remove from heat after a couple more minutes, immediately basting a third time before serving.

Let cool for about 5-10 minutes, so it's easier to handle.