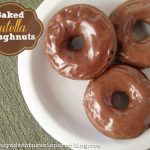 Print Recipe
Baked Nutella Doughnuts
This light and airy baked doughnut is made with Nutella and frosted with a Nutella glaze.
For the Nutella glaze (optional):
Heat oven to 325.

Spray your donut pans with nonstick cooking spray and set aside.

In a large bowl, whisk together the dry ingredients; flour, baking soda, and salt.

In small bowl, whisk together the rest of the ingredients - milk, sugar, egg, butter, Nutella, and vanilla - until smooth.

Add wet mixture to the dry mixture, whisking together until well-blended.

Using a spoon (a teaspoon would probably be best), fill each doughnut well approximately 2/3-3/4 full (approximately 2-3 teaspoonfuls each).

Bake at 325 degrees for 12-15 minutes or until doughnuts spring back when pressed.

Flip onto a baking rack to cool.

If no icing is made, you can dust with confectioner's sugar.
For the Nutella glaze (optional)
Blend confectioners' sugar, hot water and extract in a small bowl.

Spoon in the Nutella and mix until well-blended.

Dip cooled doughnuts in the glaze, twirling them around in a circle once before lifting, continually turning until it stops dripping.

Set out onto a rack to dry.