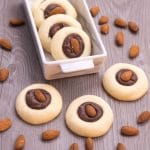 Print Recipe
Chocolate Almond Thumbprint Cookies
These easy Chocolate Almond Thumbprint Cookies are deliciously simple and delightfully addicting!
Line a

cookie sheet

with

parchment paper

and set aside.

In a medium-sized bowl, sift together your dry ingredients: flour and salt.

Using an electric mixer, beat butter and sugar. Once creamy, add egg and vanilla extract.

Slowly add dry ingredients into the wet ingredients. Beat until cookie dough is formed.

Roll dough into 1 inch balls and place on lined baking sheet, about two inches apart from one another.

Use a teaspoon to indent the center of each cookie. Place in freezer for about 30 minutes and preheat your oven to 350 degrees F.

Bake for 13 to 15 minutes and allow to cool on a wire rack. Using a tablespoon, press on each indent just to make them deeper and larger.

Melt chocolate chips and swirl a little chocolate into each indentation on each cookie. Top with one almond.