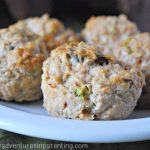 Print Recipe
Clean Eating Chicken Muffins Recipe
Jam-packed with protein, these lean and mean chicken muffins made with Tyson ground chicken pack a powerful punch of flavor into a palm-sized muffin.
Pre heat oven to 375.

Lightly coat the muffin pans with a little olive oil or spray with cooking spray.

Once you gather all your tasty ingredients, you put the chicken, egg whites, seasonings, jalapeños, garlic, and oats in the bowl and mash together.

Instead of mincing these vegetables by hand, I used this old Tupperware piece of equipment called the Quick Chef®. (FYI it helps to make an easy homemade salsa.)

Add the veggies in, mash and mix around some more, and break out your cookie scoop or meatballer. I find these make each of the muffins pretty evenly proportioned.

Bake for 40 minutes, or until a thermometer reads 180 degrees.

Let cool before serving.