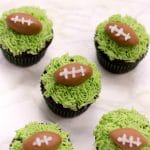 Print Recipe
Easy Football Cupcakes Recipe
If you're looking for an absolutely adorable cupcake recipe to serve on game day, check out these easy Football Cupcakes for the big game!
Before you start decorating, ensure that all of your cupcakes are cool to the touch. It's easiest if you cool them on a wire rack.

Begin by making your buttercream "grass" frosting. With an electric mixer, add butter, confectioners' sugar and milk, beating on low, gradually increasing it to high speed.

Once the ingredients are well-combined and smooth, add your green gel food coloring and mix until completely tinted and well mixed.

Assemble your frosting bag so that it has Wilton tip #233 and scoop your buttercream frosting into it.

Frost each cupcake gently so that it looks like grass.

Separate your chocolate fondant into twelve one-inch spheres. Mold them so that they have football shapes.

With your white decorating frosting, pipe out the football's "laces" on each fondant piece.

Place one football fondant piece on each cupcake. Serve and enjoy!