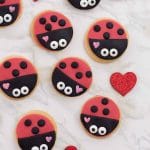 Print Recipe
Lovebug Ladybug Cookies
If you love ladybugs, check out these absolutely adorable Lovebug Ladybug Cookies! Wouldn't these be perfect for Valentine's Day?
Before beginning to decorate your cookies, you must ensure that your sugar cookies are completely cool. The quickest way to do this is to allow them to cool on a wire rack.

Roll out your red fondant so that it's about ¼ of an inch thick. With the same cookie cutter you used to cut out your cookies, cut out 12 circle pieces.

Press one red fondant circle onto each sugar cookie and smooth it out.

With your cookie cutter, cut out 6 circles from your black fondant. Using a butter or paring knife, cut the black fondant circle in half.

Press the half circle onto each cookie – this will act as the ladybug's head.

Add 2 googly candy eyes on each ladybug on the black fondant half circles.

With your pink decorating frosting, frost out a little heart on each of your ladybugs' head next to the googly eyes.

Using Wilton icing tip #12, cut out small circles from the black fondant and press onto the body of each ladybug for the dots on the ladybug's back. You can use 3-4 dots for each ladybug.

Serve and enjoy these beautiful cookies!