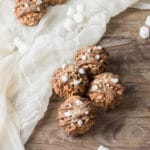 Print Recipe
S'mores Rice Krispies Treats
A new twist on an old favorite, these S'mores Rice Krispies Treats are bite sized, easy to gift, and a deliciously simple way to enjoy s'mores without a fire!
For the rice cereal treats:
Line a baking pan with wax paper and set aside.

In a medium sized saucepan, melt butter over medium heat. Add marshmallows.

Stir marshmallows until completely melted, taking care that it doesn't burn.

Once completely melted, remove from heat and add a cocoa. Stir until cocoa is completed mixed and incorporated.

Fold in rice cereal treats and keep on folding until all ingredients are well combined.

Roll 2-inch spheres from the rice cereal treat mixture. Place each sphere gently on lined baking pan.

In a microwave-safe bowl, microwave chocolate chips in 30-second intervals until completely melted.

Scoop melted chocolate into a piping bag and drizzle over each rice cereal treat. Top off with marshmallow bits and graham cracker crumbs.

Refrigerate for at least 15 minutes - serve and enjoy!