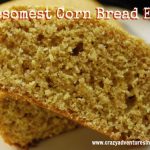 Print Recipe
Best Corn Bread Recipe EVER
If you're looking for a sweetcorn bread recipe to finish off a mexican dish perfectly, this is YOU!
Heat your oven to 400 degrees.

Spray your loaf pan with cooking spray.

Using a large bowl, whisk your egg until beaten and add milk, honey and oil together, beating together until frothy and well combined.

In a separate, smaller bowl, combine the whole-wheat flour, corn meal, sugar and baking powder, stirring until well mixed.

Mix dry ingredients into the wet, stirring until all has combined well.

Pour gently into loaf pan and bake 25 minutes, or until pick or knife inserted into the center comes out clean.

Serving warm is best recommended.