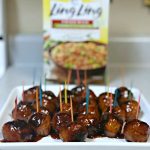 Print Recipe
Saucy Asian Meatballs
After being introduced to Ling Ling Asia-inspired entrees and appetizers, I decided to create this Saucy Asian Meatballs recipe for my family to celebrate the Chinese New Year.
Sauté your meatballs in a medium or large sauté pan over medium-high heat.

In a bowl, mix together the rest of your ingredients and season to taste.

Once meatballs are cooked thoroughly, turn down the heat to the lowest setting and pour sauce over meatballs, coating well.

Stir often to coat well, turn off the heat and remove from heat source.

Let stand for 5 minutes for sauce to thicken.

Plate meatballs and drizzle sauce over top before serving.