There we were in our car, on our way to Dallas. Laptop happily packed safely in the trunk, forcing me to scrawl my scattered thoughts onto the pad I brought with me. And as I begin to write, my trusty, check-writing pen in hand, it's then I realize OH MY GOD, I write.so.fricken.slow! Apparently I must type at super-war-speed or something, lightning fast enough to keep up with my thoughts. And my hand? My hand just couldn't keep up! The more I tried to write faster to catch my thoughts, the worse my handwriting got. Ludicrous!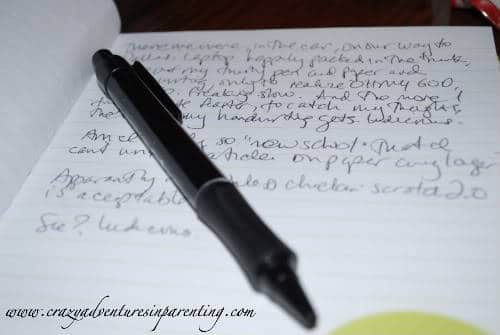 Computers haven't been around for THAT long. I recall cuddling up with a notebook to etch my life's thoughts into it like stone tablet. And now I can barely keep up with those very thoughts. Am I really so "new school" that I can't write a simple article on paper any longer?
Apparently, unless Chicken Scratch 2.0 is acceptable. See? Ludicrous.
Never miss a thing! Subscribe today for all kinds of crazy parenting fun!