My children DEVOUR this bread. DEVOUR it! I make 3 loaves already and I swear I'm going to have to double this pumpkin bread recipe to SIX loaves because of how quickly it goes in my house!!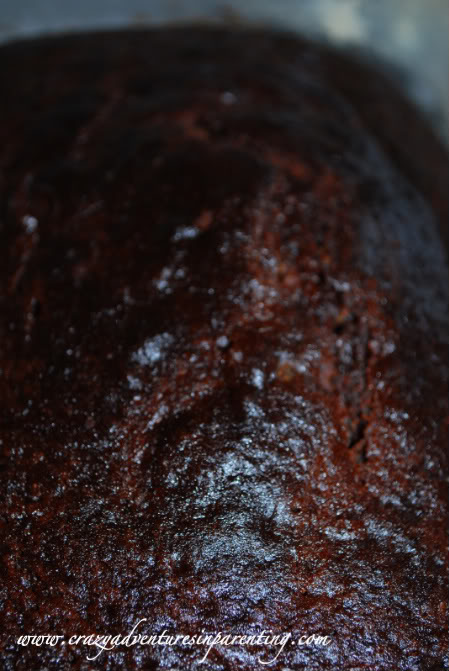 Maine Pumpkin Bread Recipe
(Original recipe is from here, but I tweaked it to suit our tastes)
Makes 3 loaves
Pumpkin Bread
This pumpkin bread is crazy addictive from the moment you start baking it!
Author:
Lisa Douglas – CrazyAdventuresinParenting.com
Ingredients
1 (15 ounce) can pumpkin puree (but I'm wanting to try fresh pumpkin next time)
4 eggs
½ cup vegetable oil
½ cup milled flax seed (or ½ cup of applesauce)
⅔ cup water
3 cups sugar
¼ cup brown sugar
2 tbsp maple syrup
3½ cups flour
2 teaspoons baking soda
1½ teaspoons salt
*1 teaspoon ground cinnamon
*1 teaspoon ground nutmeg
*1/2 teaspoon ground cloves
*1/4 teaspoon ground ginger
*I use these liberally, shaking at my leisure

I like my pumpkin bread spicy!
Instructions
Preheat oven to 350 degrees F (175 degrees C).
Grease and flour three loaf pans.
In a large bowl, mix together pumpkin, eggs, oil, flax seed (or applesauce), water, both sugars and syrup until well blended.
In a separate bowl, whisk together the flour, baking soda, salt, cinnamon, nutmeg, cloves and ginger (I add enough of the spices to 'pepper' the mixture well).
Stir the dry ingredients into the pumpkin mixture slowly, a little at a time, until just blended.
Pour into the prepared pans.
Bake for about 50 minutes or so in the preheated oven.
Loaves are done when toothpick inserted in center comes out clean (I find that it takes longer, I don't go by time on this recipe, I go by the toothpick)
As I said, my children DEVOUR this bread. I just made this last night and already one loaf is gone! I paired this with the homemade butter I made (recipe below) and the kids went nuts!
This is so easy your kids can help you!
HOMEMADE BUTTER
(original recipe can be found here and here)
makes 1 pint of butter and 1 cup of buttermilk
Homemade Butter
This homemade butter is ridiculously tasty!
Author:
Lisa Douglas – CrazyAdventuresinParenting.com
Ingredients
1 pint of heavy whipping cream
salt to taste
Instructions
Beat whipping cream in a bowl until it separates into yellow butter and white milk (NOTE: Cover around the mixer and bowl with plastic wrap so that you don't splatter all over your kitchen. Be careful that the mixer doesn't get the wrap caught) This will take a while. After a few minutes you'll notice it becomes whipped cream. After 5 minutes it'll become clotted cream. After about 8 or so minutes it'll start separating. Do not slave yourself to the time, it might take longer.
Strain out the milk and reserve it for later use (good for drinking, baking, soups, shakes, etc. I've yet to find what I'm going to use mine for, but am excited!!!)
Pour a little bit of cold water over the butter and beat again. Pour off. Repeat until water is mostly clear.
Smoosh out extra water and salt to taste (you do not need a lot!)
Enjoy!!!!
If you have any good buttermilk recipes, let me know! I'm dying to use our freshly made buttermilk!
Let me know if you make these how it comes out!

Have fun!!!