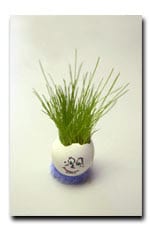 This craft is ingenious. It helps them not only learn how to make things from recycling items, but it helps them grow things on their own, AND eat healthy with what they grow! Woohoo! Can't get any better than that! As soon as we complete the activity ourselves, I will update the picture of what ours looks like, but for now I found this cute drawing of what it theoretically should look like! Cute, huh?
What you'll need:
-eggshell with top 1/4 broken off*
-empty toilet paper roll
-cotton balls (about 2)
-paint and paintbrushes
-*markers
-sprout seeds of your choice (alfalfa works best)
Step 1 – Rinse out your egg shell, dry it completely.
Step 2 – With paint and paintbrushes, paint on your egg shell and let it dry.
Step 3- Draw a face or whatever else you'd like over top with the markers once the paint has dried. Wait until marker ink has dried.
Step 4- Cut the toilet paper roll to fit inside the egg. You might have to cut it lengthwise to curl it tighter to fit.
Step 5- Wet a couple cotton balls and place inside the toilet paper tube at the bottom of the egg shell.
Step 6- Lay your sprout seeds on top of the wetted cotton balls.
When watering your eggshell, mist it lightly with a mister instead of putting water into it to avoid ruining your creation.
*I've been trying to determine the best way to break it properly. If anyone has any idea, let me know 🙂
Have fun! Take pictures if you do this, I'd love to see your results!