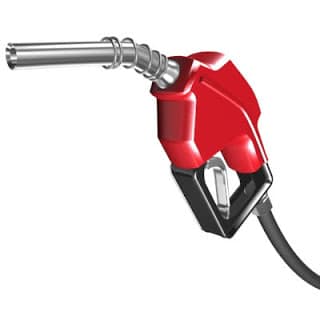 The holiday weekend is over, and I'd thought local gas stations would've brought back down their prices on gas, since it shot up here 20 cents from Thursday to Friday last week. 20 cents in two days. I'm sickened, people. I'm thankful our community's pool opened this weekend giving us something festive to do, and our travelling was to a minimum with a birthday party for our now 4 year old, because quite frankly gas prices are making a huge dent in how we spend our leisure time around here.
In an effort to ensure my minivan is running tip top, I brought it in for an oil change and a gas check, asking if they wouldn't mind giving it the 'once over' to ensure I'm not leaking gas or that something major isn't affecting my van's ability to use gas properly. The guy was nice, he didn't charge me for taking a peek, but felt that the true test to seeing how my van was doing was to check its fuel usage by filling it up – to the point of gas splashing back on you, FULL -, documenting the miles at that fill up, then driving 100 – 200 miles, then filling it to that point yet again, documenting the miles at the second fill up, and dividing the gallons consumed by the mileage travelled to get your current MPG (miles per gallon). You could go from full to empty, then fill up to the tippy top to measure and get better results measuring your entire tank's ability to use gas, but you can get an idea sooner by doing it for just 100 – 200 miles. For my minivan, the 'norm' varies. It's average for city is 17, its average for highway is 24 (I know, not great, but its the safest minivan out there, and I think we keep it well maintained to keep it as fuel efficient as possible). Lo and behold, as it turns out, after doing that fuel usage test, I'm actually getting 20.3 MPG, which is awesome. If you would like to use a handy dandy calculator to figure out your MPG and price per mile, you can check this site out
http://www.milesgallon.com/
, just skip over the newsletter if you want (I did, especially considering the author of the website couldn't spell "course" properly… eek!).
Some further things to consider on how to save at the pump:
*Don't speed. Pressing your gas pedal down *that* much more while driving uses gas, and by not speeding you can save up to 30% on gas usage (wow!). Travelling even-tempered, not speeding, allowing for extra travel time, will help you save on gas.
*Only use the A/C when travelling on highways. Open your windows when travelling slowly through 'city' or slow driving.
*Keep your car maintained. Regular oil changes, filters checked/replaced/cleaned and tire pressure changes (huge!!) are important to maintaining fuel usage.
*Coast. Coast as often as you can, when turning onto your street, when about to come to a stop, when from far away you see the light turn red. The less you press on the gas in situations such as these, the less gas you use.
These are of course on top of the most obvious gas-saving techniques such as walking or riding a bike, or opting to lump all errands into once a week or not driving unless absolutely needed, etc.
Happy gas saving!