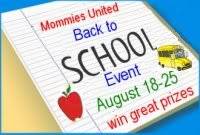 Mommies United is having a huge Back to School Event! An entire week will be dedicated to that one day the kiddos go back to school (for me, that was today)!
In addition to having some fun articles to read, with tips on how to make going back to school fun, you can win some amazing prizes… From books to clothing to fun goodies, they have some great things for the kiddos, just in time for school to begin. They even have a few prizes for you, mommies, so stop by and join the party at Mommies United, August 18-25.
In anticipation of their big event they are giving one very lucky blogger a chance to win one of their SURPRISE GIFT BASKETS!
Your basket will include something for everyone:
V-Tech VMotion
Kraft Bagel-fuls
Gift check for Starbucks new beverage, Vivanno
Burger King Crown Cards and Kids Meal Crayola back-to-school toys
Brothers-All-Natural Fruit Crisps and Potato Crisps
So, do you want to know how to win?
Head over to Mommies United to find out!