The second I read about this challenge, I knew I wanted in. Money or no money, acts of service I could do, and I already love doing things for other people, this was a no-brainer.
Enter in the fact that I just had a baby four days ago.
My 'Gung-Ho' attitude might've attempted to write checks my body physically cannot cash at present, as I'm still recuperating, let alone the lone-feeder of my newborn son, since I'm breastfeeding.
This might not be as easy as I thought.
I rallied, however, and realized I don't need to be perfect here. It doesn't need to be huge. It just needs to be. So yesterday, day 1, my gift was to my children and husband.
My newborn son already gets a lot of attention, as he needs it, but he got to lay a little bit more on mommy, in the wrap, etc.
My 20 month old got good, quality time with mommy. I spent well over an hour with her outside, doing whatever her little heart desired. I also breastfed her on demand when normally she doesn't nurse that much.
Let me interject here before I finish my list. I think this is going to be emotionally hard as well as enriching to me, because of my already juiced-up hormones from being pregnant/delivering/already being a sensitive person. I couldn't.stop.crying. Over everything. Especially when I was 1000% focused on these acts of giving.
Okay, back to my list: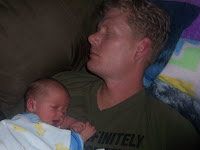 My poor, exhausted husband, who was up just as long as I was last night, got to take an almost 2 hour nap this afternoon/evening. I even gave him the baby so he could get in some cuddle time while napping, considering the baby is on me most of the time. And yes, obviously a good picture opportunity.

I had my husband pick up ice cream at the store yesterday, as a special surprise for the kids. We hadn't had it in a while and thought I'd give the kids a special treat last night.
Regardless of whether it was a perfect time or not, if the kids asked to hold the baby, they could, even if it only ended up in a couple minutes because he was fussy.
Extra hugs and kisses. Seriously, easiest thing to give ever, and probably the best way to let your children know you love them more than anything in the world.
My husband and I plan to involve the kids, and told them about our 'challenge' earlier today. They've been hard at work, helping us around the house, helping to give my husband and I extra pairs of hands, since one of us always has the baby. They're pumped about this challenge.
How about you? Want to join us? Comment here and let me know if you join, and let's hook up there! Let me know your page if you join and post about it, so I can
give
you some comment love!
Give one thing away each day for 29 days. Share your stories about how it impacts your life to focus on giving.
Join the 29-Day Giving Challenge community today.
Why? Because to see the world change, we have to do something to change the world. Plus, the best way to attract abundance into your life is to be in a perpetual state of giving and gratitude. Be an important part of the global giving movement that inspires more generosity on our planet.