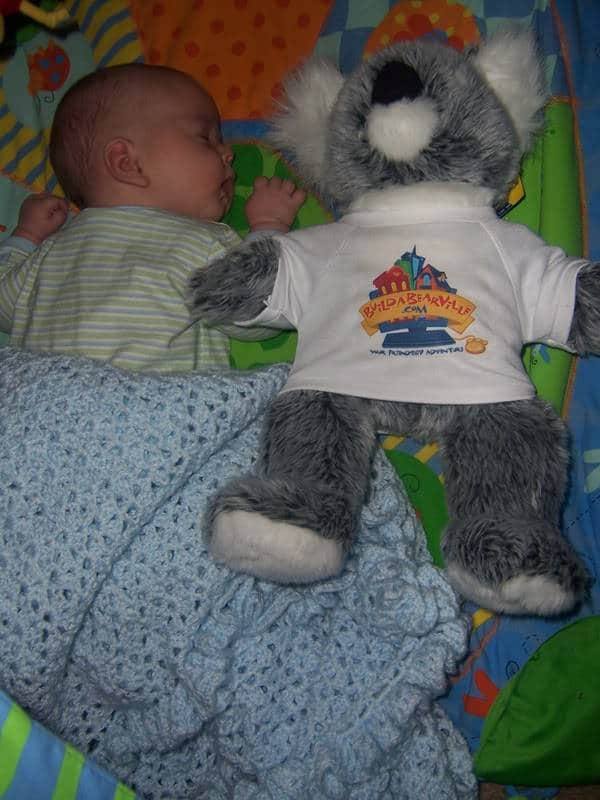 Looking for a gift for the holidays? Consider Build-A-Bear, whether you've got a store in a mall nearby, or if you want to shop online, they've got $10 animals, $12 animals, and more for you to take home as gifts to give for the holidays.
I had the pleasure of reviewing Build-A-Bear Workshop's Kuddly Koala®. Build-A-Bear has always been a huge hit in my family. Our newest addition needed his own to join our brood, and now he's got one, as you see pictured here, almost as big as my five week old 🙂
I've always enjoyed my children being able to create their own little stuffed animal. My eight-year old son's turtle he's never put down since day one. For Mother's Day a few years ago, I was given a bear with a recordable sound chip they call Build-A-Sound®. My husband recorded my four year old, then almost one, saying 'mama' on it. Being able to give the gift of his sweet baby voice, stuffed in a soft bear, to give to me on Mother's Day, made it that much more special, and can do the same for you, too.
The coolest thing I discovered doing this review, other than a cute furry friend for my youngest, was the fact that they have buildabearville.com™ for your child to interact with their furry friend with. In your child's virtual world, their character can be created to look like them, and they'll carry a backpack with which to carry their new furry friend around the virtual world in. It's completely safe, settings controlled by you, and so much fun, even my husband got involved with the kids playing (because, well, my youngest, being only five weeks, couldn't play himself…)
When you purchase a Build-A-Bear, it will come with a birth certificate with a code on the bottom where you can activate your Build-A-Bear online. You will get virtual stuff free when you or the recipient brings their new friend to life online at buildabearville.com™. Check it out!
2,000 Bear Bills
An extra room & wallpaper for your Cub Condo® house
An exclusive reward
An animal adventure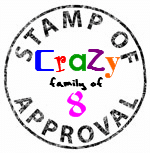 Our final answer? My children have already asked for more Build-A-Bear friends for the upcoming Christmas season, and I've already added their desires to their Christmas wish lists. What about you? Do you have a family member wanting one of these? Let me help make that happen for you!
Build-A-Bear has given me a $10 Bear Buck$® Gift Card to give away to one of my readers! To enter, please leave me a comment telling me how you might spend the giftcard on Build-A-Bear's site. For extra entries (please leave a comment for each one you choose to do), you can subscribe to my blog (1 additional entry, leave a comment with your email address so I know who you are), follow my blog (1 additional entry), tweet about my giveaway (1 additional entry, please leave a comment with your twitter name so I can verify), follow me on twitter (1 entry), blog about my giveaway (5 additional entries). Please be sure and leave a separate comment for each entry with your email address. Winner will be chosen using Random.org. Contest ends Sunday, November 9th, at 9pm CST.
Thank you Mom Select for the opportunity to try this!