Thank you so much to everyone for making 2008 so wonderful! To kick 2009 off on a fabulous note, I thought I'd issue a few blog awards!
Julie from Cool Mom Guide gave me an award, thank you Julie! It's a new award that's spreading like wildfire from Ohana Mama, beautiful! (So sorry it's taken me SO long to get this one done!!)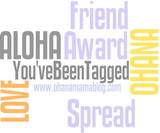 What to do:
First, answer this question…
If you were stuck on an island, what 5 things would you want to have with you?
Then, spread the Aloha! Send this award to 5 other people and let them know they've been given The Aloha Award!
Before I answer, I gotta tell ya, I'm really bad at doing these 'pick five things if you're stranded' memes, simply because I'm too literal. Hard for me to imagine certain things lasting the entire time, rules applying to the items you pick, etc. Not that you really want to hear me over analyze the task at hand… *shushing up her literal self*
Onto my five things:
1. My family (and yeah, even though there's a lot of them, they count as one "thing". Nyah nyah!)
2. Heating pad. Like the American Express motto, I never leave home without it.. or is that Mastercard? What? Electricity on an island? Hmm.. good point.
3. 2. Coffee. Yeah, I already know, no electricity, but I need coffee! (and by default, that means a coffee machine). What? Electricity again? Ah, nevermind….
3. Food. Kinda think that goes without saying. All we can eat. Ha!
4. Bedding for us all. Pillows, blankets, etc. Yeah, I know I'm cheating again by being vague (like I did with family) but cut me some slack 😉
5. Heating pad. Oh wait, I mentioned that already. Hmm. What else? Chocolate? Ranch dressing? Food! Wait, said that already. Um, what else… probably toys. I'm a big kid, too, so toys would be cool for them and me (and hubs too).
So, as you can see, I'm really bad about doing these. Really bad. I'm way too literal!!
Next, fellow contributing writer Amy from The Finer Things in Life awarded me and the other contributing writers two lovely bloggy awards. For the Kreativ Award, I'm to list 6 things I'm thankful for and pass it along to 6 bloggers. The Lemonade Award is for blogs showing attitude and/or gratitude, and I'm supposed to pass it along to 10 blogs I feel have the same. Neat!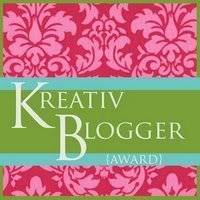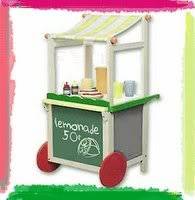 As a result of these awards, I am to nominate 21 blogs. 21!! Holy cow!!! So, to those listed below, feel free to take whichever award you'd like (or take them all!).
Phew, I'm spent! Congratulations ladies 🙂 Happy New Year!