Did your children get some Christmas money they're looking to spend? I have just the idea! RIDEMAKERZ! See below for an awesome coupon code for $10 off!
Let me just start out by saying that RIDEMAKERZ is awesome! I knew when offered by Maria Bailey on Twitter to try this, that this was definitely something we would enjoy, and was I ever right! My sons love cars as it is, and love to build things as well. They already loved Build-A-Bear®, so this was most definitely right up our alley!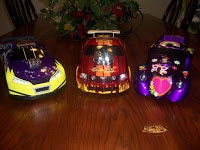 If you haven't already heard, RIDEMAKERZ is a new car customizing experience for kids made to be like Build-A-Bear® but using cars instead of stuffed animals. (Fun tidbit, Build-A-Bear® is actually an investor in RIDEMAKERZ and their strategic partner!) They invite "customizers" into the ultimate car-customizing shop either online or at one of the 12 shops nationwide to build a car that's fun and easy to put together, for ages 6-106 (you think I'm exaggerating, but I'm not!).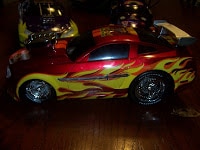 "Customizers" travel through seven zones, "CHOOZE, SONICIZE, MOTORIZE, MOBILIZE, CUSTOMIZE, PERSONALIZE and CRUIZE™", building and customizing one-of-a-kind "RIDEZ" (you have to admit, this is ridiculously cute). Between the body styles and colors, tires and wheels, lights and sounds, accessories and decals, RIDEMAKERZ estimates there are more than 649,000,000 possible combinations, not including individual decal placement! Awesome!
Simply put, RIDEMAKERZ is about the joy and fun of creating something great, something artistic, something unique and original. (And if you're lucky enough to live near their main garage in St. Louis, Missouri, or near any of their 12 shops, they're hiring!)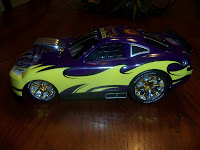 We aren't lucky enough to have one of their shops local to us, but we hope to visit one someday and try the full experience. We have had tons of fun building and adding to the ones we received initially. In fact, we love them so much, for Christmas we gave our children parts to add on to their cars, and we gave our daughter a car of her own for Christmas too! She of course, got hers in purple with daisy rims and flowery heart stickers for it. In addition to that, we gave RIDEMAKERZ cars to my two nephews at Christmas, too, and we helped them put them together. If that doesn't say how much we loved their cars, then I don't know what will!
This car-making experience unleashes creativity, encourages collaboration, provides choice, builds confidence and instills a sense of community for kids and families everywhere. The process is especially appealing to fathers and sons who can share memorable bonding time choosing parts and building the ride (and mothers who don't mind getting in on the action, either). This is actually a gift that keeps on giving, as your RIDEZ can be customized over and over again, you can always add on to an already built ride by easily snapping on and off the parts you'd like to add on. RIDEZ start at just $12 and can be customized and added on to for years to come.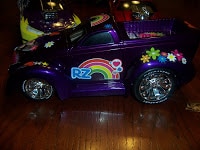 With our initial cars, my older son's car had an issue with the chassis in which the sound card wouldn't play. The friendly person I spoke to at RIDEMAKERZ immediately remedied the problem and shipped out a new chassis that very instant, and we had it lightning fast, as we did each of our shipments. Christmas didn't even seem to phase their ability to ship quickly. The company is majorly on it. Hugely impressive to me!
Here are my boys with their cars, putting it together. My four-year-old, who isn't quite 'old enough' shows you the ease in which he was able to use their tool. Not at all hard!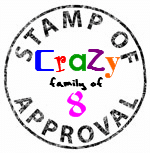 If you're looking for a cool, new toy that'll foster imagination with playful creativity and a sense of accomplishment, I hope you check out RIDEMAKERZ! Definitely worthy of our Crazy 8 Stamp of Approval! Thank you Maria and MomSelect for this opportunity!
With that Christmas money, cash in on their limited time offer – enter the code 93481 and save $10 off a $30 RIDEMAKERZ purchase. Hurry! This offer expires on January 4th, 2009.