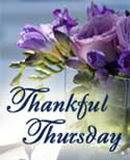 I'm combining these two. First off, since Thursday Thirteen in it's original spot is no more, Happy to be at Home has picked it up. Here is their Thursday Thirteen this week.
And now on to my Thankful Thursday Thirteen. I can make up my own rules, y'know 😉
This has been a hard week, and will be followed by an equally hard week, with the worst day I've had in a while happening today. Probably one of those days I shouldn't post, but it isn't all sunshine and roses here at the Crazy Adventures in Parenting household, you know. You're entitled to see that, too. Besides, I could use encouragement today.
It's hard to pick your head up and be thankful when you just know 'the suck' is heading your way and you're hip deep in it.
Regardless, in an effort to thwart it at every cost, I will remember to be thankful. I am, by far, no where near the worst off person, anywhere. I must keep myself in check. I must recall my reality checks, The Closet Door and My Mother Letter. Not to mention my family, even though they've upset me, they are my life.
I am thankful for my beautiful family.
I am thankful for my six children, even though I feel they don't appreciate me or half of what I do, or their things.
I am thankful for my loving husband, even though I feel taken advantage of sometimes.
I am thankful for my friends, wherever they are, online or in person.
I am thankful for the roof over my head, albeit it small for our family of 8, and cramped, and despite it frying our computers.
I am thankful for the food we eat, albeit more expensive than ever and causing us to compromise what and how we eat.
I am thankful for the ability to blog, as some days it seems like my only release.

(wow. I am having trouble coming up with 13 things, here.)

I am thankful for my extended family, with whom I got to all see during the holiday, despite drama, illness and more, it was great to see them even if it wasn't all sunshine and roses.
I am thankful for my health.
I am thankful for my minivan. Sounds silly, but it fits my whole family, and when you have a big family, that's kind of a big deal.
I am thankful for coffee, as I wouldn't survive some days without it.
I am thankful for the sun. I always feel better under it. (Note to self: immediately go outside after this kthx)
I am thankful for love. Love for my family, it's what keeps me going no matter how bad it gets.
Okay. That took a lot out of me. Gonna go change a diaper, pack up all my kids, bring 'em outside and breathe in the air and try to forget the myriad of suck stagnant around me right now. Maybe the wind will help blow it away, so that when I return from outside, it'll be gone.
Hopeful? Maybe. We'll see if it works.