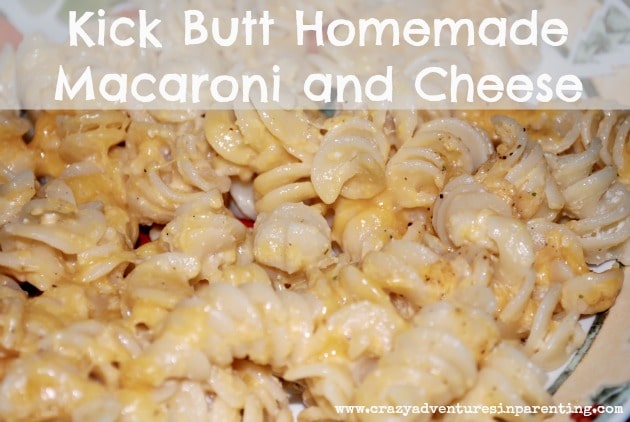 Butt-Kickin' Macaroni and Cheese
I know. It's macaroni and cheese, it isn't brain surgery. But (and I say this in the gentlest of ways), there is a right way, and many wrong ways of making it.
Whether you decide to make it from a box or from scratch, remember these three things:
First, don't overboil and make it mush. It isn't going to matter how awesome your ingredients are, if you've made mushy macaroni, it's not going to be good.
Second, drain, and drain well so that you don't make it too watery. You want the butter, cheese and milk (and anything else) to make up the cheesy-ness, not left over water.
Third, and this is important – butter first, cheese second, milk third. In that order! Put your butter in, while the macaroni is still blazin' hot, and stir until it covers every noodle. Next, add your cheese, whether it be a cheese packet or freshly shredded. Mix as well as you can. And as you begin to mix it, then add your milk. Use a second spoon to scrape whatever might stick to stirring spoon, do not let cheese stay stuck to the stirring spoon, as that is cheese that should be flavoring your macaroni, not your spoon. Keep stirring until creamy and well blended.
Trust me – if you don't already do it this way, do it this way, and your kids will testify to the awesomeness that is this method 😉
Now, if you'd like to try your hand and homemade macaroni and cheese, here's the cast of characters you'll need to make it fabulous: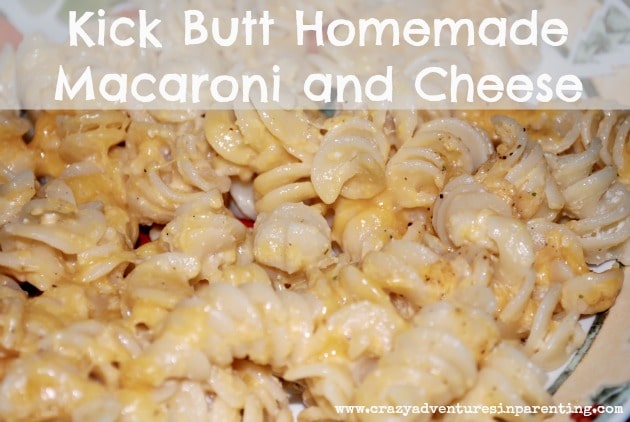 Butt-Kickin' Macaroni and Cheese Your Kidlet Will Love
This fantastic homemade mac 'n cheese dish is hearty and cheesy.
Print
Pin
Rate
Instructions
Prepare macaroni, and while it's cookin', start shredding cheese (if it isn't already shredded).

Preheat oven to 350 - have a 13x9 rectangular baker ready, but be sure to prepare to have something else, in case its too full (I always end up making 1 1/2 pans worth, at least)

Drain the pasta, putting it back into the pot, add butter in first (remember!?!), coating the pasta well.

After whisking the eggs, mix in the milk.

Add the cheeses and seasonings to the pasta, stirring quickly to get it mixed well, then add into the pasta the milk/egg mixture.

Once cheese is melted and covered evenly, add breadcrumbs until covered, and place mixture into baking pan.

Cover and cook for 20 or so minutes.

Take cover off, cook for an additional 5, browning the top.

You can add additional cheese to the top before browning
Yum!
Now, don't forget – butter first, ok? Got it? Now go, cook, and have fun!