I love to find ways to re-use and recycle. I also love to decorate, so combining the two is always a huge plus for me, as you end up with free decor! 🙂
Did you get a pretty box of chocolates for Valentine's Day? Don't throw away the box! If you're like me, and you like to decorate for almost every holiday, you can re-use it as a pretty Valentine's Decoration!
With a simple tack, you can hang it off the wall, as is (as shown below), or hang it on your front door with a wreath hanger. Or, if you have some pretty red ribbon and a hole punch, you can hang it tied from a pretty bow! If you received more than one beautiful box for Valentine's Day, you can make them into a Valentine's grouping on a wall, or separate them by placing one as a centerpiece for a wreath, on a wall, or wherever it works! The possibilities are endless!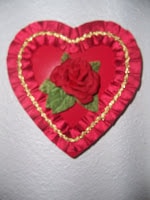 Mine was small and is shown hung from the wall on a tack.

If you like to decorate using knick-knacks on shelves, tables, and the like, you can use it right along with your other Valentine's Decor. Here I have it shown on the display you see in my entry way: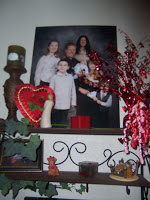 Was the box you received a box that's pretty sturdy that could be used to hold something on a table, perhaps? Here's the table underneath the above display in my entryway. Note the Ghirardelli box, a gift last year.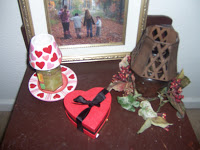 Do you do things like this at your house? If so, tell me how you repurpose your gifts to decorate!
(Side note: Yes, I realize V-day is over, but you could save these for next year's decorations! Kind of like shopping the day after Christmas for Christmas decor, you know?)
---
Never miss a post! Subscribe here for all kinds of crazy parenting fun!