If you read NieNie, you notice in her header some silhouette pictures of her and her family. Those silhouette pictures she would make every year, as a project, to mark her children's growth. These pictures would adorn her wall above her fireplace and were a topic for conversation. Her home, and these pictures, were featured in Cookie Magazine back in 2007.
The second I saw them, I knew I wanted to do them too. And I did. But I must let you know that, she did a far better job than I.
But I fell in love with what she did, anyway, and wanted to mimic it myself. And so, I did. Here's how I did it (aka the "Simplistic-Not-As-Artsy-as-Stephanie-but-Still-Passes-for-OK-Version"):
I took side pictures of my family:

Pulling them up on screen, I traced them with simple printer paper:

Then cut them out using an Exacto Knife

on a piece of cardboard

. Don't cut straight onto your table, or counter, unless you want slices in it.. Once cut, I ensured it would fit the frame by using the enclosed mat that comes with the frame:

I then placed the white cut out onto black card stock, and cut it out:

I used the enclosed mat once more to crop background white sheet of scrapbooking cardstock to fit into the frame:

I applied glue to the back of the black silhouette:

I then affixed the face onto the cropped white sheet:

Once aligned and glued on, I placed it into the decorate frame I purchased. I got stylish $3 special from Walmart in a cherry color. Cheap or not, I love these frames:

Finished products! See?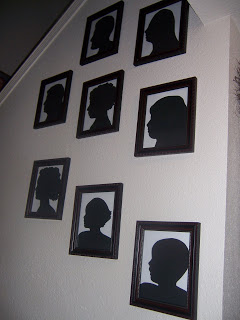 I just threw the pictures up on the wall so that you could see them, but, they need to have an artful way to display them, much like we did here with our family pictures: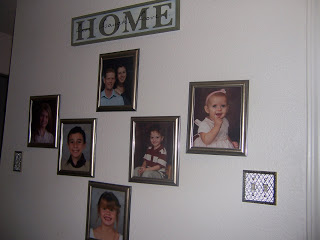 (Yes, I know, my teeny one isn't up there, yet. Have yet to get a family portrait done, and one of him up there. I'm such a slacker!) Our plan is to add his picture at the end, scooting them all over and my four-year-old to the bottom, and making the bottom a double-picture-point to maintain the 'arrow' effect.
But this is for a flat, wide-open, rectangular wall. Not for a semi-parallelogram-shaped wall.
Now that we're a family of eight – an even number – it makes picture clusters like this a challenge when stair-stepping them. What do you suggest we do about the silhouette portraits? How would you arrange them to go up the stairs like that? Let me know in the comments, I'd appreciate any input!
Like what I did here? For more tackles just like it, visit 5 Minutes for Mom and to share your domesticated happiness visit Blissfully Domestic.

Never miss a post! Subscribe here for all kinds of crazy parenting fun!