I don't think I can amply convey for you the feeling of turning a corner and seeing your youngest standing, having pulled himself up on something. I've seen it before, obviously. With each child it's always magical, always exciting, even a little scary because you're watching them grow right before you. It's sprawled out there for you to have to witness, despite how desperately you want them to stay that way forever, so you can cherish every ounce of chubby-ness, the fluffy cheeks, the double-chin, the tooth-less smile.
Then, right there, he'll turn and see you and he'll smile that famous smile, like he hasn't seen you in weeks and you're the best thing in the world right at that moment. And you know what? He's right. Nothing else in that moment, that smile shared between you, is better. Of course, you'll smile back at him, even if it's breaking your heart in two. He's growing, momma. He's getting bigger. Despite going from scooting to pulling himself up and passing over that whole crawling-thing, there he is, going on eight-months-old.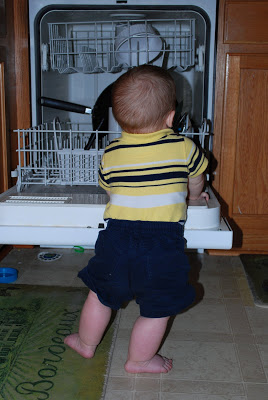 Watching them grow -nothing else can be so fulfilling yet so agonizing at the same time.
Never miss a post! Subscribe here for all kinds of crazy parenting fun!