It's Mom's Nite Out today! Woohoo!
National Mom's Nite Out is the first nationally organized celebration of motherhood. Intended to bring together today's moms, physically and virtually, National Mom's Nite Out will unite over 150 social media groups, companies, local playgroups, mommy bloggers and mother social networks in giving moms a well deserved night off.
Are you planning anything special today? Check out the local events and online events offered if you feel like partying in celebration of YOU!
I'm partnered with them to make today as special as possible. Follow along the online party at both MomTv.com and on Twitter, hashtag #MNO-09!
Are you ready for the giveaway? I bet you are. I know I am. It's been hard not to spill the beans!
It's a..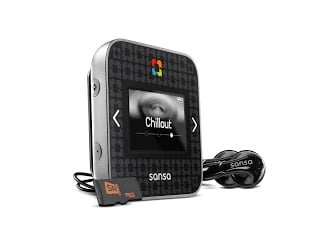 I am SO ridiculously excited to share my experiences with it, and to give one away to one of you lucky readers!
As I'm sure you can imagine, I was BEYOND stoked to have been given a Sandisk Sansa slotRadio player to try. Having been the only person on the planet without my own personal music device, especially with as much as I love music, I was feeling pretty left behind technologically.
The slotRadio player is right up my alley, because the main reason I hadn't hopped aboard the mp3/iPod train sooner – I didn't want all the work of having to rip songs off a CD and download them onto the player over and over again to achieve my playlist. Adding to my already heavy workload just wasn't appealing, and so I've been music-less, except for my car's radio or blip.fm.
Now, however, I can jam anytime, anywhere. Yes! The slotRadio player already comes pre-loaded with music! Imagine a teenier version of your digital camera's memory card – except this teeny memory card holds 1,000 songs. Oh, and you do nothing to get them there, it's already done for you! Sa-weet!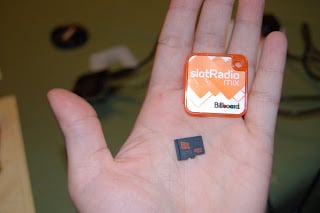 (I'll wait while you look at that picture in amazement some more. I know, I did too. I mean, how can they cram all that music into that teeny thing?)
Yes, unbelievably enough, that teeny weeny thing holds 1,000 songs! The one that comes with the player is a mix, preloaded with a 1,000 songs, all from the Billboard charts and organized into seven genres, ready for you to click play and begin jammin'. Playlists include Urban, Rock, Contemporary, Alternative, Country as well as "Chillout" and "Workout". Double sa-weet!
This thing is the busy mom's new musical best friend (and husbands, apparently. See how I got robbed?)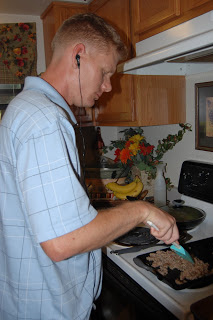 No? Look closer, the thief!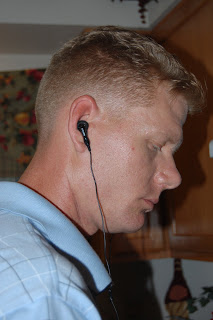 (Eh, I can't be too hard on him. He was, after all, making dinner for us.) 🙂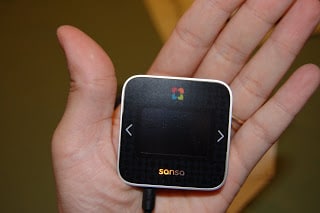 I also think this might be a pretty easy thing to give to a tween or a child as their first player (provided you keep their memory-card thingamabobs somewhere for them, especially if they're anything like my kids, with things going missing in 2.4 seconds flat).
Should you want to listen to your favorite FM station, the slotRadio player also has an FM tuner, too.
I love how it isn't bulky and has this built-in clip that allows me to clip it on and do housework, no problemo. Buttons are easy to use, with the volume on the left, the pause and 'next song' combo button on the right, and the forward and back buttons on top, which switch genres for you.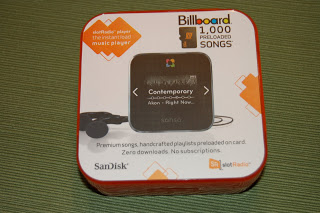 Upon opening the box (which in itself was cool, see?) it had everything I needed to get going right away – earphones, slotRadio card, charger, USB and more. Fun slotRadio fact – the charger and USB plug into each other, minimizing on cords you need! You use the USB for your computer, and again when you need to recharge, plug the USB cord into the AC adapter (which really is only the end piece to a power cord) and plug it in! Makin' it easy on us again, love it!
I like the hard case, it came with. Easy to travel with. I am also lovin' the silicone sleeve. I've dropped it a few times and no problems here with that badboy on it, plus I know that it's protecting it from dings and such. But it seems pretty strong, even without the sleeve.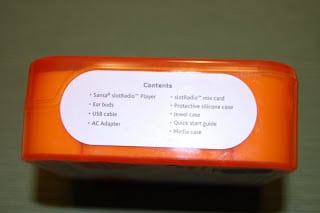 I'm really enjoying listening to this player. So much so I look like a huge dork singing to myself when no one else can hear the music, and I'm okay with that. My one issue is not being able to with this is that I can't repeat a song I like if I want to hear it again right that second. However, I'm sure if I really tried, I could recirculate through the songs in that genre to get to it again (however, 1,000 divided by 7… is a lot of songs to circulate through!)
Oh! And the battery life, this thing lasts forever! It also powers down when you leave it on pause for a bit, saving on power even more. I'm all for things that can be rechargeable, not having to spend money on batteries and helping not clog landfills with wasted batteries works for me!
Want It?
The player is currently being sold online at www.slotradio.org for $99.99 (includes the player and a 1,000 song card). Additional genre-specific music cards – Rock, Oldies, Hip Hop and Country – featuring 1,000 songs each from Billboards top charting artists in each particular genre, are available online at www.slotradio.org and will soon be in Radio Shacks nationwide, along with the slotRadio player.
Win It!
The moment you've been waiting for – win a Sandisk Sansa slotRadio player!
To enter:
Subscribe by email/add me to your reader/follow me on Google Friend Connect/Blogger first (that is, if you haven't already. If you have, then you're ready to go!).
After that – simply leave a comment,

as often as you like

! Consider this an "open" contest in that, you can

leave as many comments as you want to try and win

! Once you've completed the first step, you can keep coming back and leaving me comments here on this post, as many as you want, til the cows come home! G'head! Tell me about your day, what you want for Mother's Day, that you have a hang nail, it all counts! (So long as you don't start typing just one letter here or there, or counting. I'd like the comments to be complete or almost complete sentences, please.)
Comments close Monday May 11th 11:59AM CST.
The top 5 people who left the most comments will move on (so be sure to leave as many comments as you can!). Those top 5 finalists will be asked a few questions, "quizzing" them about the awesome Sandisk Sansa slotRadio player. Whichever person answers the questions the fastest wins!
How this 'final' will work: Once the finalists have been determined, I will shoot out an email out, asking how they'd prefer to be "quizzed" – via phone, messenger, Twitter, etc., and a time they can sit down and do it. Once the details are worked out, I will ask the finalist one question at a time, timing them on their responses, and whomever returns their answers with the fastest time will win!
Whatcha think? Kinda fun, gameshow-style, huh?
Good luck, and happy Mom's Nite Out!
Never miss a post! Subscribe here for all kinds of crazy parenting fun!