This is the kind of fun that I can bring to BlogHer if you sponsor me, Protect-A-Bed. I bring my own entertainment to the par-tay!

Yeah! I'm kind of crazy (is it a wonder where I got my blog name from?) And that's okay. That's how I roll! I mean, how are you going to get through life, living in the military with six kids without a sense of humor, sprinkled with a bit of lunacy?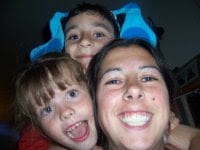 In all seriousness, everything I do is for their smiling faces and my hard working husband. It is, after all, how I began blogging to begin with and how I plan to continue. What began as a way to write about raising our big brood while living in the military all while finding the joy and humor in the little things, who knew it could become so much more!
Regardless of having the conference ticket already, I need help in getting my tired, mom-of-six butt to the conference. This scholarship would help me pay for my airfare or hotel cost. Living on a military salary, we can't make this happen on our own. Oh! For the chance to meet some of my favorite bloggers, to talk, laugh, learn and ~knowing my big, fat emotional self ~ cry, I would give my left arm to get there.
Okay, well, maybe not that far. It'd be hard to make waffles. And type.
I really need to go to this conference, if for nothing else, to get some mommy time away. Living here and all it's stresses has taken it's toll on me. Picture proof – are you seein' what I'm seein' here? Not only do I bring my own party, I bring my own baggage as well. Helloooo!?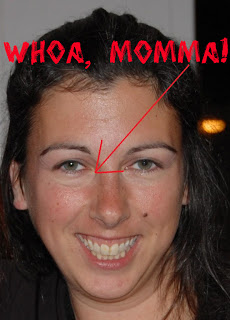 Sorry if I just made you run screamin' from your computer! Come back!
You could help a military spouse by sponsoring me, Protect-A-Bed. Going to BlogHer and bringing baby dude along will only help me spread the awesome laughter and smiles he can bring to a room, help me grow my blog, and help me get some much-needed time away.
Y'know, before the bags under my eyes start droopin' lower than my boobs already do.
Just sayin'
Special thanks to Kim from What's That Smell, Alyson from 3 P's in a Pod, along with Protect-A-Bed for this wonderful opportunity.
Video lovingly made by Leanne. Miss you!
Never miss a post! Subscribe here for all kinds of crazy parenting fun!