Yesterday I had the extraordinary pleasure of speaking to Kelly Ripa …
Wait. I seriously just said that? I spoke to Kelly Ripa! Can you tell I'm still reeling?? {insert girly-type squeaking while jumping up and down here}
Yes, it's true, and yes, I have a video of it (to prove to all you that I'm not crazy and that it did in fact happen). But before you watch the video, I have to admit to you a couple of things.
First, she was AMAZING and sweet and funny and engaging and she was so down to earth and I am thankful to have had that chance to speak and get to know her better. (Thanks to everyone who made that happen!)
Second, I was a big geek. I won't lie. I was flustered, but I really had no reason to be, other than her pure awesomeness, really she's a mother like me, like all of us, and she's doing amazing things. AMAZING things.
What amazing things, you ask? (I know you're also asking yourselves why Kelly would call me on Skype yesterday, too, right?) She called to talk about Electrolux and the launch of their Virtual Lemonade Stand campaign to benefit the Ovarian Cancer Research Fund (OCRF). The OCRF's mission is to fund the research that is helping to find a method of early detection, and ultimately a cure, for Ovarian Cancer. Kelly is working with Electrolux to help them, and Electrolux has generously committed to donate $500,000 to this worthy cause. Bravo!
Being touched personally by cancer in my family myself, as many are, I felt it not only my duty, but my honor to speak with her and talk more about this amazing campaign.
So, here's our interview. Please don't mind the super-smiley dork to the right, pay attention to the guest of honor, the lovely and engaging Ms. Kelly Ripa:
See, I told you – huge nerd! But that's okay, because she was awesome and didn't seem to mind, and it's for a good cause.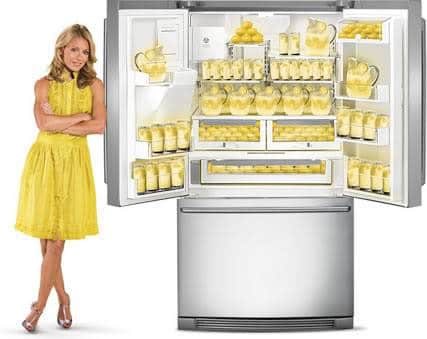 To recap: by visiting http://www.kelly-confidential.com, you can design and open up your own virtual lemonade stand and even pick the flavors of lemonade you'd like to feature "selling" (my choices were Citrus, Raspberry Meyer and Rosemary Watermelon Lemonade!).
For every stand opened, Electrolux will donate $1 to OCRF as part of it's $500,000 commitment to help fight ovarian cancer. Additionally, any donations made by purchasing virtual glasses of lemonade from your lemonade stand will further help raise money to support the cause even more. 100 percent of the proceeds will go to OCRF.
You can visit my lemonade stand if you simply want to donate, or visit http://www.kelly-confidential.com to make your own and invite friends to donate or do the same. It's for a good cause.
Oh, and remember, by making your own lemonade stand, you're entered to win one of your very own Electrolux French Door Refrigerator with Perfect Temp™ Drawer!
Lastly, I want to touch a bit upon the fact that, this campaign wouldn't exist if Ovarian Cancer wasn't an issue. Ovarian Cancer is the leading cause of death from gynecological cancers in the United States. It is estimated that 15,000 of the over 21,000 women that were diagnosed with it will lose their lives to it. That's a staggering percentage, and I sincerely hope the OCRF can find a cure soon. I am hopeful that, with Kelly, Electrolux, and your help, they will.
Please, familiarize yourself with their material so you can learn more about this insidious disease, and hopefully arm yourself with that knowledge so that, should you need it or be at risk, you can seek out help and catch it early, and be among one of the survivors. Visit www.OCRF.org to learn more.
Never miss a post! Subscribe here for all kinds of crazy parenting fun!