I have this old Betty Crocker cookbook from the 70's.
I used to use this with my mother while growing up. It gives me great pleasure to pull it from my cookbook shelf, delve into it with my grown-up fingers, knowing my child-like fingers used to strum these very pages while my mother, covered in flour and love would thumb through to find the very recipe I'm about to create for my children.
The feeling that comes over me is like a wash of tea down your throat after coming in from the cold. It almost tingles. It is just that good!
To peruse the tea-colored pages from years of wear. To see old ear-marks on pages I've never visited and see recipes my mother used.
Tingles.
And the heart-shaped sugar cookies for my children? So sweet. So perfect. Child-me would be so proud of Adult-me. See?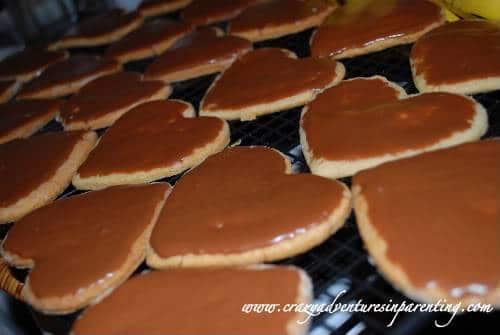 So. Much. Yum.
Sugar Cookies (the roll-out kind)
To sugar or use sprinkles, brush tops with beat egg white and water to add sprinkles or sugar. I made a simple glaze using confectioners sugar, cocoa powder, cream of tartar, vanilla and milk to glaze the top, and used a spoon to lightly spread it to cover the tops.
Enjoy!
Never miss a thing! Subscribe today for all kinds of crazy parenting fun!