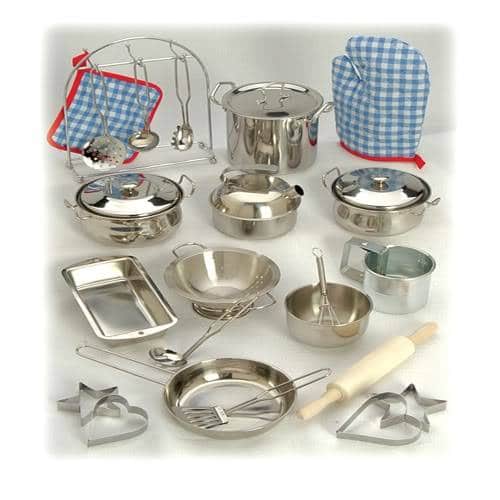 Never before, in the history of ever, have I opened up a kids toy and cried. Okay, I didn't cry exactly, but I was misty. I was feelin' the vapors and the quivering lip was working overtime, I tell ya.
When I saw how amazing and shiny and adorable and pint-sized and OHMYGODTHECUTE this All-Play Stainless Cookware Set from Constructive Playthings was, I went completely spazzy, I won't lie. My daughter was frightened a little. (Okay, more than a little.) I just wanted to sit with her forever and ever and pretend-cook our little hearts out.
This set is the real deal. I mean, I have stock pots JUST. LIKE. THIS. She thinks she's hot stuff because she can sit with me, side by side, with the same whisk and same pot and bowl and roller and ladle and COOK.
I am not even going to lie when I tell you, I fell in love with this set so hard, I moved the play kitchen downstairs. True story. Look! Proof!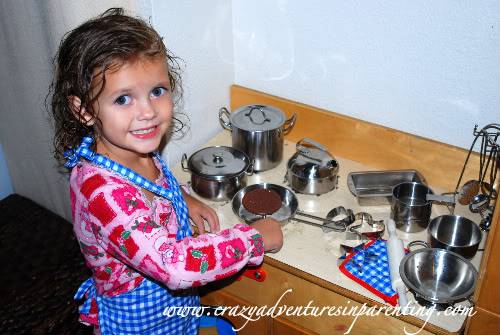 She plays kitchen right behind my desk!
We play with it every day. I love it. She loves it. Baby Dude loves it. Even hubby loves it.
The end.
(Pssst, want a discount for Constructive Playthings? How's 15% on your entire purchase. Click that link or their button in my sidebar. You're welcome.)
Win it! – CLOSED
Want a $50 gift card to shop for educational toys or developmental toys with 'til your heart's content? Heck yeah, baby!
To enter:
Visit Constructive Playthingsand take a look around. Come back and tell me a toy you think yourchild would really enjoy for one entry. (The toy mentioned in the review does notcount.)
For extra entries:
Follow Constructive Playthings on Facebook (1 entry)
Follow Constructive Playthings on Twitter (1 entry)
Subscribe and/or follow my blog, and/or follow me on Twitter. I'm CrazyAdventures (1 entry for each, and if you already do for any of them already, it counts!**)
Share this post via blog, email, Facebook, Stumble, Kirtsy, Digg this post! (1 entry each 'share'. Be sure to comment each time!)
Tweet this post on Twitter, come back and post that you did (1 entry per tweet – unlimited entries available!)
Or, keep the favorite toy choices comin'! (1 entry per comment)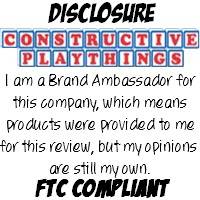 $50 gift card awarded to one winner in US and Canada only (Canadians – Constructive Playthings is just on theverge of launching in Canada. If you win, you will be one of the firstpeople to shop on the website with your gift card when it launcheslater this month.)
Winner will be chosen using Random.org. Contest ends Saturday, July 17th, at 10pm CST.
Good luck, and happy playing!
Congratulations Tammy!
Never miss a thing! Subscribe today for all kinds of crazy parenting fun!