The day the Arts and Crafts Case for Kids arrived from Constructive Playthings, my poor daughter was sick from a stomach bug. She's a mirror-image of me, loves to do crafts, draw, paint, and to not be able to rip into this right away, it just about killed her. However, it served as an important tool in enabling her to get well:
"Baby, you have to rest and get better so you can do crafts with me!"
"Baby, you need to take this medicine, it'll make your sickies go away so we can do crafts!"
(What?! I'm not above bribing my kids to help them get better, or to get them to do things I need 'em to do. Ahem.)
And as soon as the coughing/vomiting/snotty nose/yuck went away, it was on like Donkey Kong. This girl has been a craftin' fool, since. I was happily surprised to see just how many lovely ingredients for magic it had already stocked within its drawers, with room for more!!
You see, before this, I had one of those white plastic dollar-store bins to keep everything into, which left things lost often times. While not everything fits into these drawers, it fits most, especially the teeny-tiny things that fall out. And I can refill it with our favorites, too. Perfect tiny-sized things for a tiny-sized human.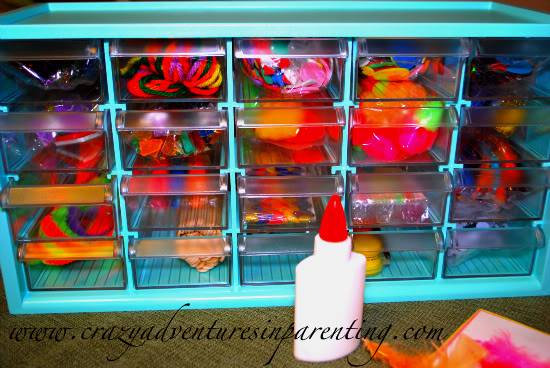 Case includes pipe cleaners, plastic gemstones, yarn, pom poms and googly eyes to paint, foam shapes, craft sticks, feathers, ribbon, and much more!
Win it!
Would you like to create some crafting magic using the Arts and Crafts Case with a special little person in your life?
To enter:
Visit Constructive Playthings and take a lookaround. Come back here and tell us what tell us what other item a child in your life would love to receive. Remember that by clicking this link or button below, you receive a 15% discount off your entire order.
For extra entries: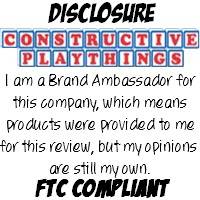 One Arts and Crafts Case will be awarded to one winner in either the US and Canada only (Canadians – Constructive Playthings is just on theverge of launching in Canada!)
Winner will be chosen using Random.org. Contest ends Tuesday, March 8th, at 9pm CST.
Good luck, and happy crafting!
Never miss a thing! Subscribe today for all kinds of crazy parenting fun!