I thought that I'd share with you, as my first and introductory post to Mamavation and being the newest Mamavation Mentor/Cheerleader, my current addiction love of smoothies.
I'm one of those people who, if I love something, I balls-to-the-wall love something. Like, can't eat, can't sleep, can't stop talking about it, making my family and friends want to disown me because I love it so much. (Okay, so, maybe that doesn't happen.)
The other day, Jennifer from Savoring the Thyme (fellow Mamavation mentor) shared with me this wonderful guest post full of happy vegan recipes from Kathy of Lunch Box Bunch. To include this scrumptious Banana Berry Smoothie made with vanilla soy milk and AWESOME. (If you've never visited Kathy or Jennifer before, I encourage you to do so!)
Are ya seein' that thing? Yes, it is that purple. Yes, that thing is AMAZING. I blend that sucker in my Ninja and I hear angels descending to Earth singing operatic songs all around me.
Or maybe it's because I'm taking too long and my kids are all wailing at me their demands.  
Whatevs.
Look. Looooooook!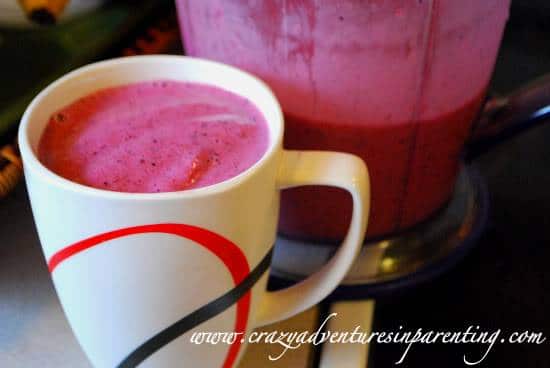 Smoothie made of win! Made with love by me, nature, and the Ninja
Okay, so I'm not the best photographer in the world, but holy crapstick on a horse, will you LOOK at THAT?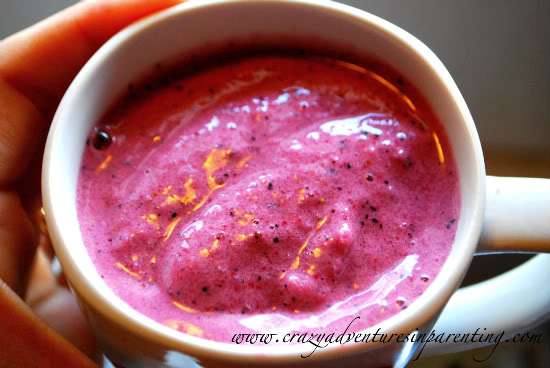 Chock-filled with ridiculous amounts of nature's awesome. It not only tastes good, but is SO good for you, too. I make it almost every day. Like I said, addicted. Not just addicted to the taste, but addicted to the way it makes me feel. Won-der-ful!
My recipe is tweaked a bit from Kathy's – I halve it, so I can drink it at once (it does NOT keep well after more than a couple hours in the fridge.. the ice melts, the banana turns.. it's not pretty). I also add Spirutein and vanilla extract (Spirutein for added protein, baby, and vanilla extract 'cuz that's how I roll).
Banana Berry Smoothie
Adapted and tweaked from Kathy's original recipe
1/2 cup frozen strawberries
1/4 cup frozen wild blueberries
1/2 frozen ripe banana
1/2 fresh ripe banana
1/2 cup fresh strawberries (Kathy recommends organic, if you can find them)
1 cup vanilla soymilk (Organic Valley, Silk, Westsoy, or Eden are all excellent brands)
1 Tbsp organic maple syrup (I religiously use Maple Grove)
1/2 tsp apple cider vinegar (I use Bragg*)
1/4 scoop Spirutein*
1/2 tsp vanilla extract
1 cup coconut water ice cubes (can substitute with regular ice cubes; I do)
Optional:
Tiny pinch of pink sea salt (Kathy says you can purchase this at Whole Foods)
Add 'em all together; blend them at least a minute or more, until blended well.
The recipe above makes enough for almost three eight-ounce glasses of smoothies. That might sound a lot, but if you're drinking a smoothie instead of a meal, I figure, that amount is perfect. It fills me up, fills me with energy, and I'm ready to GO! Great pre-running/work-out drink!
The soy milk and Spirutein together add just enough protein, coupled with the wonderful carbs from the fruits to get me PUMPED!
Do you drink smoothies, too? What do YOU like? Share your recipes with me!
Never miss a thing! Subscribe today for all kinds of crazy parenting fun!