Our day 3 started out by my decision to NOT run that morning (if you could call sleeping-in a "decision"). Ha! As much as I wanted to, all the walking and dancing and activity from the day before left me super-exhausted and, as a result, our entire family slept through breakfast, which was NOT good because we had big plans at 11:30 – our son and daughter were competing in the Magic of Healthy Living Games at Epcot! We had to get going!
We got up as quickly as we could, scurried off in search of the monorail to take us to Epcot in hopes of finding something semi-breakfasty for everyone before the kids had to compete. Complete and total fail of a morning on our part, but man oh man, did sleeping late feel good!
As we stopped at a danish/coffee station (YES!!), I spotted this huge Magic of Healthy Living group screaming down the walkways, chanting, beating their chests like Tarzan (okay, maybe not the last part), all wearing these fancy tee shirts, waving flags, headed right next to this area where we were purchasing our coffee, er, breakfast. It was only 11:15, and I was confused, because this was not at all what was on the agenda, and we still have fifteen minutes. I quickly ushered after someone, showing them our armbands for our children, to which I noticed Kim other bloggers as confused as I was, wondering if they, too, had been heading to the wrong place. I immediately phoned Katja to tell her of what we'd discovered, only to find she, too, was in a wrong place as well. After a few minutes, our children came out and we had someone in charge who was super-smart and told us that we were part of another event, and our itineraries were correct (but now we were running late). She then accompanied us to the right spot. (And had I have caught her name, I would publicly thank her by name here, she was a lifesaver!)
We arrived, thankfully on time, explaining to others the mix-up. We got settled, Katja and family, just in time to hear opening remarks from Darrell Green, Hall of Fame football player (who I must say was an absolute delight to meet and talk with at length later). He called the kids teams down one-by-one, who then split up to partake in their afternoon of competing! And albeit hot, they had an absolute blast.
Lunch was served there, and we were able to partake in some lovely healthy food choices and (bonus!) stay in the shade while we ate (it was a hot one!). We drank something incredibly lovely called Energizing Spa tea or something (Laura, I need that recipe, girl) which had berries floating in it, and I drank eleventy-thousand glasses of it, it was too good!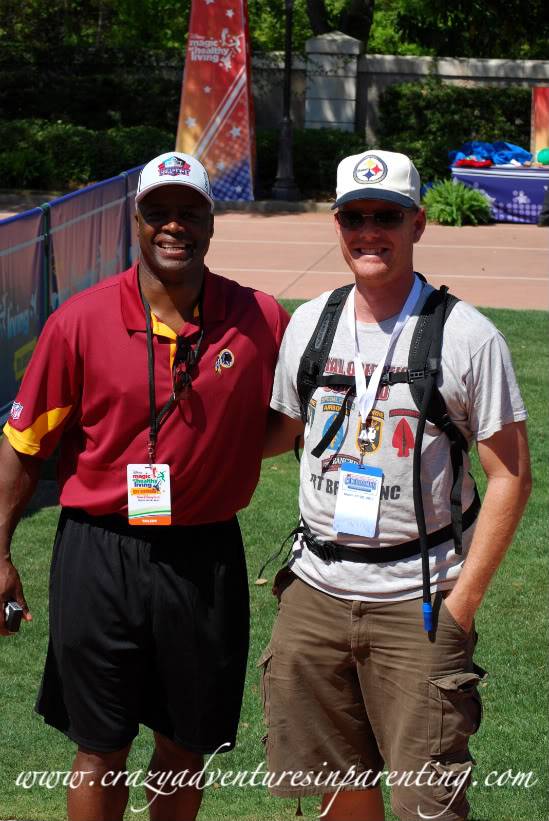 Hubs and Darrell Green
After their festivities were done, they were able to see how each player and team stacked up against the other by how many steps they took while playing with a cute little device hooked up to their shoes to track their footsteps. Very interesting stuff! (You can check out what more Disney has to offer at Disney.com/healthyfun and Disney.com/healthymagic or clicking the button to the right.)
Once we thanked everyone for putting on such an awesome event, we re-checked back into Epcot and set sail to spend the afternoon taking pictures, visiting the different countries, and for the guys, sampling each country's beer they had to offer. I think this was the single best time I've had in a while, and one of the bestest parts of this trip, honestly. Despite the sun roasting us to a crisp (particularly poor fair-skinned Katja), we mingled, moseyed, snapped pictures, truly grazed and lovingly lingered over every inch of everything there was to look at, instead of the Hurry! Rush! Got to get to this place! This character! This ride! It was so nice, chatting, laughing, seeing our collective children getting along like long lost BFFs. Makes my heart ache our families don't live closer so we can do this more often.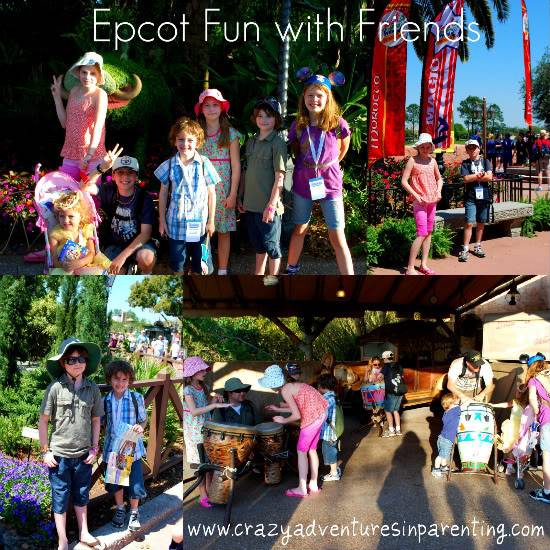 We loved every ounce of Epcot!
We stopped over in Italy as the kids had wanted ice cream, and we figured who does ice cream better than Italy and their ices and gelato? Instead, we were remarkably lucky to walk up and get a table for thirteen immediately so we could sit down for a very late lunch and enjoyed appetizers, Italian beer for the guys, and lovely desserts amongst us at Via Napoli. Our kids, again, sat around a round table and enjoyed themselves so much, they actually all say Italy was their favorite part! (Food pictures forthcoming in a completely separate food post because Disney food was THAT good!)
We had only a little time before our actual "dinner" event, so we stopped off in China for a little bit. And, if you follow me on Twitter, you may or may not have saw me discussing what we lovingly referred to the Mystery Old Lady Drink of Doom™. During our Epcot Adventure, we decided to share with Katja and her husband our favorite drink – what used to be called the Green Tea Bao Bing is now called the Green Tea Plum Slush over at China's tea stand Joy of Tea. The Green Tea Plum Slush is Chinese Plum Wine mixed with green tea, and juice. While we waited, an old couple accosted us, saying they felt their Canto Loupy drink was the best, and said we should all try it.
Reason #1 this was a bad idea – We did not ask them WHY it was their favorite.
Reason #2 this was a bad idea – Because it was basically straight vodka with a wee bit of cantaloupe slush! Whoops! (Unfortunately for us, this was discovered after we'd already ordered one for each couple!) (I may be exaggerating about whether it's, in fact, all vodka, but I can tell you, it sure tasted like it.)
This couple went on to regale us their tales of coming here, first thing, to get this drink because it was their cheapest way to get hammered. We couldn't do anything but laugh, we totally had no idea, and now we were stuck! There we were, the four of us, now with two drinks between us that we were certain were going to kill us if we dared attempt to drink them. What do we do? We pawn them off on our friends, of course! Ha!
Poor Danielle and husband, Sandy, Zippy, April, all fellow table-mates at the Magic of Healthy Living dinner that night. (And I know, what type of people are we to bring that hot mess to our healthy dinner, but seriously, what were we supposed to do with it? Heh.) Sandy actually thought it wasn't too bad, as did Danielle's husband. The rest of us winced and coughed. Danielle likened it to fire-breathing (I have to agree). Needless to say, we had a great time laughing and giggling while watching our children all frolic together at dinner.
Unfortunately, I wish I could say they had been frolicking over their dinner, too. None of my children would even try eating the appetizers set out, and they only ended up eating the carrot and chicken from dinner (I could partially attest this to their having already eaten at Italy, though). Personally, I thought dinner was actually pretty tasty, myself, but I think the menu downright scared our children with it's too-grown-up descriptions (see above). I think the dinner would have really hit the mark kids-wise if they'd have taken children's favorites and converted it somehow into healthier options to show the kids it can be just as tasty, or at least offered a children's meal and given this just to adults.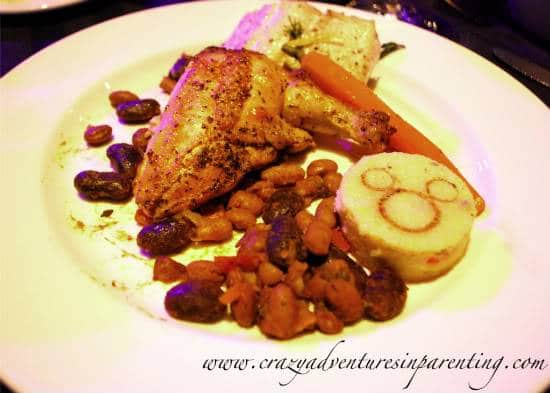 That chicken and Mickey-stamped Polenta were delicious. I also had a small bite of the fish. I talked way too much to try anything else, unfortunately. I was looking forward to the greens grown right there at Disney.
We also had a mega-meltdown at dinner for my eleven-year-old, who was pretty sure he and all those participating in the Magic of Healthy Living Games earlier that day would get to meet the Disney Channel stars and get an award on stage, or even be recognized for their participation that day. It was hard to eat crow because, honestly, it's what I'd thought was supposed to happen, too. I didn't actually realize we weren't part of the main event, just an off-shoot. And he was pretty upset about it, and I was upset for him.
After dinner, to cheer my dude up (and we were at Disney, it wasn't hard), we decided to skip the Illuminations/special dessert after-dinner shindig to go to Spaceship Earth instead. I waited outside with two sleeping toddlers and watched the fireworks while the everyone else rode the ride. Fireworks at Disney are magical, and honestly, sitting on that brick wall next to the gorgeous smelling flowers, practically underneath the Epcot ball with the fireworks illuminating off of it? Freakin' MA-GIC! It's bits and pieces like that I will keep tucked away in my heart, forever.
We fought with the monorail a bit to get home (we weren't sure where the special bus was to take us back to the hotel). Exhausted on the monorail, we reflected on our magical day at Epcot, despite some of the 'bad', the kids were in awesome spirits, and ready for more! Contemplating the pool or the 24-hour arcade at Gasparilla Grill and Games back at the hotel, they chose option number two as the kids were getting a little rumbly in their tumblies and I stayed in the room with the sleepyheads.
I can tell you, I feel absolutely foolish for not realizing Gasparilla Grill and Games was open 24-hours sooner. Their food was excellent, and they truly had everything you could want at a moment's notice! Why didn't we know about this that morning when we almost had to skip breakfast! Argh! The kids played video games and ate, and when they were done, my husband brought me back a chicken salad with walnuts and green apple slices. It was delicious and a perfect way to end our day!
Unfortunately, tomorrow was the day we had to say goodbye to everyone….
Disclosure: As a participants in the 2011 Disney Social Media Moms Celebration, we received reduced rate park passes and hotel room for my family as well as other perks, including private parties and events, while receiving several gift items.
Never miss a thing! Subscribe today for all kinds of crazy parenting fun!