If you follow me on Twitter, you may have noticed I've been tweeting and retweeting a lot about something called "#sendcheer" lately. It's a campaign I'm currently running with Collective Bias that I couldn't be more excited about. As an Army wife myself, helping military families, big or small, is something I'm quite passionate about, and this initiative is a fun and easy way to not only help support the military, but to get the kids involved while doing it. (Be sure read my post about other ways to help the military, too!)
Cheerios® has teamed up with the USO to "send cheer" to military families by sending encouragement and thanks using special postcards you can cut out from specially marked Cheerios boxes. Look!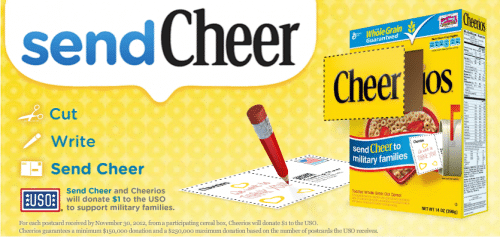 How cool is THAT!?
Once stamped, these pre-addressed postcards will go to the USO to be distributed by them to military families. As a result, for each card received, $1 for each card will be donated by Cheerios to the USO to help fund programs that help support the military and their families. How wonderful is that? You can do all that, just for the price of a stamp, and a few words of encouragement and thanks written! Awesome!
Imagine being on the receiving end of one of these postcards! I get sniffly and teary-eyed just thinking about how much this will make a family's day, with all they military families go through, serving right alongside their soldier.
I can't help but feel pride in this campaign, as a military wife, and I am supporting this 1000%. I hope you do, too. To celebrate this campaign launch at Walmart, we're having a #sendCheer with Cheerios® Twitter Party!
Join us to chat about how we can help support military families through #sendCheer with Cheerios! We will also share great "giving back" ideas, and give away two (2) $25 Walmart gift cards, two (2) $50 Walmart gift cards, and one (1) $100 gift card to Walmart during the party. Woohoo!
WHAT: #sendCheer with Cheerios Twitter Party to "send cheer" and discuss ways to help support military families!
WHEN: Thursday, November 10th from 9 pm – 10 pm EST
WHERE: On Twitter via TweetChat or our custom Tweet Grid: http://bit.ly/tfbPC8 using the #sendCheer hashtag
FOLLOW: Follow hosts @crazyadventures, @kathleenhenage, @monicajohnson and the #sendcheer hashtag
PRIZES: 5 (Five) Walmart gift cards total to be given away: 2 $25 GCs, 2 $50 GC, and 1 $100 GC
RSVP: The link below (use your Twitter name as your name, and your Twitter profile URL as your URL, please)
Fine Print: To be eligible to win one of the five Walmart gift cards being given away, participants must RSVP using the linky below. All winners will be chosen from the RSVP list, using random.org, and must be present and participating in the party at the time that they are drawn as a winner. Only open to US residents only.

Looking forward to seeing you there! And be sure to hit the share buttons below, and share with friends, family, and various followers social media channels.
Thank you for your interest in helping Cheerios support military families! Be ready to share YOUR ways you help support from home at the Twitter party, okay?
Never miss a thing! Subscribe today for all kinds of crazy parenting fun!