Hellooooo, hot stuff.
I love making breakfast easier for my (big) family. I'd love to buy out of convenience, and get some of those boxed breakfast microwave-and-done kind-of things from the store, but my conscience gets the better of me. Not only can I make it myself, and make it way better, I can do it at a fraction of the cost. And? If you time if just right, you're not adding much more work to prepare it in advance.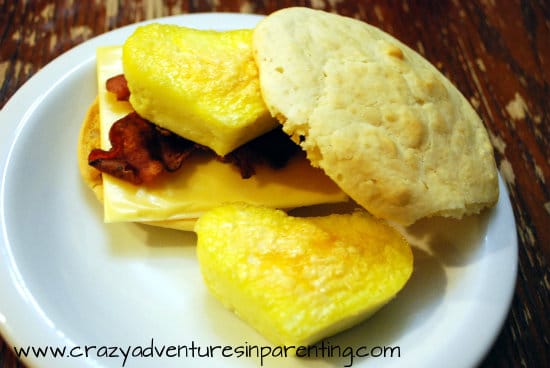 Last night, while preparing a big breakfast for dinner (eggs, pancakes, hashbrowns, sausage, bacon, etc.), I whisked up four extra eggs with 1/4 cup of milk, poured them evenly into a six-muffin heart-shaped pan (but any muffin pan will do), and baked them in the oven alongside biscuits. It barely added any extra work on my part to over-prepare more breakfast fixins to make our mornings move a little smoother.
I made the biscuits with a bit more liquid than it normally calls for, just so that it would spread out, more like a cookie, and be a better sandwich (in my opinion). Less crumbly. This way, I could sandwich them together, too. I made twelve of these "biscuit cookies" to make six sandwiches.
Once all ingredients were cooled to room temperature, using sliced cheese on a biscuit, I broke a piece of turkey bacon in half, criss-crossing it on top of the cheese, adding the heart-shaped egg, and finally the top biscuit. Wa-la! Easy-peasy and ready to go!
I wrapped each in cellophane, and placed 'em in the freezer. The kids can pop out as they please, heat in the microwave for about a minute (or so, give or take), and have a homemade hot breakfast anytime.
TIP: The trick to heat breakfast sandwiches and wraps in the microwave is to sandwich them between two small bread plates, on flipped upside-down on top, so they heat thoroughly without drying out.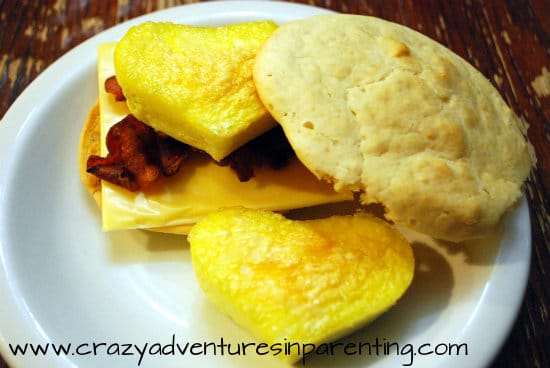 Aren't they adorable? Even those heart-shaped eggs would look gorgeous on a morning breakfast plate with a couple slices of bacon, and a pancake or two, right? Maybe for Valentine's Day? Or Mother's Day? (Ahem.)