If you're a ShopYourWay rewards member, you're going to want to check out their new contest app, Win Your Way. Win Your Way is their new app that is now part of the ShopYourWay social shopping platform in which SYW Members can sign in and find a constant stream of new and unique sweepstakes. Prizes may include: ShopYourWay Rewards points, trips around the country, jewelry, clothing, appliances, tools, and gadgets.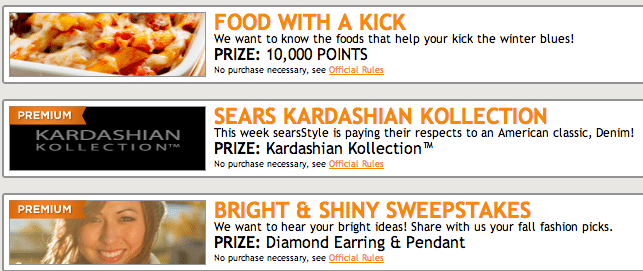 It seems pretty easy to enter, it resembles Pinterest in many ways, where you create albums from their cataloged items in order to enter their contests. What a fun way to earn some extra points into your SYW account!
Along the right side of each contest, it tells you when the contest will end, and how many comments, shares and entries there are.





Two current sweepstakes that are ending soon that appeal to me is the "Kids Are Alright" contest and "Tone Up Time." There are some low entries on some of those contests, you should head on over and enter! Some end today!
By the way, if you're on Twitter, you can follow @ShopYourWay there, and their hashtag,  #WinYourWay.
No purchase necessary. See http://bit.ly/RdfB8K for details.
This is a sponsored post with brandfluential.com, I am a Win Your Way blogger, though all opinions are my own.