Last year, you lovely people helped me decide which holiday cards to choose. This year, I'm hoping you'll help me do it again.
We trust Tiny Prints with our cards because their quality is unsurpassed, and their choices are original and spectacular.
I want to share with you just how much I love them and why – not only do they make beautiful cards, they make DURABLE ones. Just look – I've kept our old holiday photo cards from previous years in my purse, without envelope, so when people would ask for pictures of our kids (or proof that I actually have seven, whatevs), I can show them. So durable, in fact, my small children can hold them and show others without wrecking them. You'll notice a slight curling at the edges from wear being in my purse all the time, but look at how well these cards have lasted!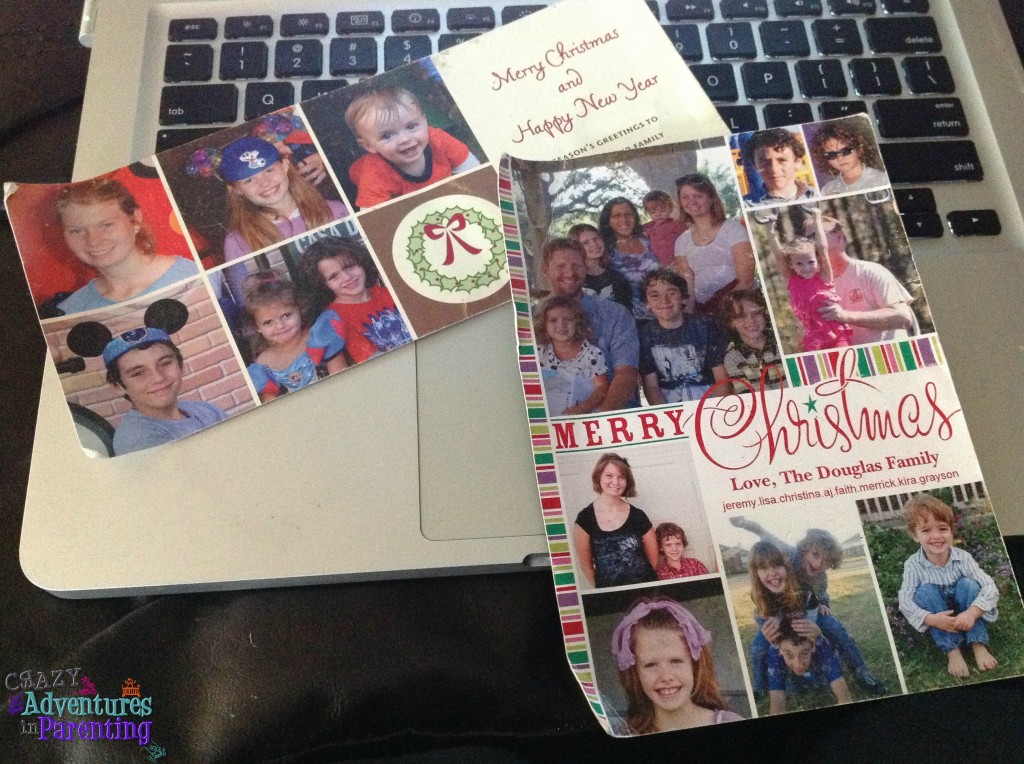 Here are my top choices for 2012. Will you help me choose?
Choice #1 – Happy Highlights – Meadow.
This card gives you the opportunity to give a couple updates as to what you and your family did during the year. How awesome is that!?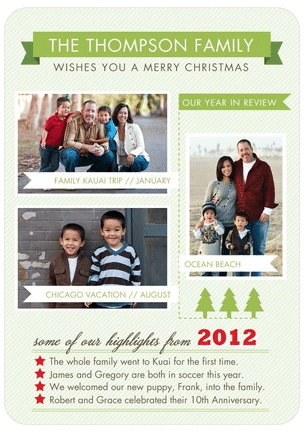 Choice #2: Striking Season: Black
This has a lot of options for photos for our big family, and had a clean design.
Option #3 – Photo Garland: Wood
Is this not the most adorablest card EVER! Oh my gosh.
Option #5 – Merriest Stripes: Deep Blue
I love the look of this one, and it has a lot of options to add pictures of our kids, but does it look too close to our cards last year?
Option #6 – Handwritten Love: Bright Red
This one really gets me right in the heart. So romantical and sweet – but someone would definitely have to take our photograph for this one.
Option 7 – Bright Moments: Slate
This option is gorgeous and has openings for many pictures.
Option #8 – Talking Blocks: Green Apple
This option is similar to the first option in that it allocates areas for us to update on what we did for 2012. Really cute, don't ya think?
Which one/s do you love, and why? I'd love to hear your thoughts! And, if you're interested in checking out what Tiny Prints has to offer, be sure to check out their Special Offers page.
Win It!
By commenting on this post and sharing your opinion with me on which card above is your favorite choice for our family, you are automatically entered to win a promotion code $50 off your total order! For extra entries, you can share this post using the buttons below, and be sure to please leave a comment for each share.
This is a quick contest! It ends November 19th 2012 at 10pm CST. Winner will be emailed their promo code, which will expire 12/14/2012. It does not include shipping & cannot be combined with any other promo codes.
Good luck, and thanks in advance for helping me choose! 🙂
Tiny Prints has sponsored this post, but I truly love working with them and getting their holiday cards every year, and my opinions and love for their products is my own.