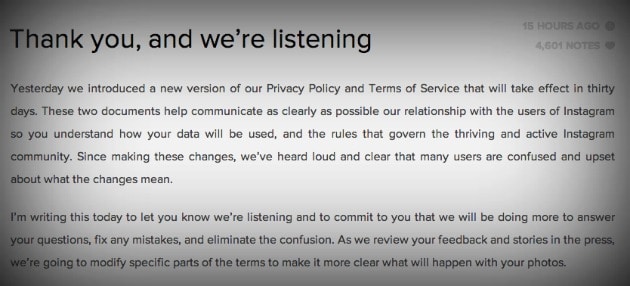 Instagram's change to its Terms of Service (TOS) happens to be a very hot topic right now, and even though Instagram issued a statement regarding it's changes and changing the legal mumbo-jumbo because it caused "confusion," a lot folks everywhere are leery, wondering what to do, and considering Instagram alternatives.
While discussing this change on Facebook yesterday, there were a few recommendations made by my friend Kat, fellow blogger and owner of eDesign Pro web hosting, that I thought were worth delving into further. I think these are wonderful ideas to make using Instagram (or other programs) safer, regardless of their advertising plans, plus some good Instagram alternatives for you to consider:
Reduce resolution – make your photo unusable to others. With better quality phones containing better quality cameras, this obviously yields better quality pictures, rivaling DSLR images. Instead of shooting straight from your installed camera's app, perhaps try using different camera apps for taking pictures that use a lower resolution. Reducing the resolution of the photos you share on Instagram (and other photo-sharing apps) will safeguard your photos more, preventing others from being capable to use them in their current high resolution form. Cameraphone editing software like iPhoto, Snapseed (iOS and Android), and Adobe Photoshop Express (iOS and Android) can help you do this. (Also, see eZy Watermark lite in the next section, too.)
Watermark your photos. Others can't use your photographs if you have a big 'ol honkin' watermark smack dab in the middle of it, fancy software and high resolution or no. There are a few watermark apps available, like eZy Watermark lite, which not only watermarks but also can reduce resolution, too (killing two birds with one stone). There's also iWatermark Free, A+ Signature Lite & PhotoMarkr for iPhone on iTunes, and Add Watermark, Phone Secure Watermark, Watermark Copyright, and Add Watermark for Google Play for Android devices.
Move to another app – If you're not convinced that watermarking and using low resolution will help you on Instagram, and that you don't trust what they're saying, you can always download your photos and delete your Instagram account. There are other photo-sharing communities out there you might want to start using. For instance, Twitter has upgraded their app to include editing features and filters. Flickr has also come out with an app with more filter options than Twitter, as well as many full photo editing tools. The updated Flickr app is also a lot easier to navigate and search than the previous versions. There's also the popular Hipstamatic on iOS, too. The Next Web offers 8 Great Instagram Alternatives, including PicPlz, PicYou, and Lightbox.
What do you think about this change in Terms of Service, and what Instagram is saying – do you believe them? Or will this make you leave Instagram? Will you stay and watermark or use photo-editing software first? Or does this not affect you?