---
2013 is going to be a fantastic year – a year where we collectively focus on the happy and the joy in our lives. What makes you happy? What is it that you do that you can't get enough of? What makes your soul shine, your eyes beam, and your insides sparkle?
Happiness is so very many things for me, and on Wednesdays I plan on sharing the answer to that. Every week, here, on Twitter, on Instagram and Facebook. You can follow along by using the hashtag #happinessis on Twitter and Instagram.
---
I could share with you a ton of pictures of our past week, what we did, and things we experienced, especially over the holiday weekend, but today, I only want to share with you one moment – a moment that profoundly touched me as a mother. I haven't been able to get out of my head since it occurred.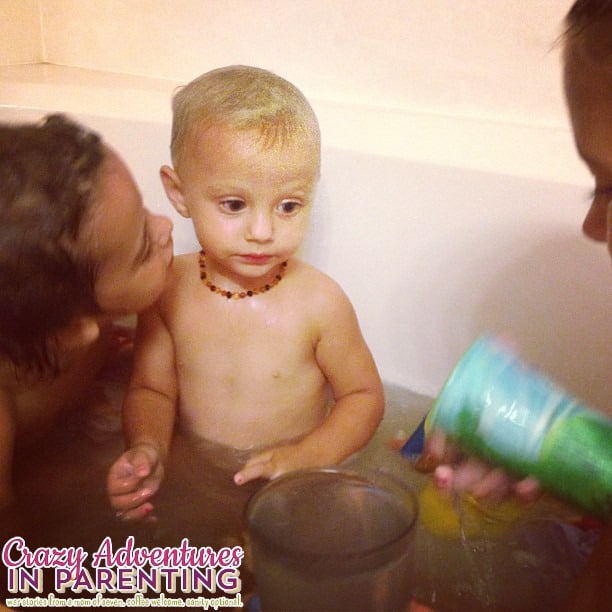 You all know I've been bathing kids for years. Despite getting soaked and sometimes having to clean up a bit more than water in the tub (ahem), have you ever experienced something wonderful that just hits you straight in the gut? A moment you want to last forever – something so sweet and endearing, you never want it to end?
There shouldn't have been anything spectacular about "potion-making" with two plastic cups in the tub. Once the bubbles had subsided, Baby Sis would fill up the larger cup and pour it into the smaller cup for Baby V. They would trade cups and "potions" over and over again, working together, no drama, no fighting, no nothing except adorableness, beauty, and cooperation.
But then there was Baby Dude.
This little romantical dude sang to his sisters, particularly his little sister, kissing her, petting her head, playing their "potion" game while serenading them. He loves to sing, and I think he liked his acoustics in the bathroom, because he never stopped. Over and over, his songs just filled the empty air around us, because the girls were playing ohsoquietly.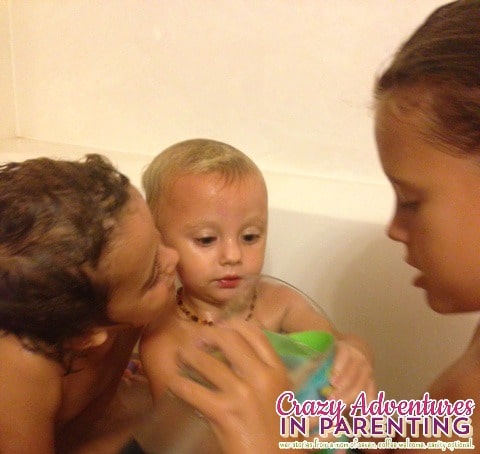 I was in near tears. I just wanted to stay in that bathroom forever. I kept them in until they began to shiver and get pruny, but it was worth it – worth it to see their smiles, their laughs, their joy. I keep thinking about it over and over again, trying to fill every waking moment with my kids in some similar way, some fantastically magnificent parenting special time kind-of way, just like that time in the bath tub.
I wish for nothing more than for you, every one of you, parent or no, to slow down in your day just long enough to see the absolute beauty in the people and things around you. I know it's opened my eyes.