I looooooove me some pecan pie. LOVE LOVE LOVE. I could eat it all day every day and thensome. (And then do ALL THE RUNNING to run all those calories off.)
Pecan pie is kind-of like pumpkin for me, where I dream about its flavor constantly. I've created a lot of things using pumpkin in my lifetime, but just the other day I started daydreaming about fall and pies and how little there is out there for pecan pie. What, is pecan pie too good to mess with? No one experiments and makes pecan pie ANYTHING, and I vow to change that. OH YES!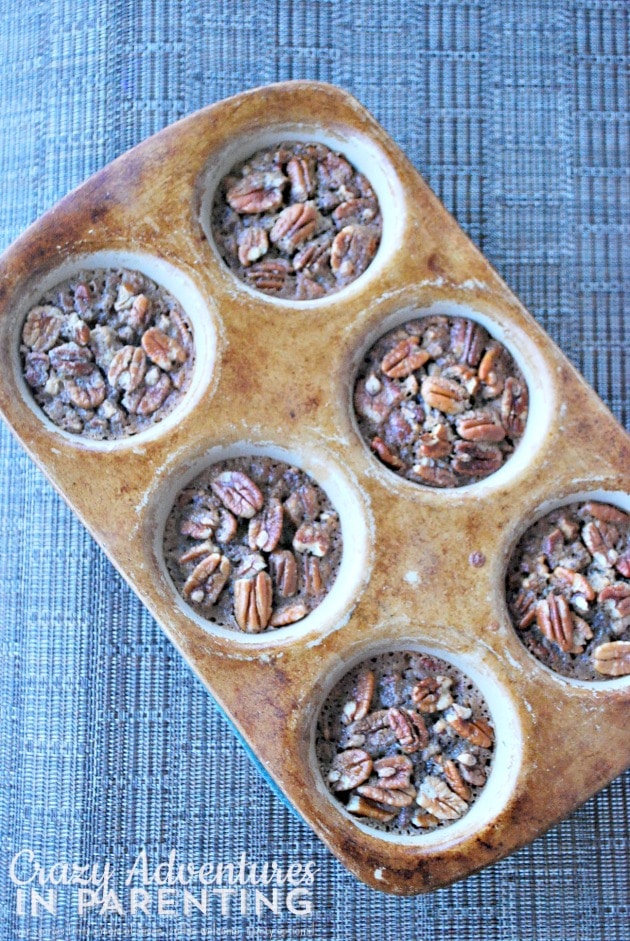 Be on the lookout, momma's gonna go pecan pie CRAZY here in the next few weeks. (And whine about being sore from all the extra working out I'll be doing as a result. Heh.)
In the meantime, I decide to create this pecan pie topping recipe for you (and me). I wanted this to be able to be put on anything and everything. Pancakes? Check. Waffles? Check. French toast? Check. (OMG!!) Cook it in advance, slap it into a resealable bowl, and it'll keep nicely for 2-3 days. Warm it onto whatever you'd like, and you've got something REALLY awesome. Oh yessss…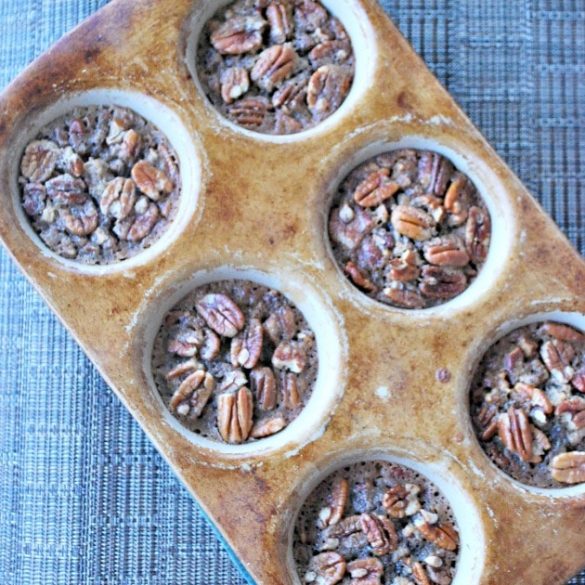 Pecan Pie Topping Recipe
This corn syrup-free recipe is for the topping only, so it can be used for anything you'd like, not just pie!
Print
Pin
Rate
Instructions
Preheat your oven to 400 degrees.

Lightly spray your muffin pan with cooking spray. (A stone muffin pans works the best.)

In a medium batter bowl, whisk together the eggs until frothy; stir in the butter and beat until well mixed (might look somewhat separated, though).

Stir in the sugars one at a time, as well as the cinnamon, mixing well in between.

Add in the vanilla, then the milk, blending until thoroughly combined.

Add in the flour gently, to ensure it doesn't splatter all over the side of the bowl.

Pour the filling into each muffin well to about ¾ full.

Top with a few of the halved pecans.

Bake for 6-7 minutes at 400 degrees; reduce heat.

Bake at 350 degrees for about 30 minutes, or until cooked through. (It should sizzle and have formed cracks around the nuts and look solid.)

Let cool for about 10 minutes before attempting to remove from the pan.

Using a butter knife, lightly separate the filling from the end of the muffin pan all the way around.

Using a spoon, spoon out the topping into a bowl, or directly onto your dish.

This can be kept in the fridge for 2-3 days, covered. It can also be reheated for another dish.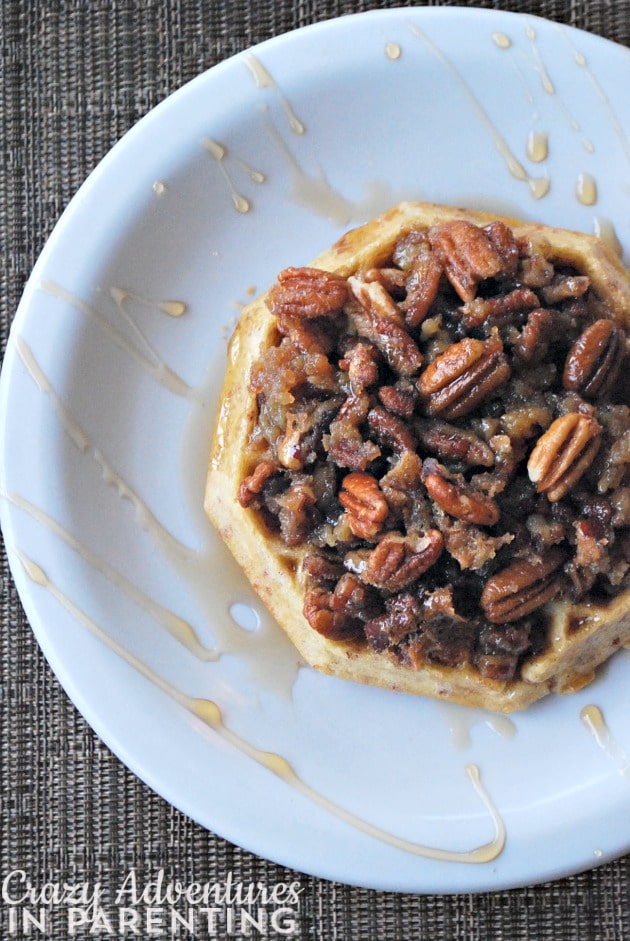 Doesn't it look remarkable on top of cinnamon waffles, drizzled generously with maple syrup?