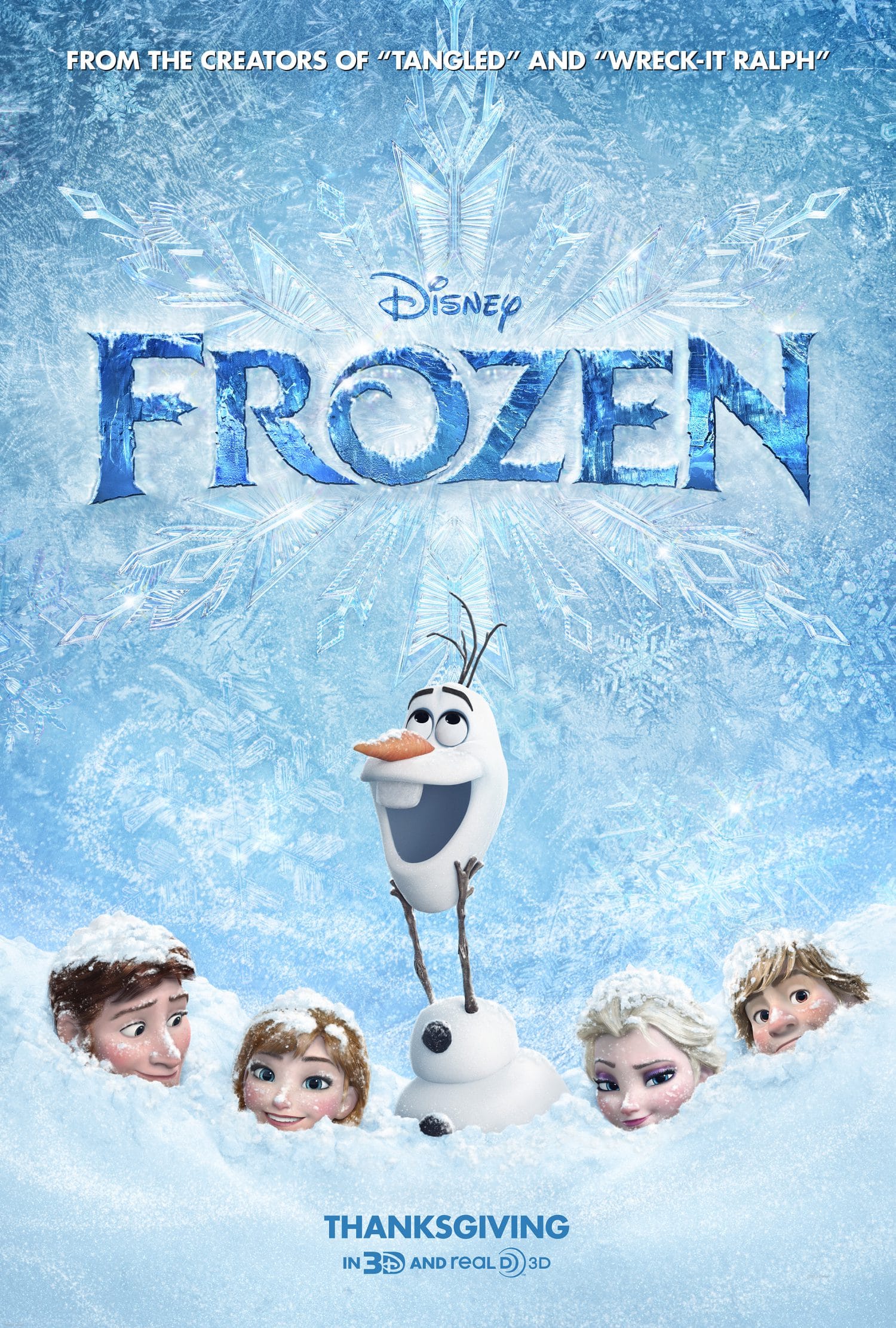 I've started and stopped this review so many times, and I still can't seem to come up with words that amply convey just how wonderful this movie truly was. Stunning imagery and graphics, hilariously funny, wonderful engaging story, and fantastic cast when coupled with the single best 3D I've ever seen, you have "FROZEN" by Disney. And I'm so happy today is here so I can see it eleventy-billion more times.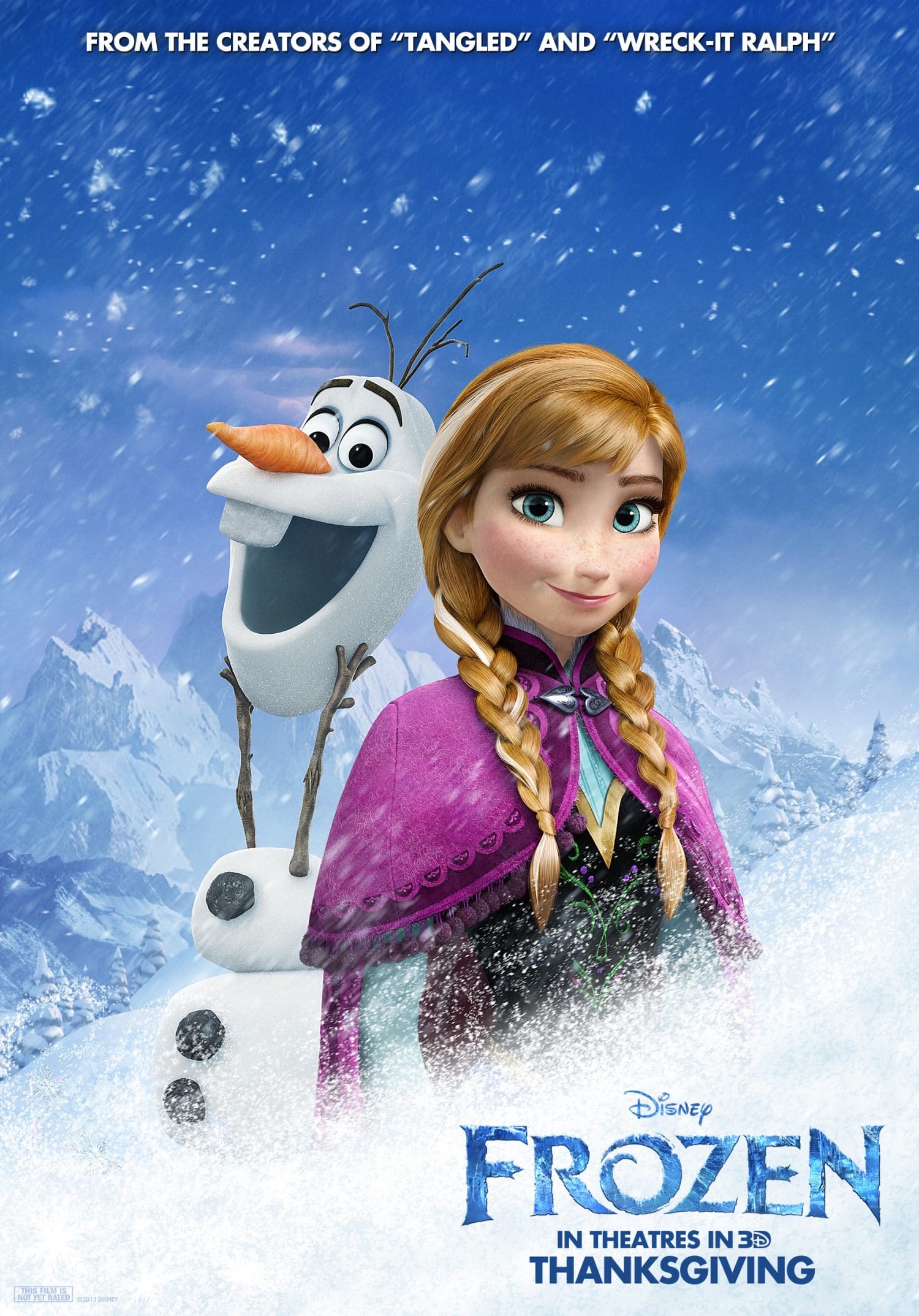 The Characters
Meet Anna – she's one of the two sisters and stars of the film. Anna's character is immediately likeable and the kind of girl you wish you could throw your arms around and be BFF's with. She's got a tough story to tell, but handles everything with grace and hilarity, all bundled up into one.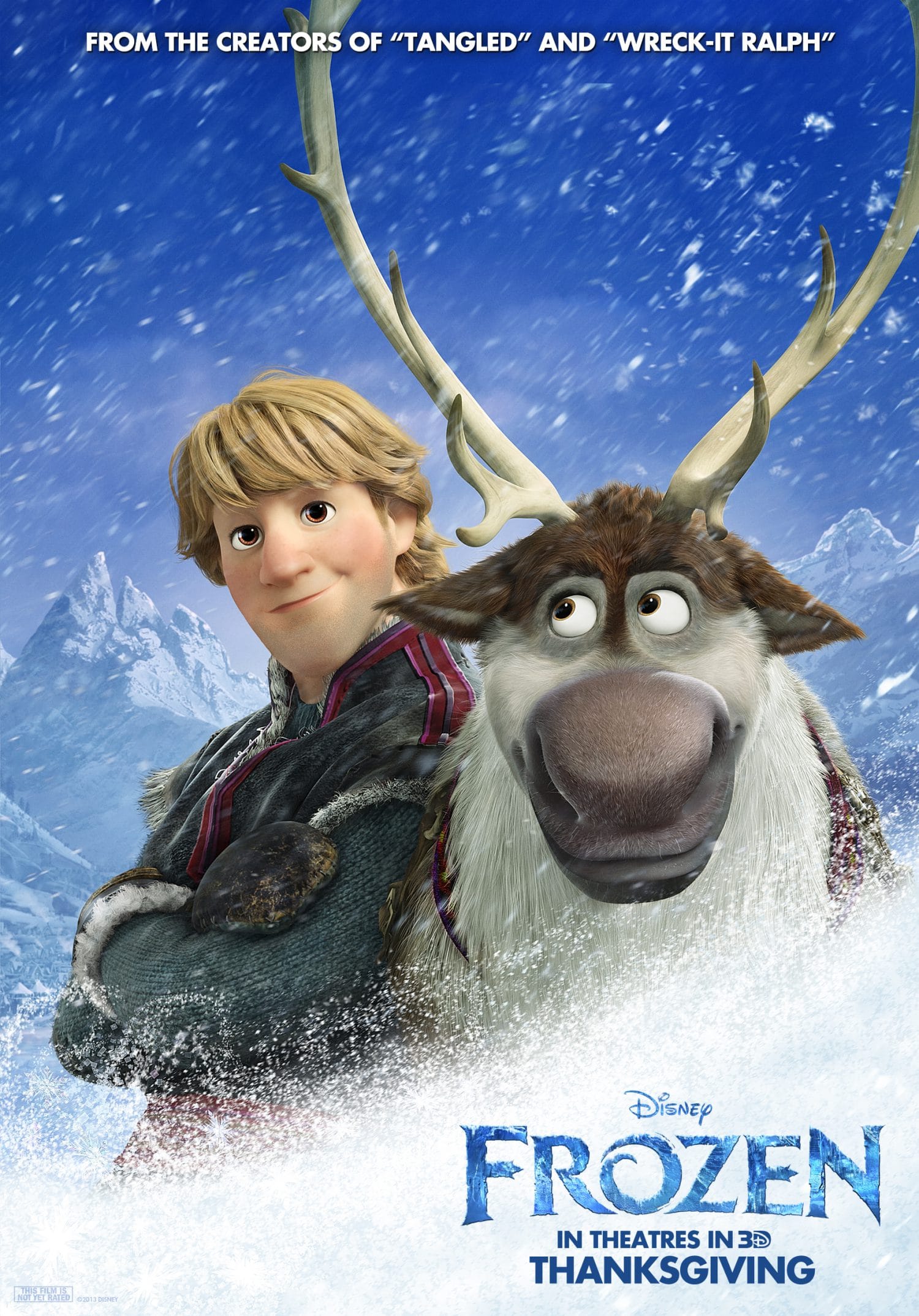 Kristoff and Sven are adorable sidekicks that are the "Clyde" to Anna's "Bonnie." Don't be surprised if you find yourself cheering and laughing hysterically at their comedic heroism as they help Anna save the day.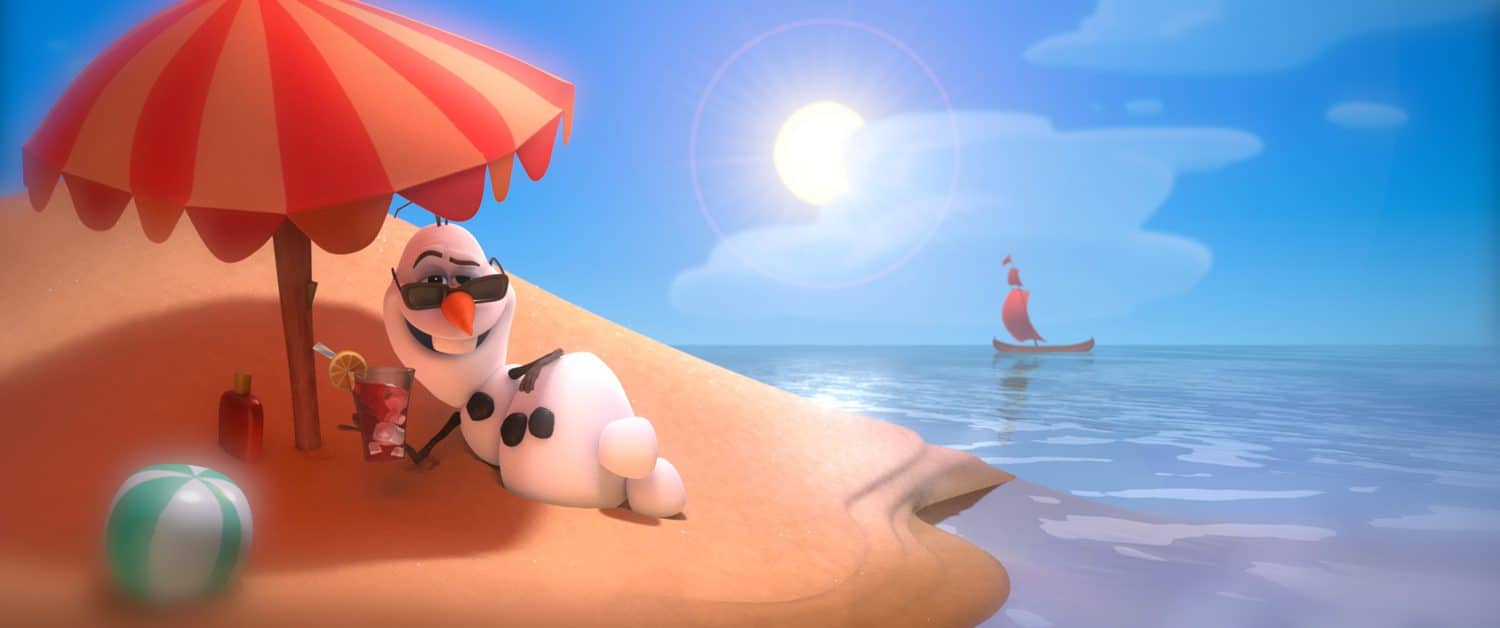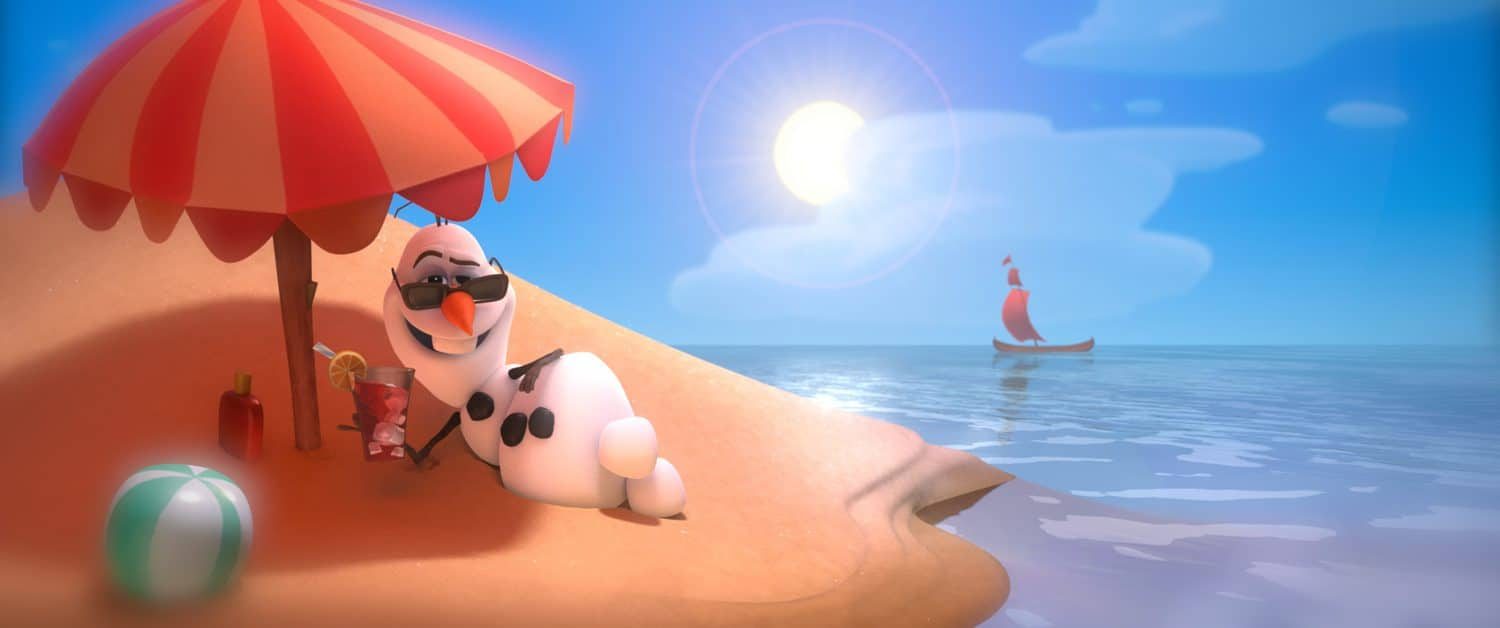 I cannot say enough on how wonderfully they cast and wrote Olaf's part, the loveable, hilarious snowman. He truly and completely stole the show. Take it from me – use the restroom before this movie, I promise you, you won't want to miss a single second and, if you don't, you will end up almost peeing your pants you'll laugh so hard.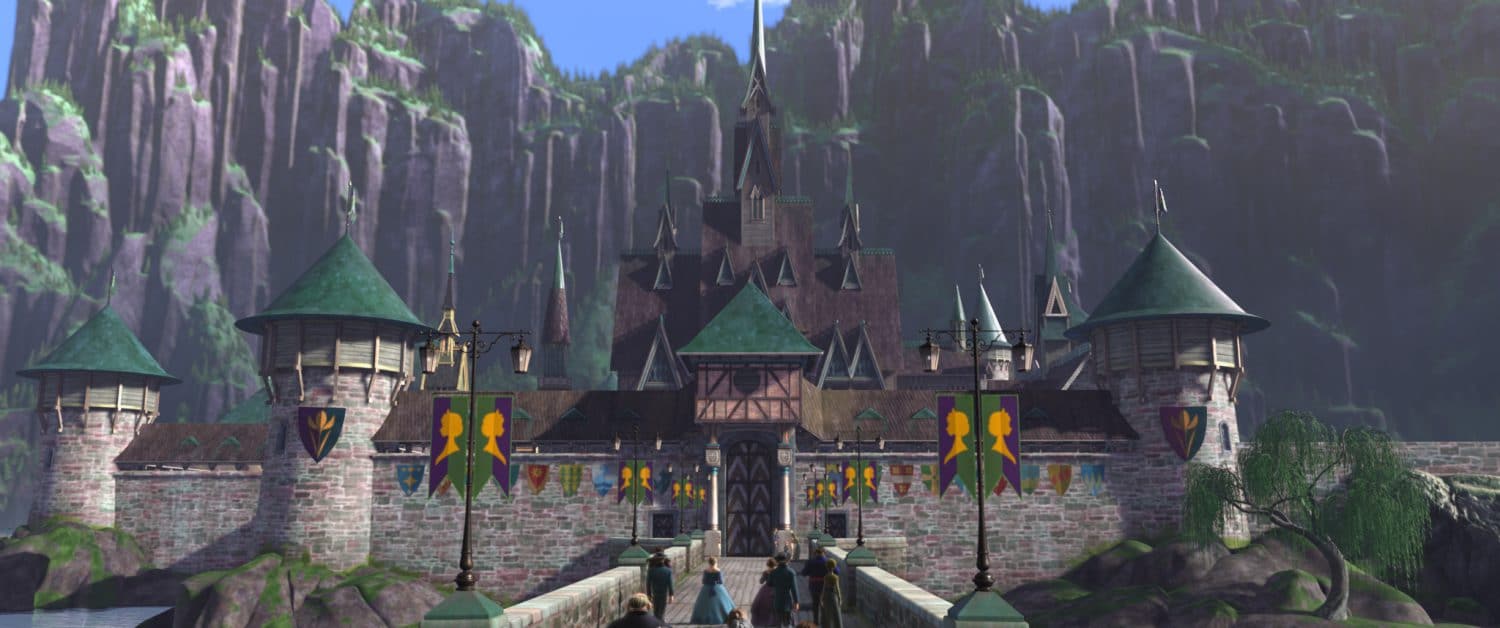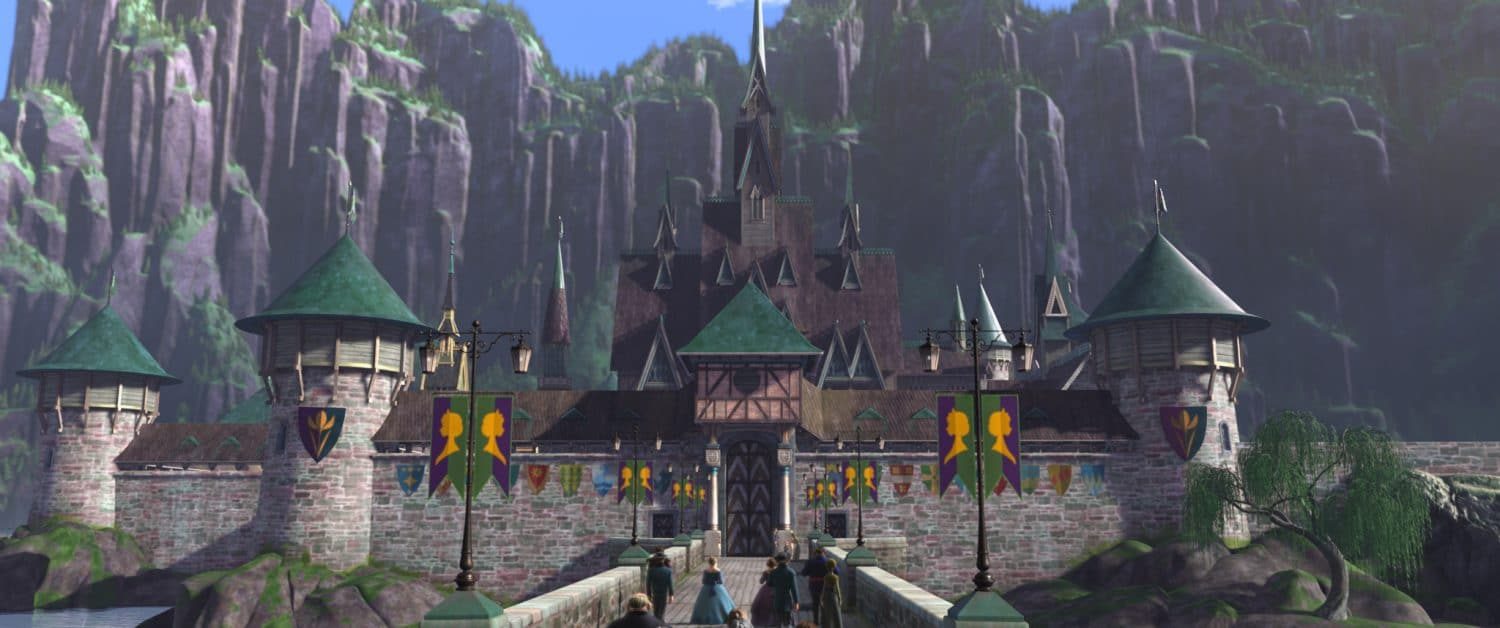 The Story
Say hello to Arendelle, the kingdom where Elsa and Anna live with their parents. A tragedy occurs one day, when the girls are small, causing the castle to close down to the public and the girls to live sheltered lives. On the day it finally opens, the day of Elsa's coronation, the public learns the true reasoning behind it's closure and suddenly the entire kingdom is in grave danger. Elsa runs away to the mountains, and suddenly it's up to Anna to retrieve her and save the kingdom, with a little help from friends she meets along the way.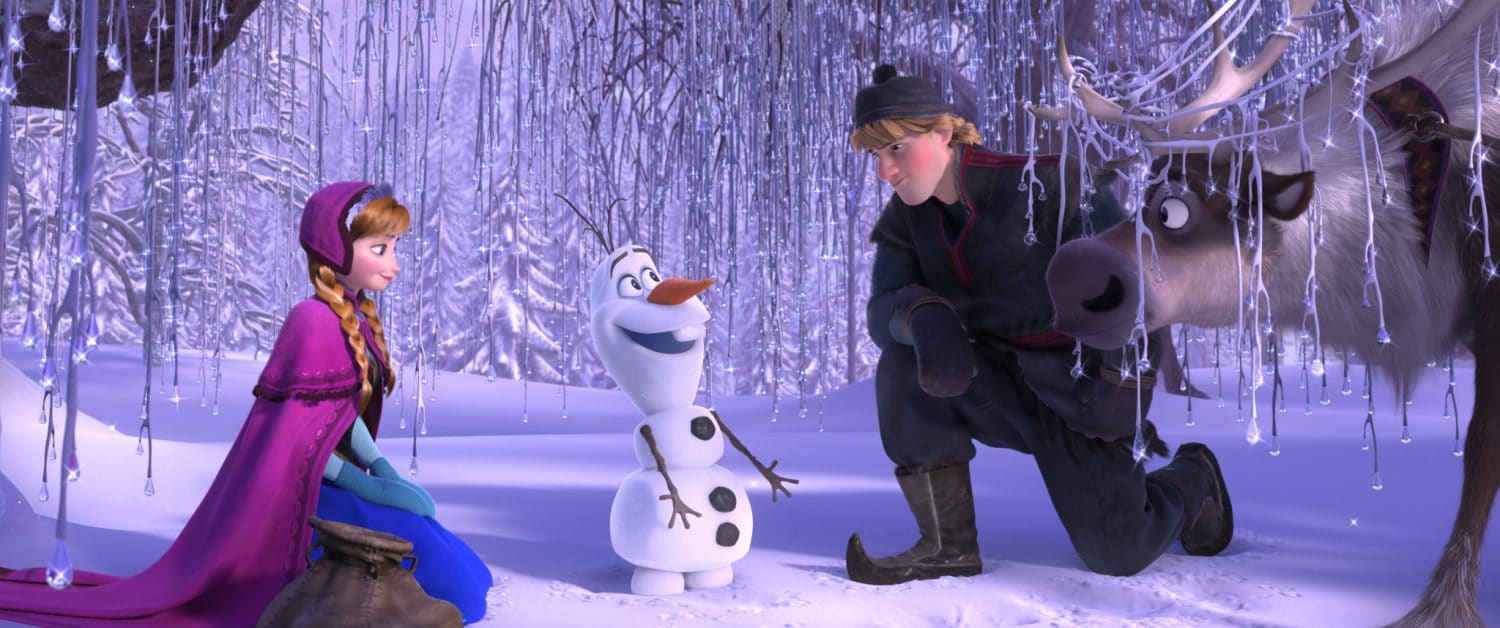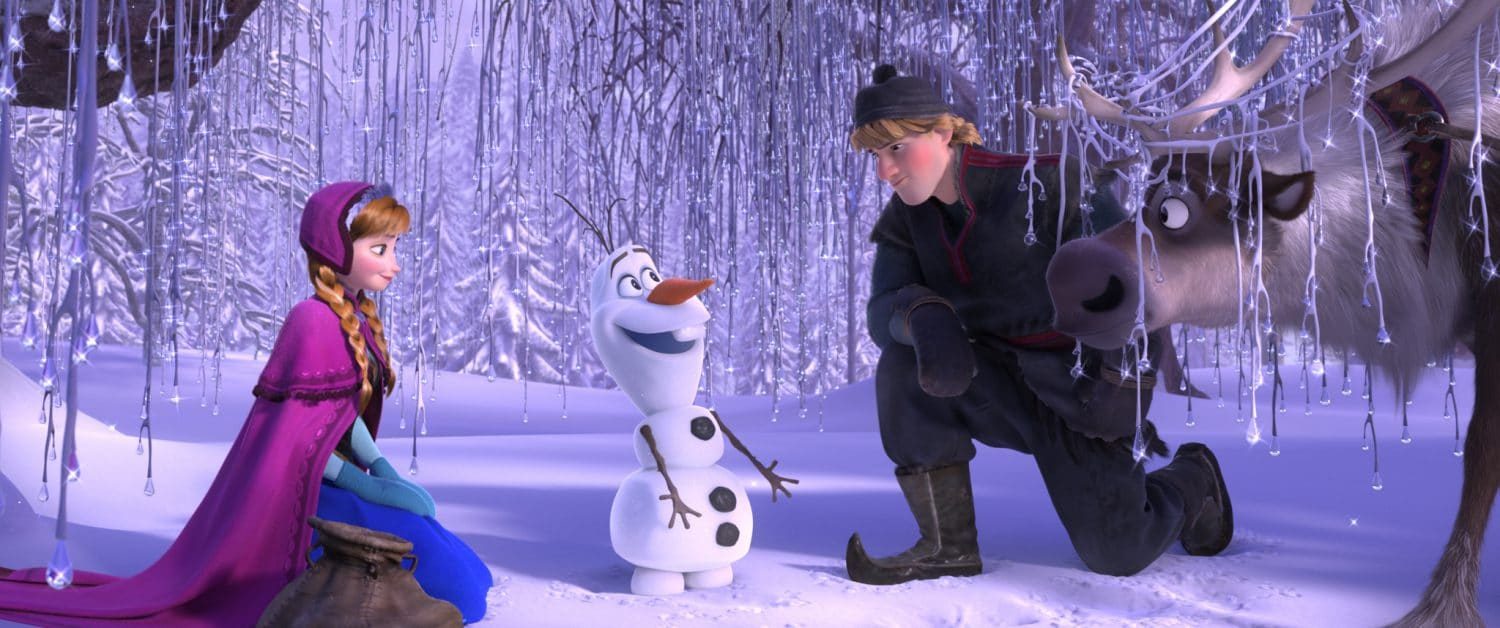 Is this movie appropriate for my young children?
Absolutely! I firmly believe this movie should've been rated G instead of PG, because there was nothing that scared any of my children, and this was my toddler's first movie experience ever. No language, no innuendos, nothing too scary or frightening. Bring the kids, young and old, they're going to love it!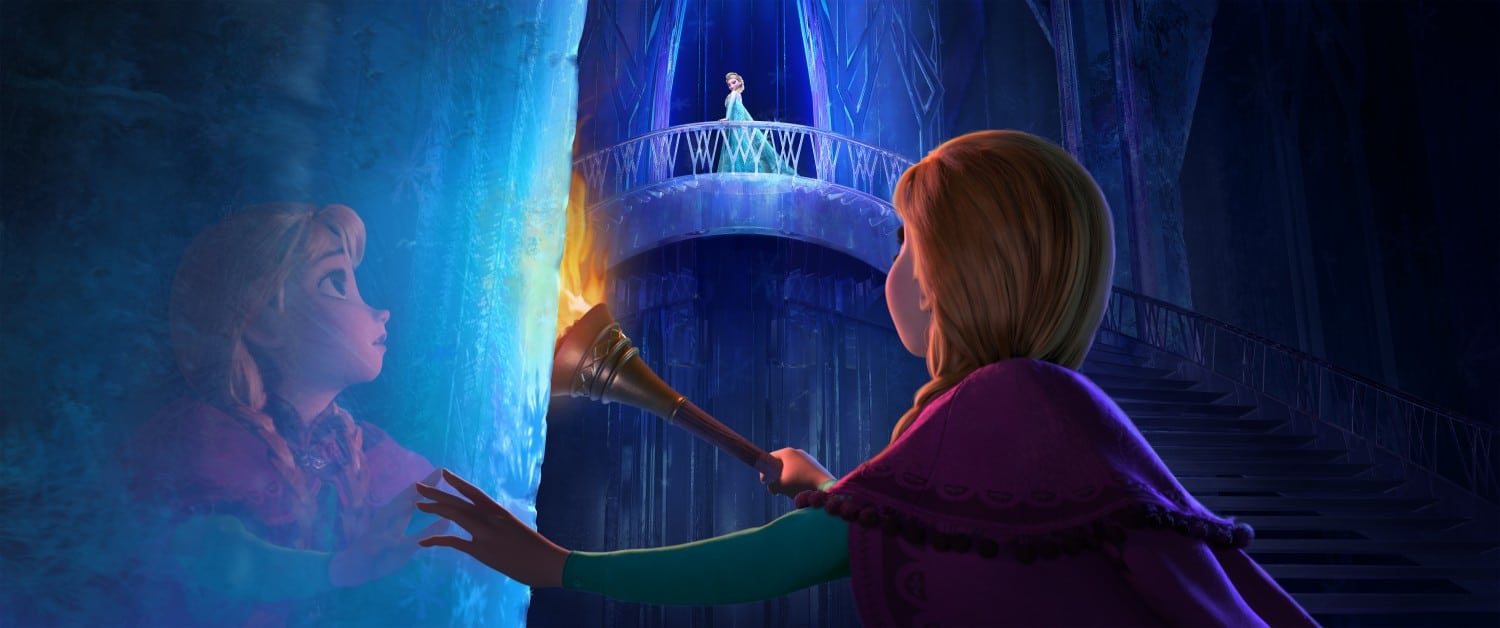 The Music
Oh, friends! I truly am grateful that Disney brought back the popular musicals of old for this movie. Chock-filled with a delicious score, I find myself singing the songs from the movie since we saw the prescreening and I am SO thrilled the soundtrack is available! I need it on my iPod, stat!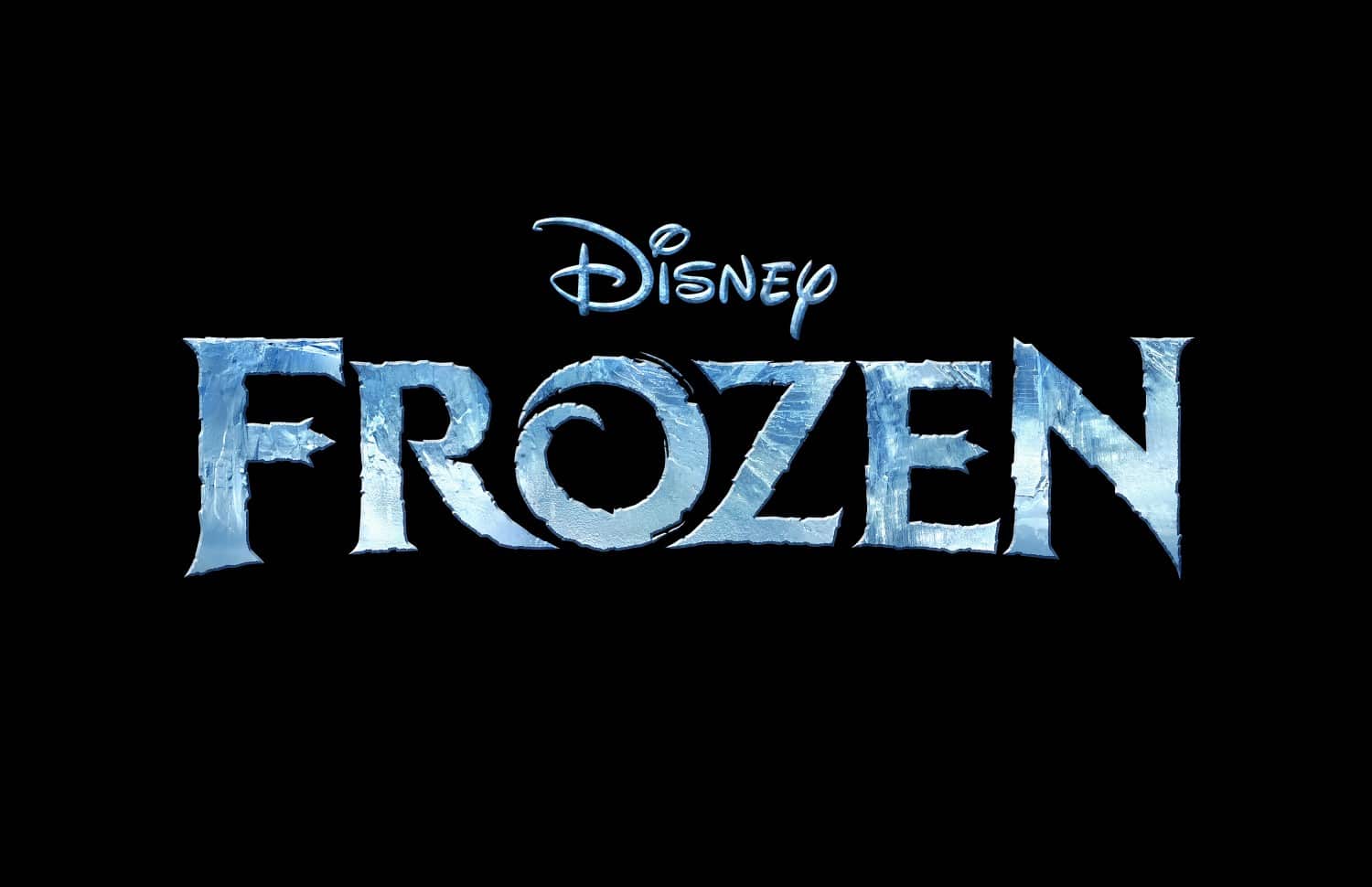 Official Movie Details
FROZEN (In 3D) by DISNEY
Genre: Animated Comedy/Adventure
Rating: PG
U.S. Release Date: November 27, 2013
Starring Kristen Bell as Anna, Idina Menzel as Elsa, Jonathan Groff as Kristoff, Josh Gad as Olaf, Santino Fontana as Hans, and Alan Tudyk as Duke.
Directed by Chris Buck and Jennifer Lee (who also wrote the screenplay).
Walt Disney Animation Studios, the studio behind "Tangled" and "Wreck-It Ralph," presents "Frozen," a stunning big-screen comedy adventure. Fearless optimist Anna (voice of Kristen Bell) sets off on an epic journey—teaming up with rugged mountain man Kristoff (voice of Jonathan Groff) and his loyal reindeer Sven—to find her sister Elsa (voice of Idina Menzel), whose icy powers have trapped the kingdom of Arendelle in eternal winter. Encountering Everest-like conditions, mystical trolls and a hilarious snowman named Olaf (voice of Josh Gad), Anna and Kristoff battle the elements in a race to save the kingdom. The film is directed by Chris Buck ("Tarzan," "Surf's Up") and Jennifer Lee (screenwriter, "Wreck-It Ralph"), who also wrote the screenplay. It is produced by Peter Del Vecho ("Winnie the Pooh," "The Princess and the Frog"). Featuring original songs from Kristen Anderson-Lopez ("In Transit," "Winnie the Pooh") and Tony® winner Robert Lopez ("The Book of Mormon," "Avenue Q"), and an original score by Christophe Beck ("The Muppets," Oscar®-winning short "Paperman"), "Frozen" hits theaters in 3D on Nov. 27, 2013.
For more information, check out Disney.com/Frozen, like them on Facebook: facebook.com/DisneyFrozen and follow them on Twitter: Twitter.com/DisneyAnimation.
Looking for fun Frozen coloring sheets and games Check out this post for printables and more! And have a Happy "FROZEN" Thanksgiving!