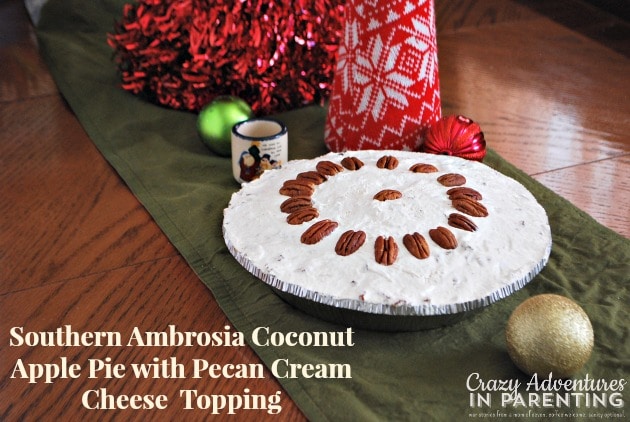 I have had dreams about this pie.
In fact, I find it hard to believe that it took me so long to dig up the recipe to make this again. How is this thing not in my face daily? I mean, COME ON. Apple pie, cinnamon, coconut, cream cheese, pecans, vanilla, whipped cream.. ALL AWESOME THINGS. And together? Oh, baby!
Please PLEASE promise me you will consider making this some time in the future. Consider your loved ones, any parties you might be invited to, any get-togethers with friends, neighbors, the school. Think of all the happy, smiling faces you will see who will receive what might possibly be one of the best apple/pecan/cheesecake pies they have ever had the pleasure of experiencing. This combination pie truly takes the best of those three favorite desserts and fuses them into this singularly spectacular dish.

Southern Ambrosia Coconut Apple Pie with Pecan Cream Cheese Topping
This pie combines all the awesomeness of apple pie, pecan pie, and cheesecake into one!
Ingredients
½ cup packed light brown sugar
½ cup apple juice
2 tablespoons butter
2 tablespoons cornstarch
dash or two of freshly ground pink himalayan sea salt
4 cups of peeled and thinly sliced apples (recommended types: Braeburn, Cortland, Fuji, Gala, Granny Smith, Haralson, Newtown Pippin)
2 teaspoons of fresh lemon juice
1 9-inch graham cracker pie crust
1 beaten egg
⅔ cup evaporated milk
½ cup raw sugar (or organic unbleached)
½ cup coconut flakes
2 teaspoons pure vanilla extract
2 teaspoons cinnamon
Pecan Cream Cheese Topping
1 8-ounce package whipped cream cheese
½ cup raw sugar (or organic unbleached)
¾ cup toasted rough-chopped pecans
1 teaspoon pure vanilla extract
1 container whipped cream
Whole pecans as garnish, optional
Instructions
Preheat oven to 350.
In a saucepan over medium heat, add the brown sugar, apple juice, butter, cornstarch and salt to a boil.
Stir in the sliced apples and lemon juice; reduce heat to low.
Cook and stir until apples are crisp-tender, about 5-8 minutes.
Pour apple mixture into graham cracker pie crust.
In a small bowl, mix together the beaten egg and milk; add in sugar, coconut, vanilla and cinnamon, mixing until well combined.
Pour coconut mixture over apple mixture in the pie crust; bake for 40-45 minutes or until mixture is set.
Place pie to cool on a wire rack for a while (must be fully cooled for next step).
For the pecan cream cheese topping
Beat the cream cheese, sugar, and vanilla in a mixing bowl with a whisk or hand mixer.
Gently stir in chopped pecans, stirring until well mixed through.
Fold in whipped cream. (If the apple pie hasn't cooled yet, this mixture can be placed in the refrigerator, covered.)
Once the apple pie is fully cooled, spread the pecan cream cheese mixture over the apple pie gently and evenly.
Garnish with whole pecans on top, if you wish.
Chill in the refrigerator for 4-6 hours before serving.
Notes
Adapted from a recipe found in Taste of Home magazine, 1996
Do you see all that goodness there? It was tough to keep my kids' fingers from swiping that pecan-stuffed cream cheese. Oh my, my mouth is watering!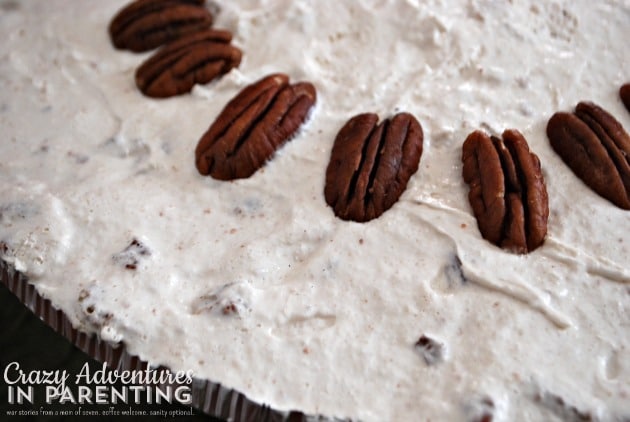 I am so sad this pie is gone (even though my waistline is happy it is). Grateful the holidays are coming – can't wait to make it again! (Sorry, waistline.)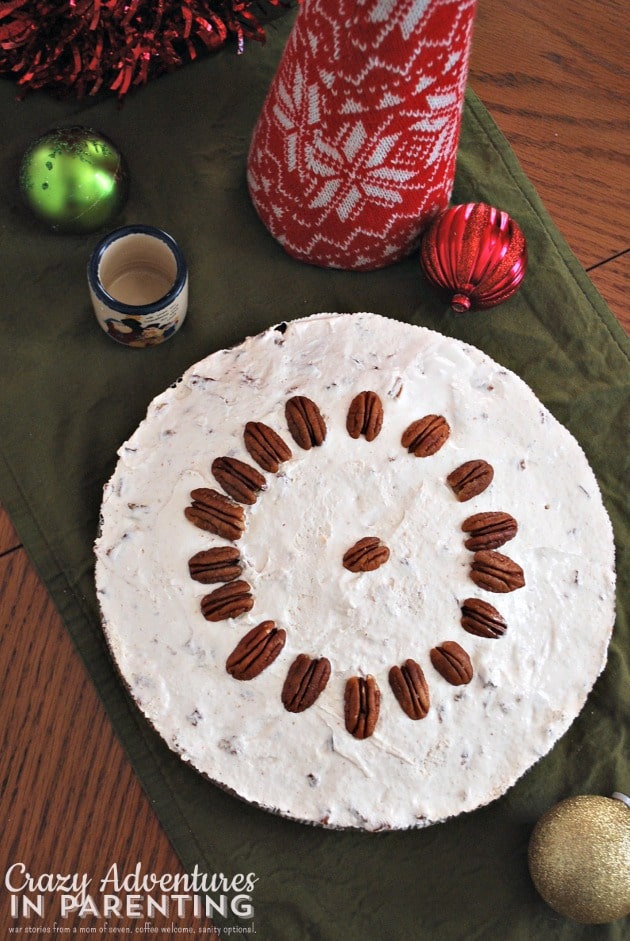 Oh, pie. I can't quit you…