Looking for a fun and festive cocktail (or mocktail) for a party or celebration? Try this sweet and sour Pomegranate Orange Cranberry Sparkling drink.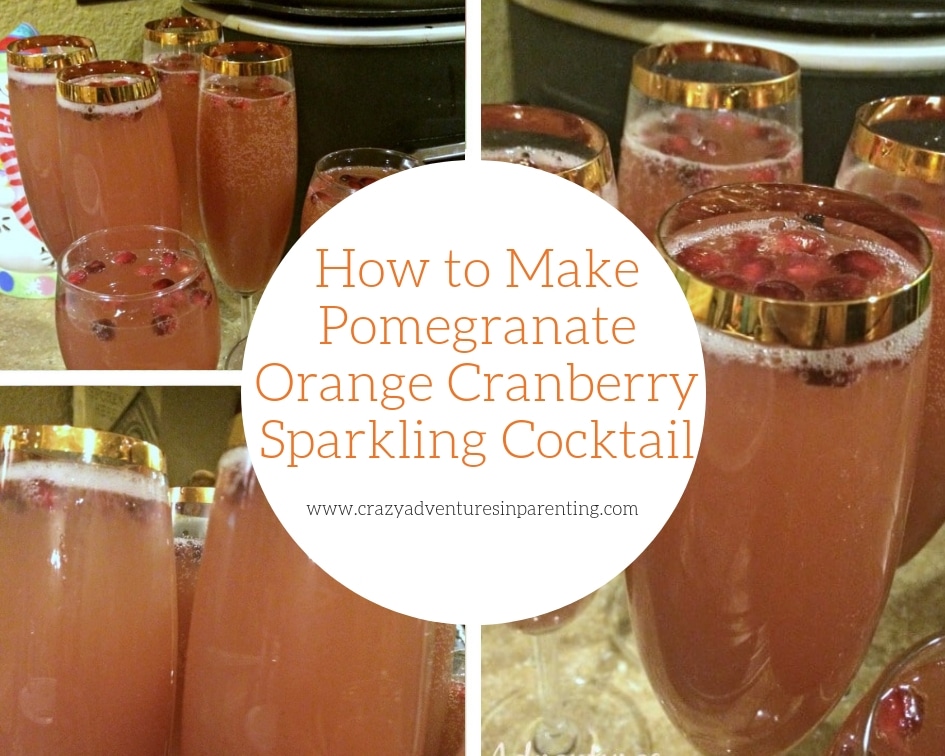 Pomegranate Orange Cranberry Sparkling Cocktail (or Mocktail)
We wanted to design a New Year's Day meal for luck, health, wealth, abundance, prosperity, and so on. We looked up the traditions, and compiled a meal we could not wait to devour and share with our children (more on our New Year's meal another time). But consuming Pomegranate for abundance had us a little stumped… we were already having corn bread, and eating it raw can be a tad difficult for some of our kids. I was NOT a big fan of the Greek tradition to "throw Pomegranates at the door at midnight" – no way on THAT mess, man. Until I found a delightful champagne cocktail that I decided to tweak and utilize that went over HUGE with my brood.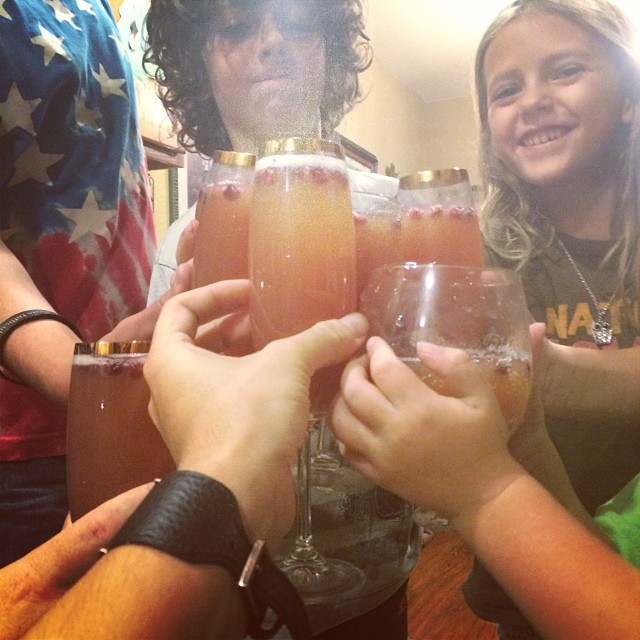 How to Make Pomegranate Orange Cranberry Sparkling Cocktail (or Mocktail)
This cocktail/mocktail can be easily made either way, as it begins with a juice base and then is topped off with either champagne or sparkling juice.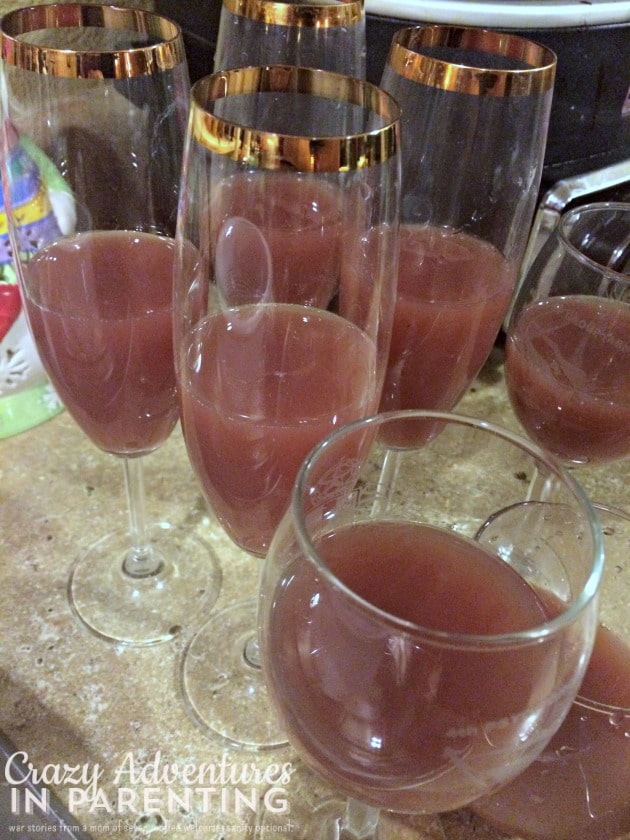 Once it's topped off with champagne or sparkling juice, a few Pomegranate seeds floating in the top make it festive (and even tastier)!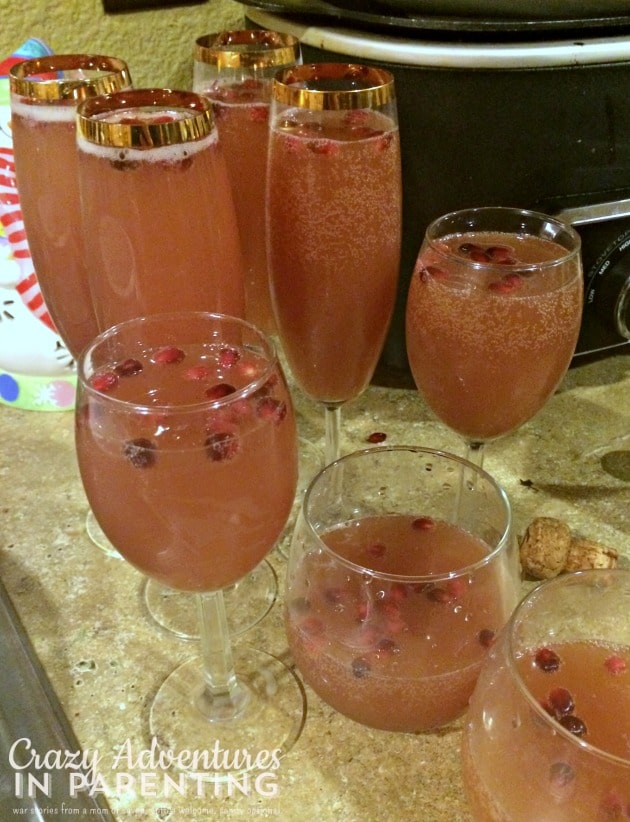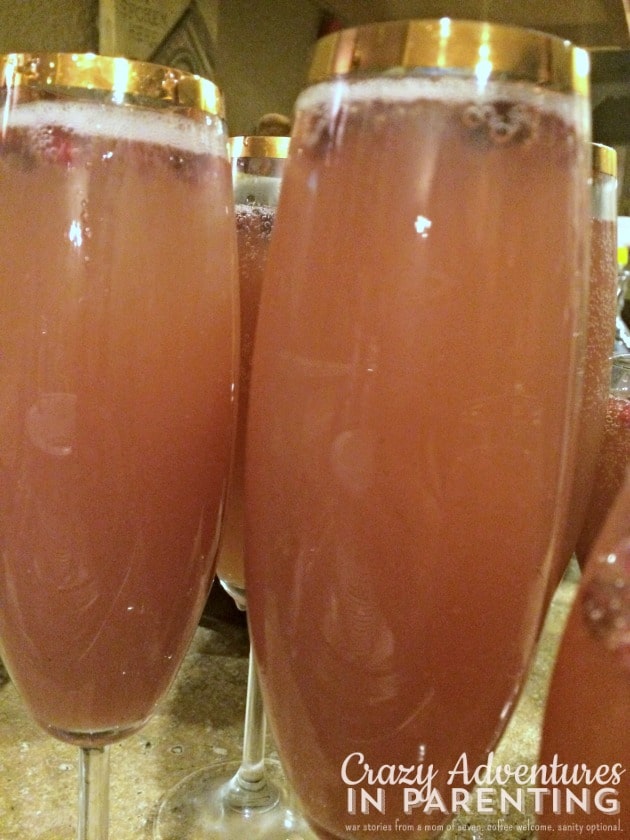 Isn't it so pretty? These pair pretty well with my friend Rachel's cranberry cinnamon cookies recipe!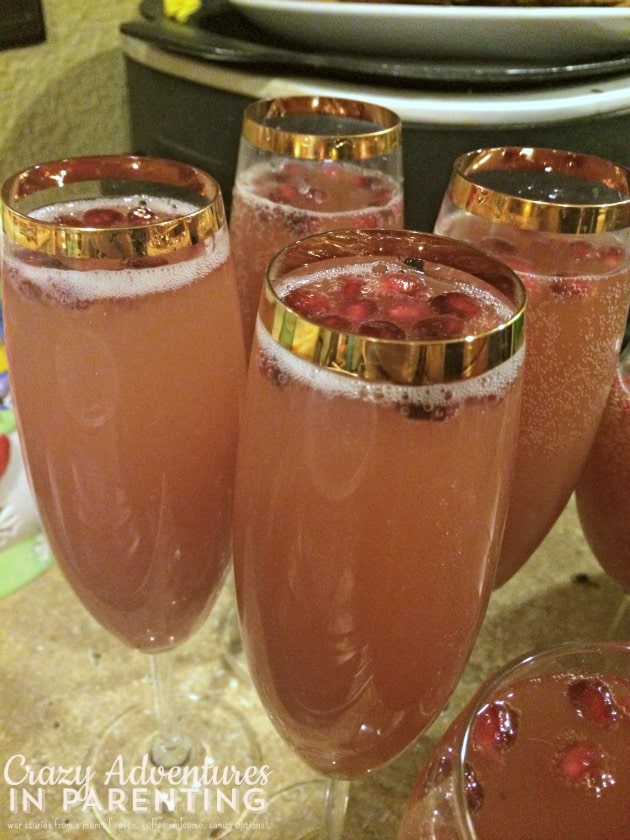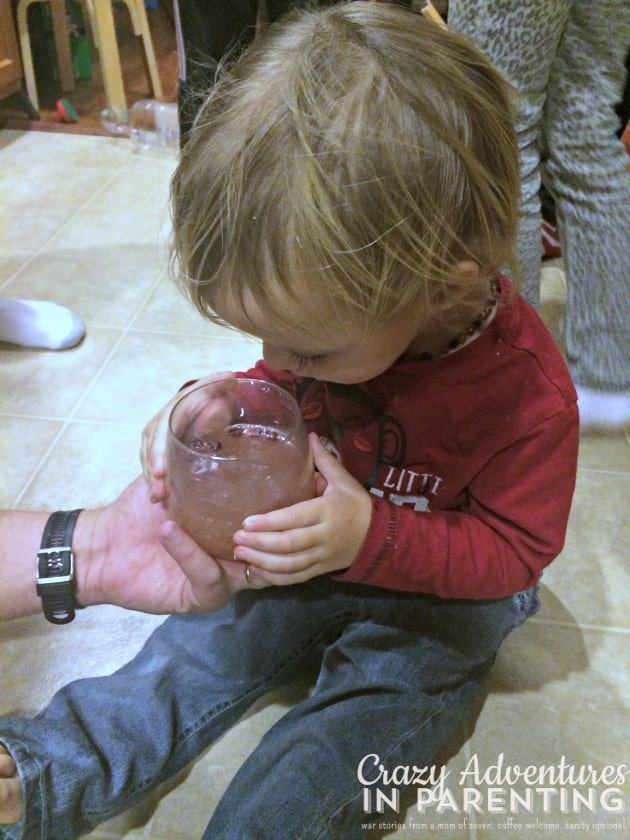 We served ours in as many glasses as we could find. We wanted the kids to be able to see how beautiful the drink was, and they got a huge kick out of the Pomegranate seeds for decoration.
You'll want to be careful with your young ones handling the glasses, though. We kept the youngest sitting on the floor, in case she dropped it accidentally, it wouldn't go very far.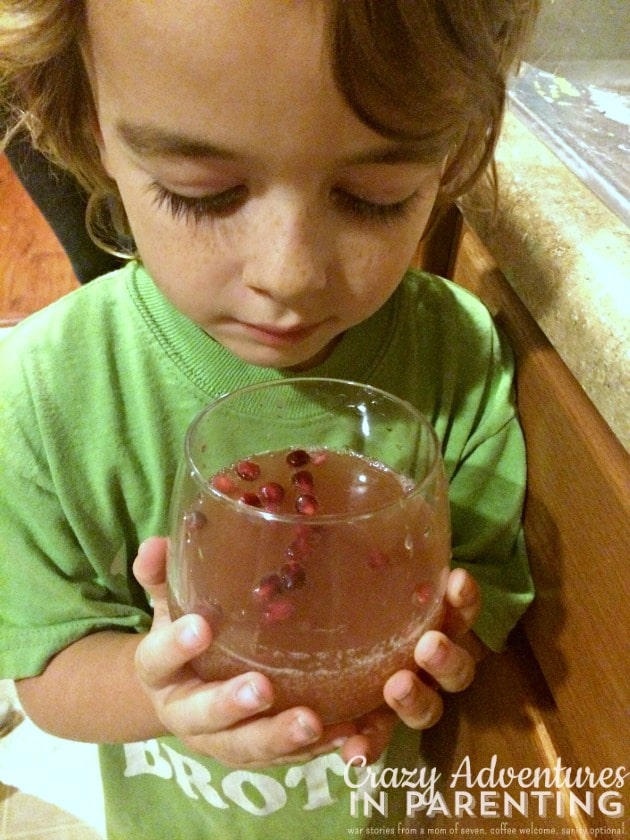 Look at that gorgeous deep color at the bottom that changes towards the top. Isn't that fantastic? Looks like a sunrise, don't you think?
What about you? Did you incorporate Pomegranate in any of your New Year's recipes?

Here's what you'll need to make this for yourself: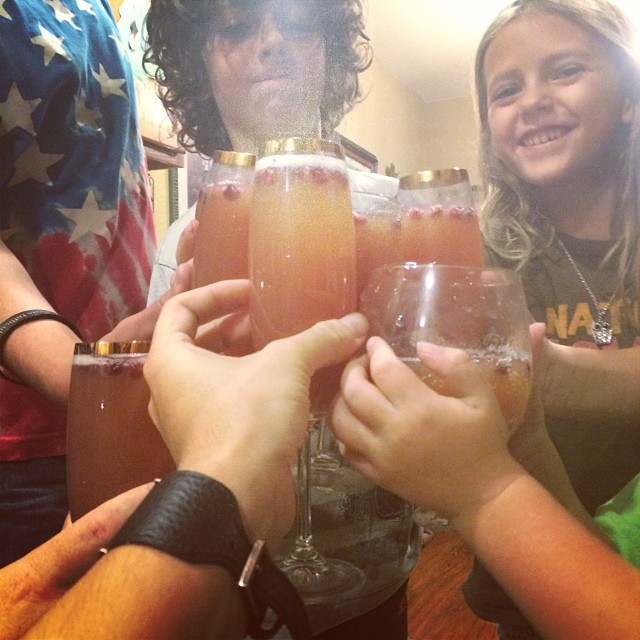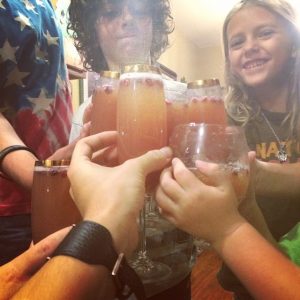 Pomegranate Orange Cranberry Sparkling Cocktail
This festive Pomegranate drink can be made alcoholic or no, and is a perfect addition to your New Year's festivities or holiday gathering. Cheers!
Print
Pin
Rate
Ingredients
1

cup

Pomegranate juice or orange juice

your choice

1

cup

unsweetened cranberry juice

Orange Simple Syrup

see full recipe below

Juice of one large orange

omit if you use orange juice

Chilled champagne or sparkling cider

Pomegranate seeds for garnish
Instructions
Using a zester (or peeler, if you don't have a zester), zest the orange rind into a small sauce pan. (Note: you only want the orange portion of the rind only, not the white part, as it's bitter.)

Combined with the orange rind, add the sugar and water.

Bring to a boil, then reduce to medium-low heat.

Stir with a wooden spoon until sugar is completely dissolved and it begins to thicken slightly.

Continue to heat for about five minutes.

Remove from heat and allow syrup to cool completely.

Drain through a fine strainer, to remove orange rind and discard; chill remaining simple syrup in the fridge until you are ready to use it.
To Assemble the Drink
In a pitcher combine the orange simple syrup, pomegranate/orange juice, cranberry juice and optional fresh-squeezed orange juice.

Stir to combine completely, and if not using right away, chill until ready to serve.
To serve cocktail
Fill the flutes/glasses about a 1/3 of the way full with chilled juice mixture.

Top with champagne or sparkling juice.

Add a few pomegranate seeds to each champagne flute or glass.

Don't worry, at first the seeds will sink, but then they will rise to the top.