This a sponsored event for Warner Bros Pictures about the new movie, "12 Strong." #WBsponsored
Last week, I had the honor to travel to LA and see a press screening of the new movie "12 Strong" by Warner Bros Pictures in theaters January 19th. I'm honored to host a special event on Twitter Wednesday January 17th at 8pm ET where 17 winners will win fantastic movie prizes! Read below on our Twitter party details, how you can RSVP, and what prizes you can win!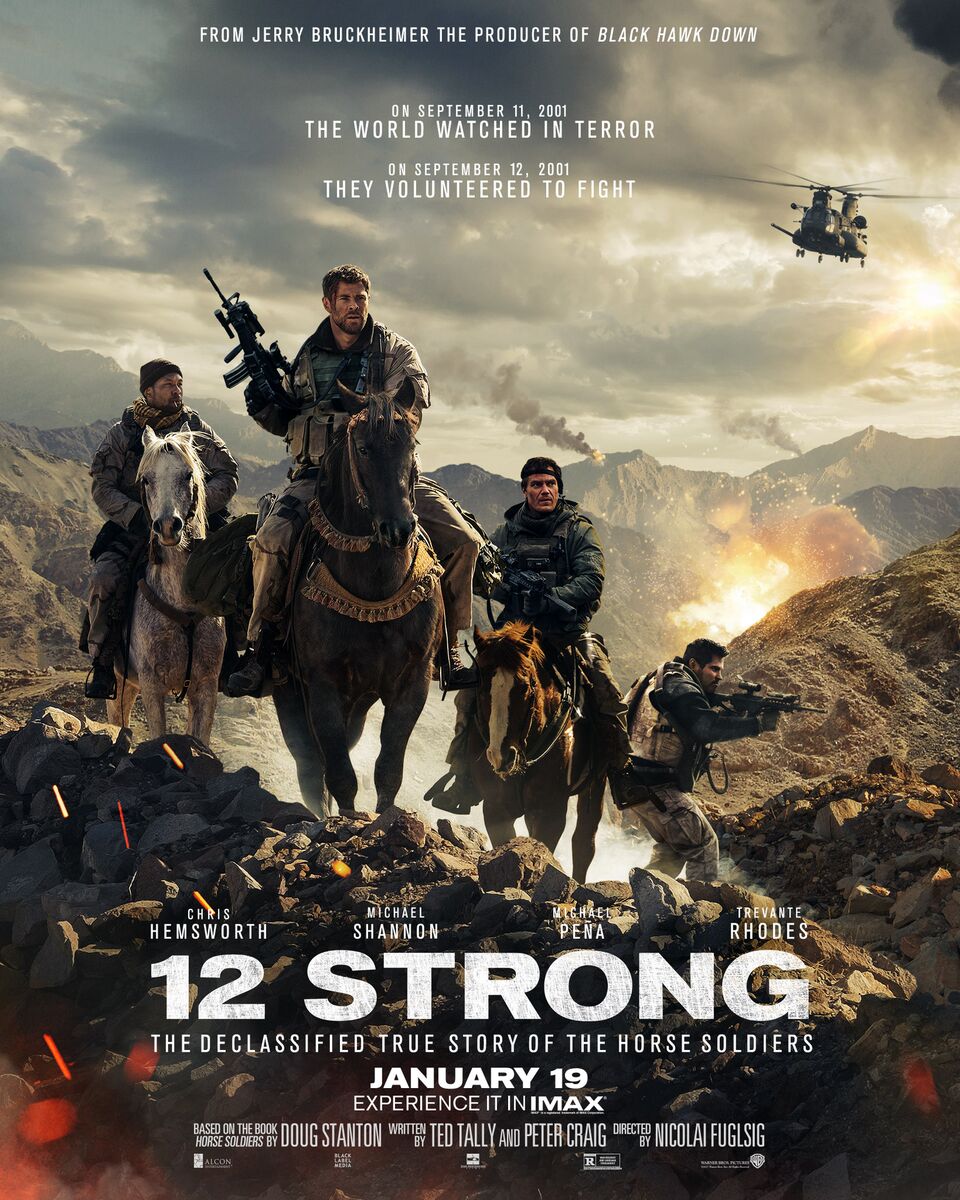 Join me, @crazyadventures and my co-host Amiyrah @AmiyrahMartin on Twitter Wednesday January 17th at 8pm ET/5pm PT for a Twitter Party for the Warner Bros Pictures movie "12 Strong", in theaters January 19th. We'll be using hashtag #12StrongMovie throughout the party.
RSVP below to enter to win one of the following AWESOME prizes!
Copies of the movie tie-in book by #1 New York Times bestselling author Doug Stanton "12 Strong: The Declassified True Story of the Horse Soldiers" (5 winners total)
$35 Fandango Codes (10 winners total)
GRAND PRIZE: $250 American Express gift cards for "dinner and a movie" with 12 Strong (2 winners total)
About the Movie
Chris Hemsworth ("Thor," "The Avengers" films) and Oscar nominee Michael Shannon ("Revolutionary Road," "Nocturnal Animals") star in "12 Strong," a powerful new war drama from Alcon Entertainment, Black Label Media and Jerry Bruckheimer Films that tells the declassified true story of the Horse Soldiers.  Based on the best-selling book Horse Soldiers, it is story of heroism based on true events that unfolded a world away in the aftermath of 9/11.
"12 Strong" is set in the harrowing days following 9/11 when a U.S. Special Forces team, led by their new Captain, Mitch Nelson (Hemsworth), is chosen to be the first U.S. troops sent into Afghanistan for an extremely dangerous mission.  There, in the rugged mountains, they must convince Northern Alliance General Dostum (Navid Negahban) to join forces with them to fight their common adversary: the Taliban and their Al Qaeda allies.  In addition to overcoming mutual distrust and a vast cultural divide, the Americans—accustomed to state-of-the-art warfare—must adopt the rudimentary tactics of the Afghan horse soldiers.  But despite their uneasy bond, the new allies face overwhelming odds: outnumbered and outgunned by a ruthless enemy that does not take prisoners.
Playing the "12 Strong" U.S. Special Forces team are Hemsworth, Shannon, Michael Peña ("The Martian, "Ant-Man"), Trevante Rhodes ("Moonlight"), Geoff Stults ("Only the Brave"), Thad Luckinbill ("Only the Brave"), Austin Stowell ("Bridge of Spies"), Ben O'Toole ("Hacksaw Ridge"), Austin Hebert ("Jack Reacher: Never Go Back"), Kenneth Miller ("Whiskey Tango Foxtrot"), Kenny Sheard ("13 Hours") and Jack Kesy (TV's "The Strain).  The ensemble cast also includes Navid Negahban ("American Sniper," TV's "Homeland"), Laith Nakli ("24: Legacy"), Fahim Fazli ("American Sniper"), Numan Acar ("Homeland"), Elsa Pataky (the "Fast & Furious" films), William Fichtner ("Black Hawk Down," "Armageddon") and Rob Riggle ("The Daily Show with Jon Stewart," "The Hangover").
"12 Strong" has been rated R by the MPAA for war violence and language throughout.
RSVP for the party by completing the embedded form below!
To get started, click here to tweet or copy the text to tweet below:
Join me at the #12StrongMovie Twitter Party w/ @crazyadventures & @AmiyrahMartin on Wednesday, 1/17 at 8pm ET #WBSponsored RSVP here: http://bit.ly/12StrongRSVP
Eligible participants must be following @crazyadventures on Twitter and must be present and participating in the discussion by using hashtag #12StrongMovie on Wednesday, January 17th at 8pm ET to be eligible to win. Open to United States residents at least 18 years of age only. One prize allowed per winner. Winners shall be chosen at random. No purchase necessary. Twitter Party prize winners must complete a form with mailing details within 1 (one) hour of the party closing. The form will be direct messaged to you on Twitter if you win a prize.
If you can't see the embedded form above, click here to RSVP. We'll see you Wednesday January 17th at 8pm ET!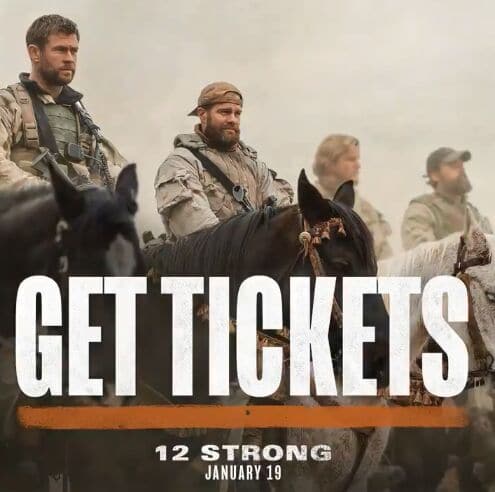 Stay tuned for my in-depth review of the movie coming later this week!