If you're looking for fun and easy school lunch ideas for those busy weeknights, check out my Crescent Roll Sandwiches made in a sandwich maker with the help of Hillshire Farm® Brand and Walmart! Sandwich maker recipes are SO easy and fun for school lunches!
This is a sponsored post written by me on behalf of Tyson Foods, Inc. All opinions are entirely my own.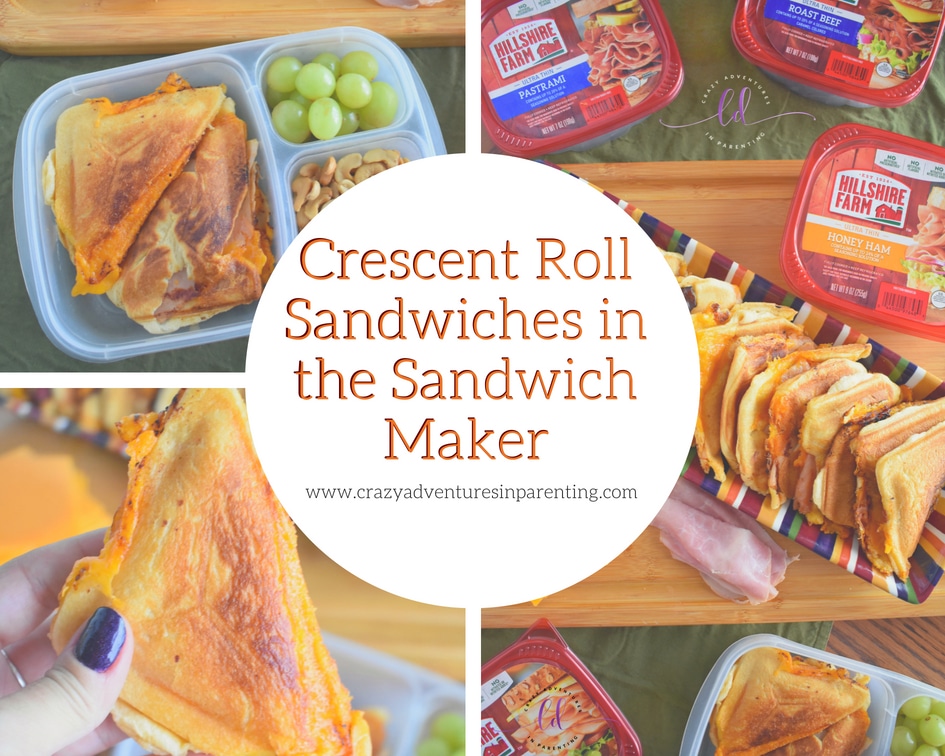 You don't have to be a wizard to rock school lunches for kids. We're on a mission to make school lunches rock with our Operation Awesome School Lunch initiative, where we focus on ways to make back-to-school easier for parents and kids alike. With the help of brands like Tyson®, Hillshire Farm®, Jimmy Dean®, and State Fair® products purchased at Walmart, easy back to school lunches are within your grasp this year!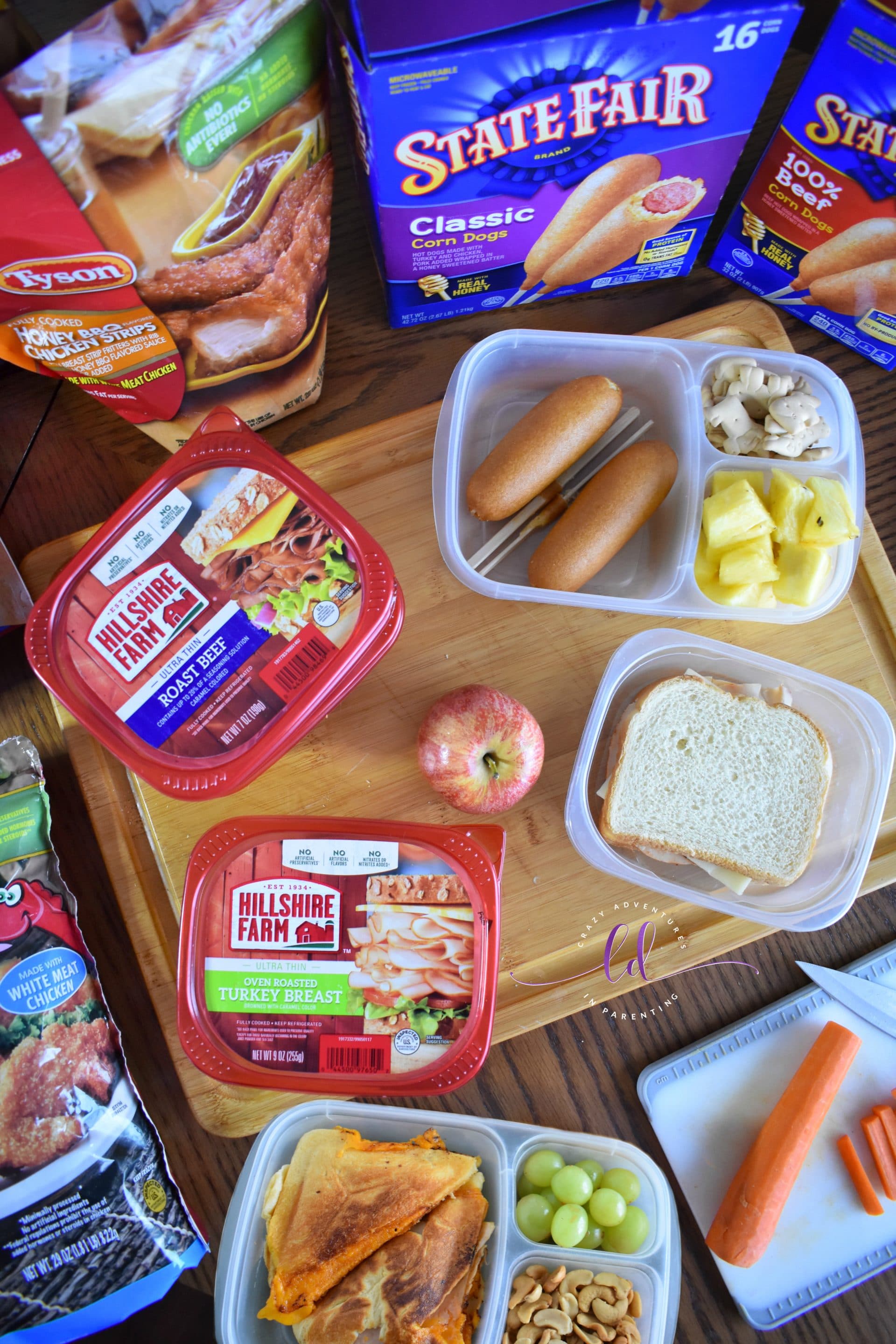 Brands like Tyson, Hillshire Farm, Jimmy Dean, and State Fair – all are in my fridge/freezer every week on any given day and all have been featured here previously. Why? Because they make parental life easier for busy work-at-home moms like me!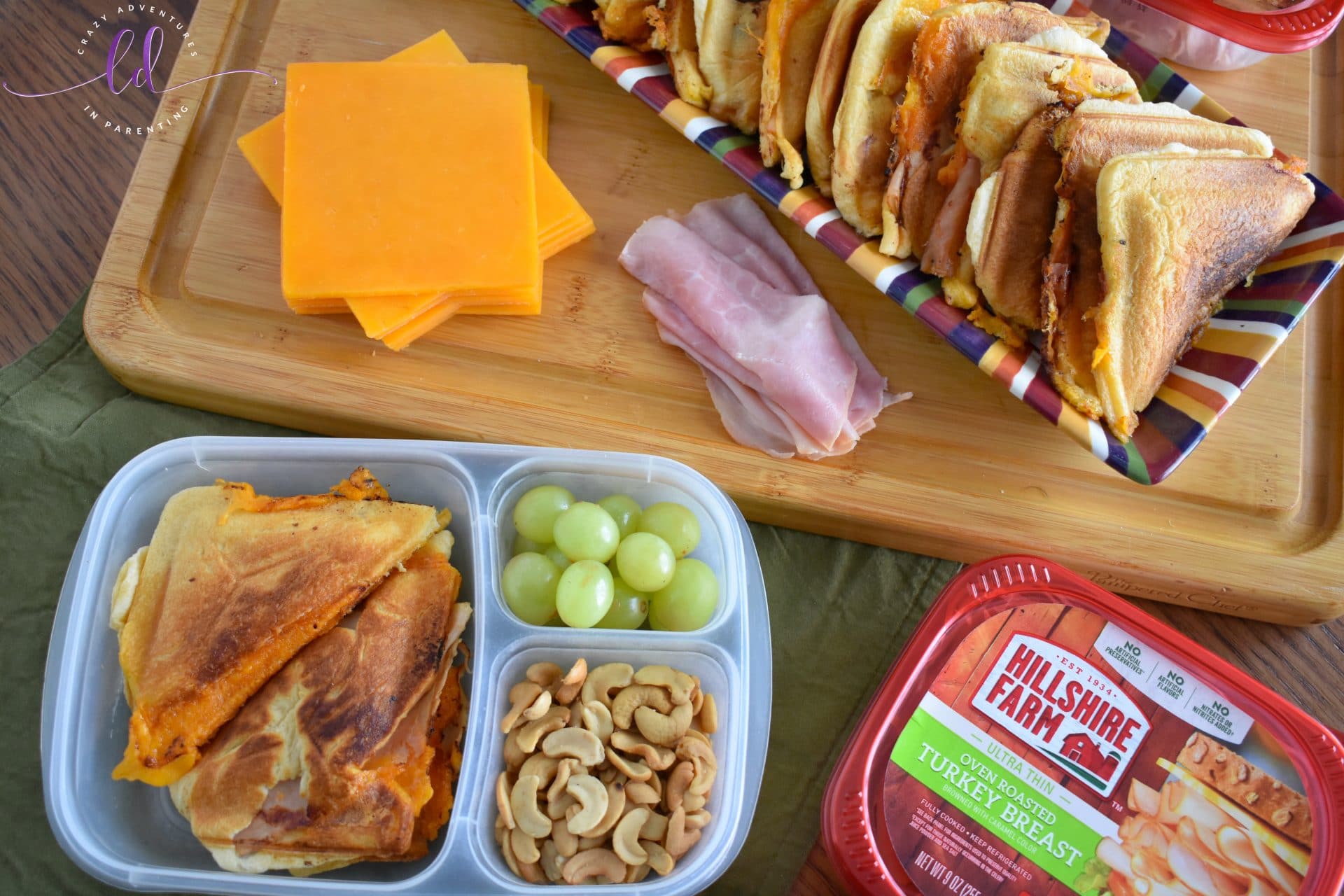 I'm going to let you in on a little back-to-school lunch-making secret of mine (that isn't really a secret, because, y'know, PUBLIC POST 'n all, ahem) – packing lunches doesn't have to be hard, especially when you've got a handy-dandy sandwich maker like we do! You can instantly create hot sandwiches for your children! Plus, making sandwiches in the sandwich maker and refrigerating them in advance makes preparing school lunches SO much easier! Just grab and go!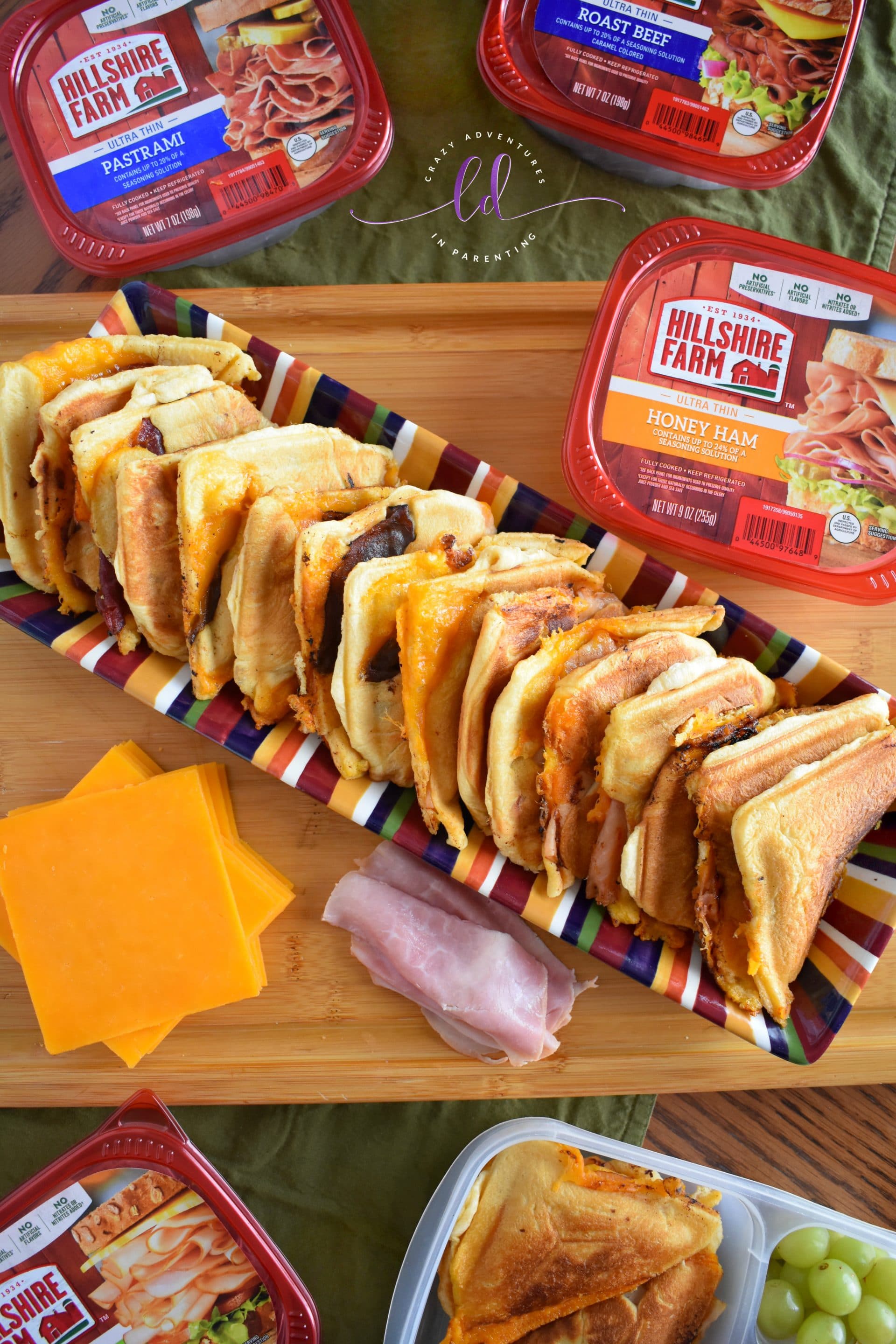 Hillshire Farm Crescent Roll Sandwiches
These crescent roll sandwiches made in the sandwich maker are made with Hillshire Farm Lunchmeat. Fully cooked and ready to eat, this variety of lunchmeat has no artificial flavors and is always perfect for sandwiches, wraps, and more! Take a look at the delicious sandwich gorgeousness below!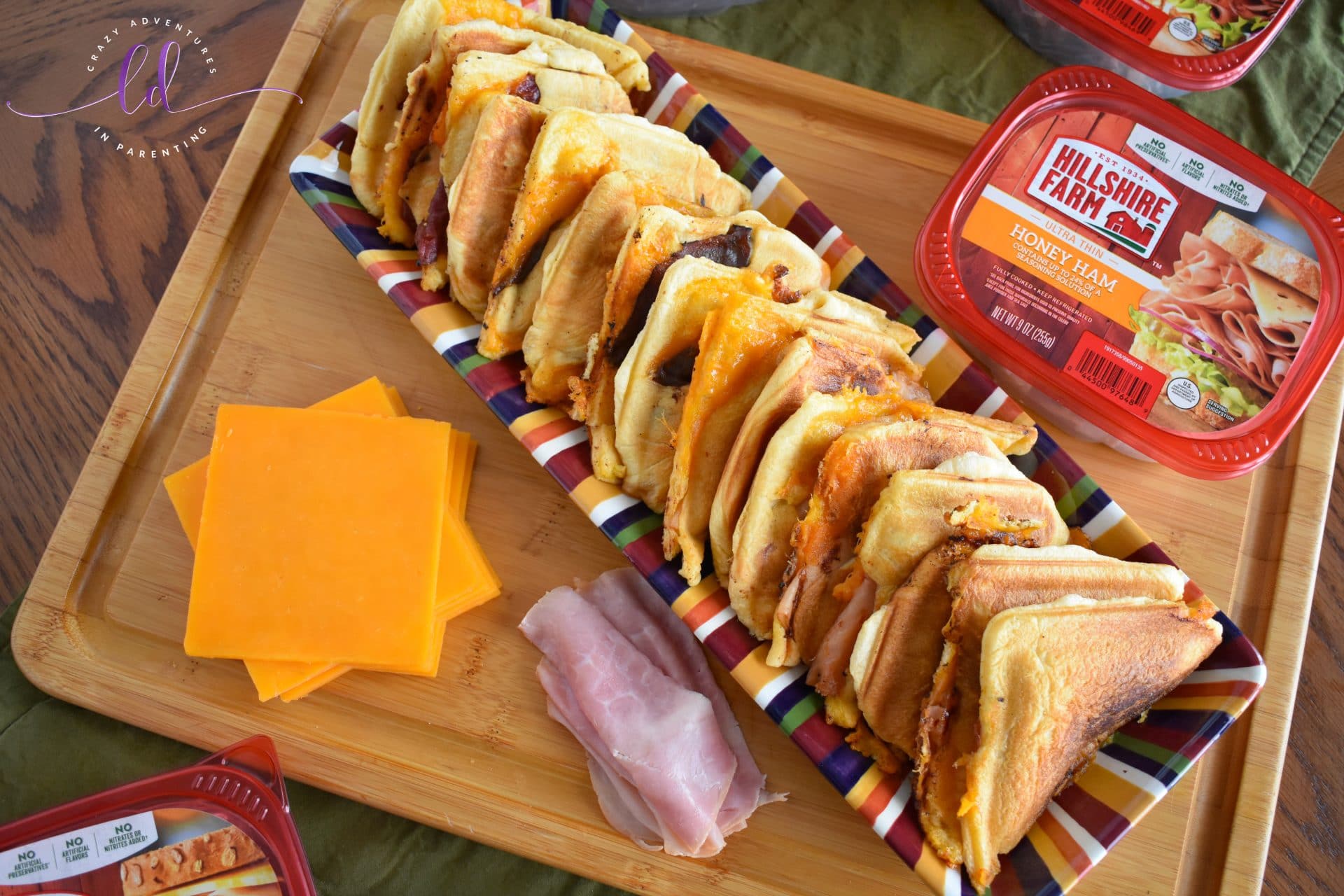 Crescent Roll Sandwich Maker Recipe
To make this fun school lunch recipe for kids, you'll need the Hillshire Farm lunch meat of your choice (we used Honey Ham, Pastrami, Oven Roasted Turkey, and Roast Beef), a couple cans of crescent roll dough, thick cut and sliced cheddar cheese, cooking spray, salt, pepper, and a sandwich maker.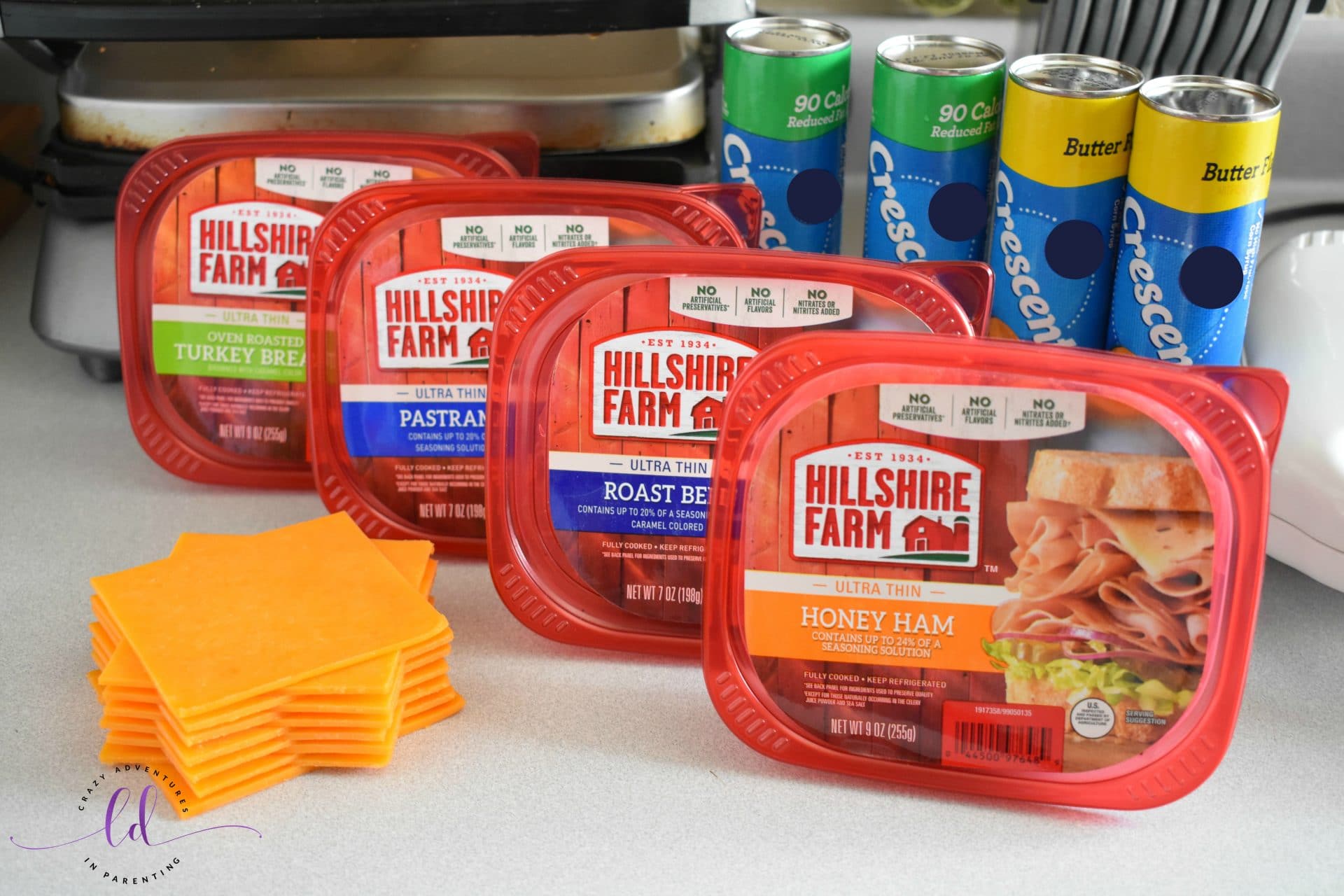 On a large plate or platter, open only one refrigerated can at a time onto the sprayed plate/platter (so that the crescent roll dough doesn't stick to the plate). It is key to keep the cans in the fridge until ready, it's easier to work with! Separate each crescent triangle to get ready to cook.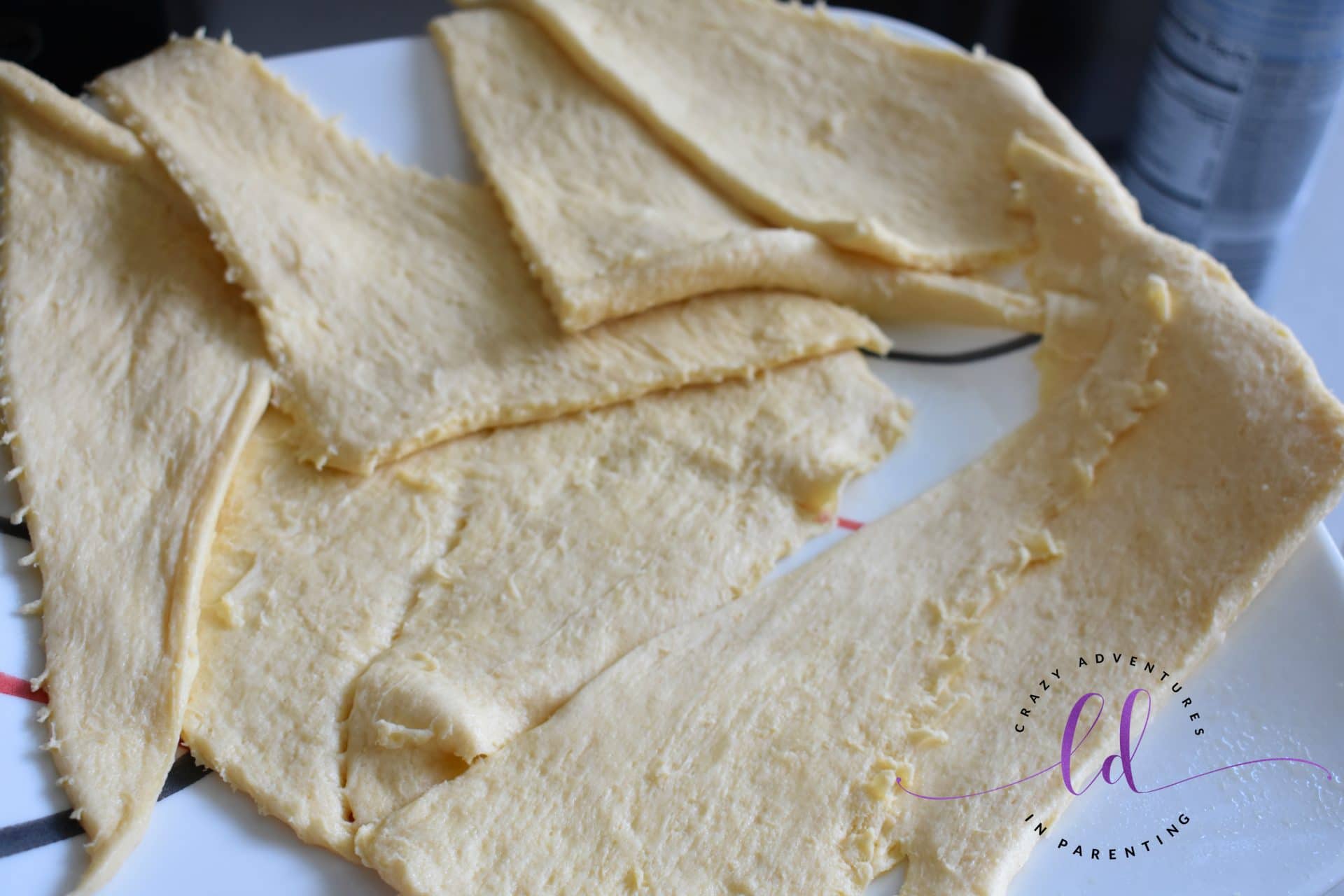 Once the sandwich maker is heated and ready (as indicated by the green light on top), spray the inside generously.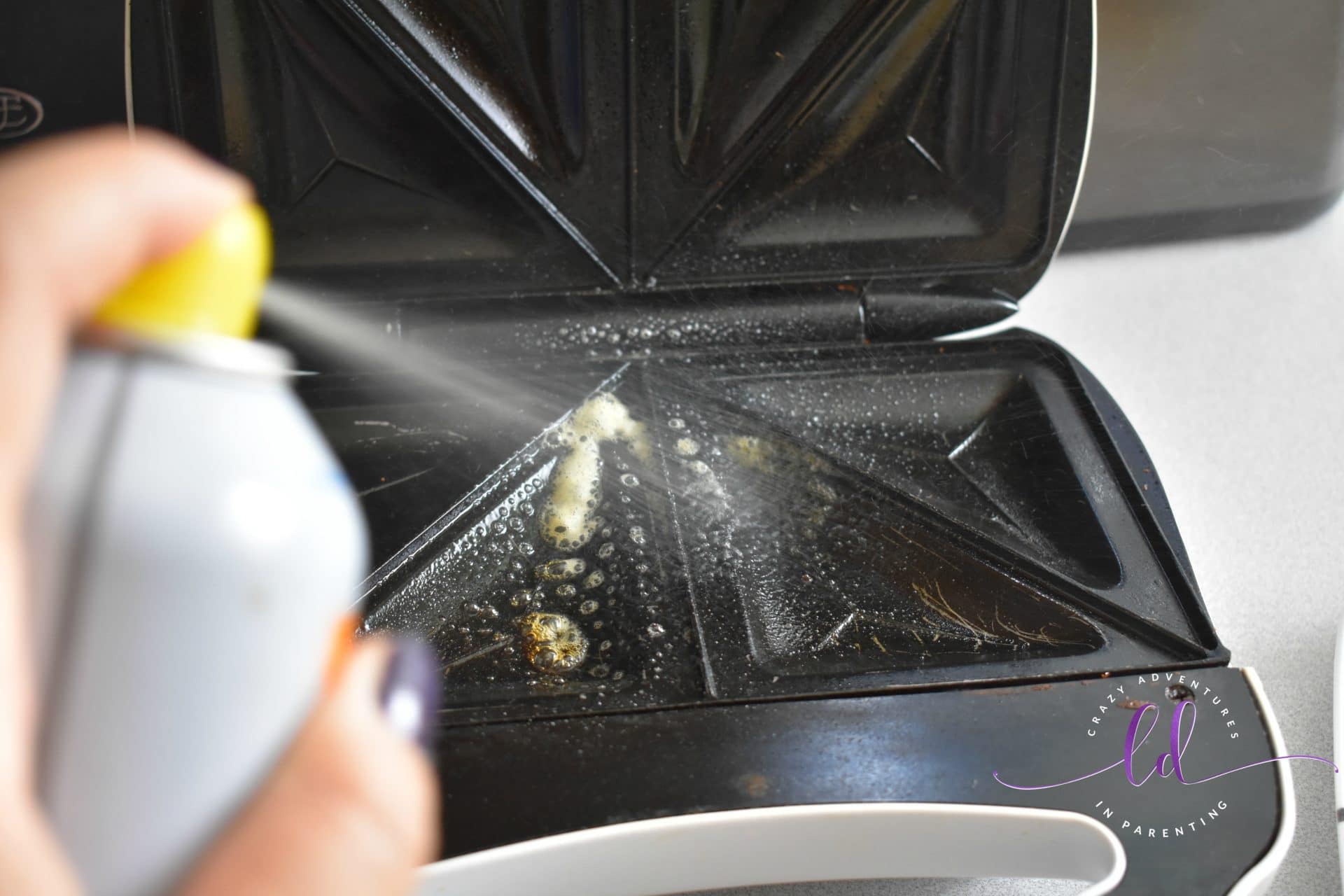 Lay each crescent triangle into the sandwich maker in the direction of the triangles on the heating plate, trying to line up the corners (as shown). You'll end up folding the crescent roll dough in half, essentially.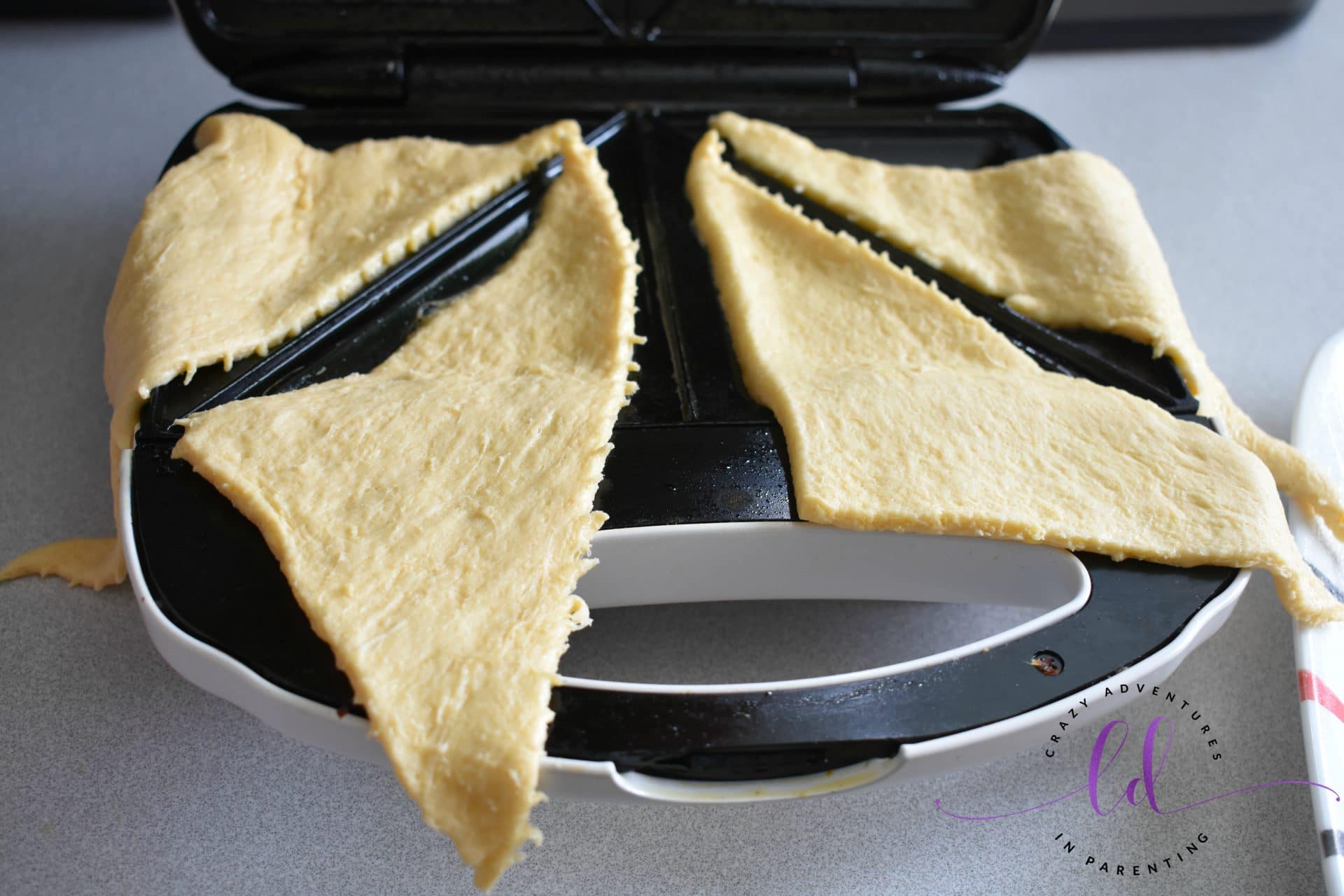 Break your cheese in half, lay each triangle on top of the dough.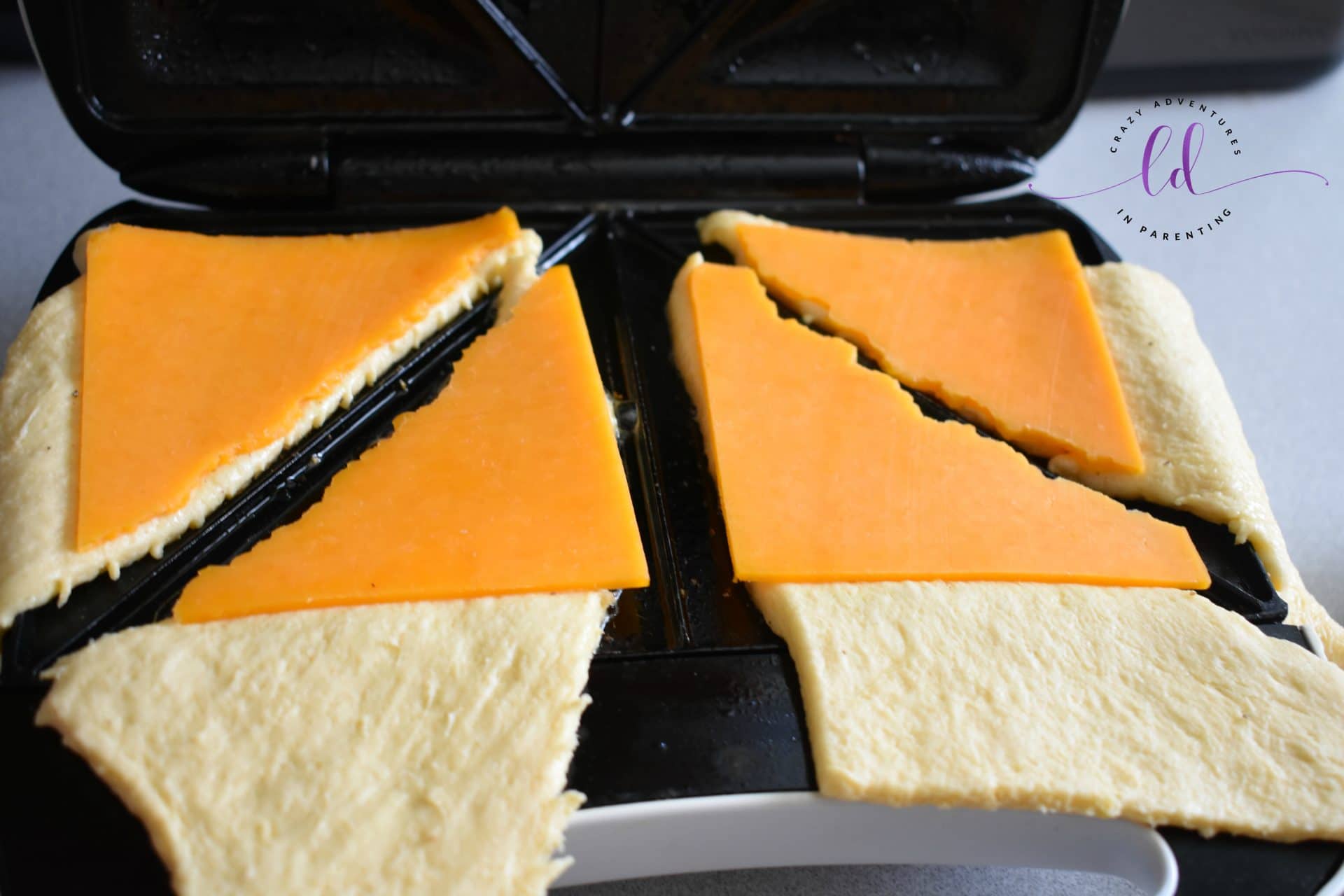 Grabbing one slice of your preferred Hillshire Farm lunch meat, lay on top of the triangle of cheese.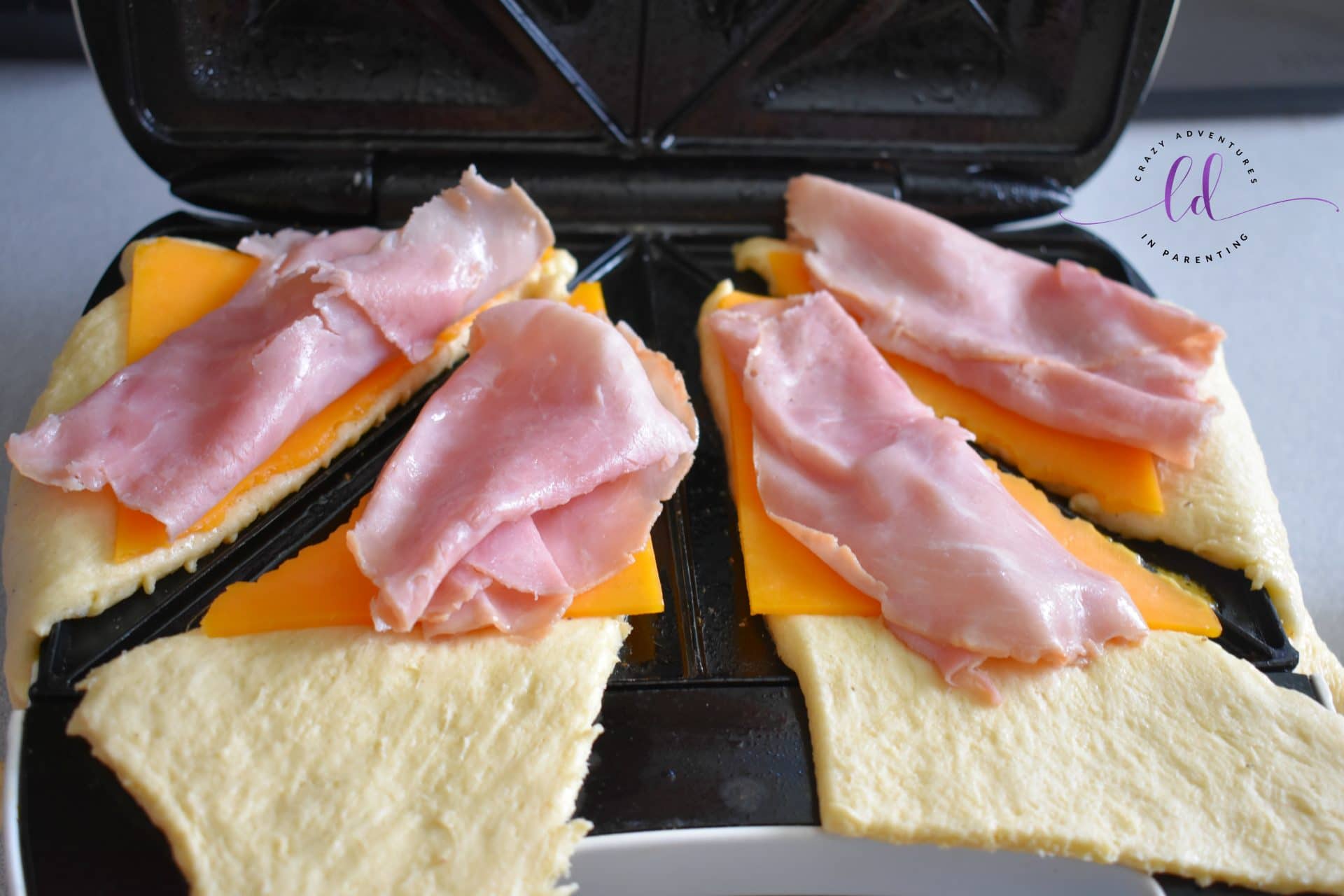 Season the meat. Fold over remaining crescent roll dough on top of the meat and cheese as best as you can. It won't be perfect, but it's alright, because the dough will spread/rise as it's cooking.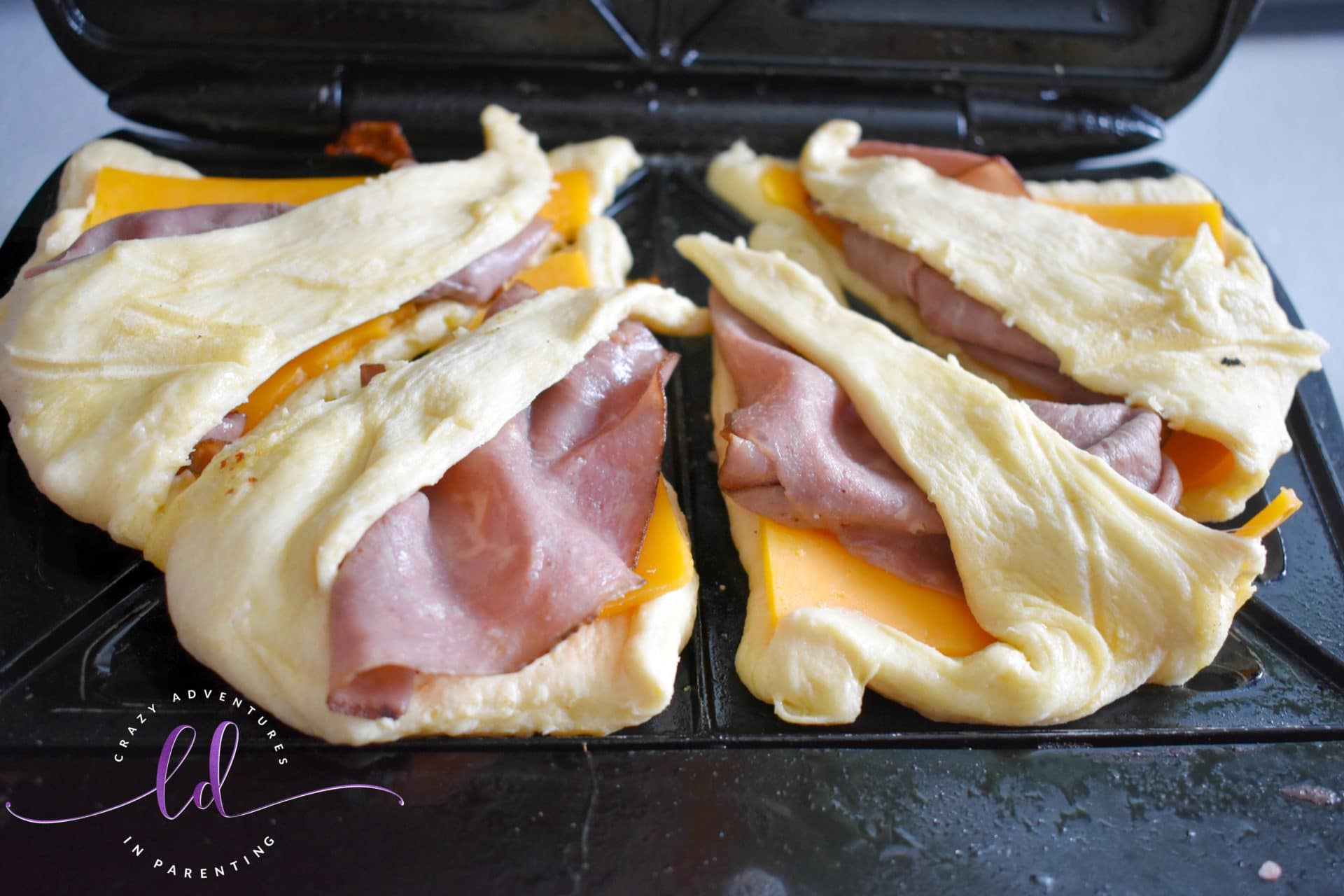 Close your sandwich maker and wait about a minute or so. (Do not wait until the light to turn green, you will end up overcooking/burning the dough.)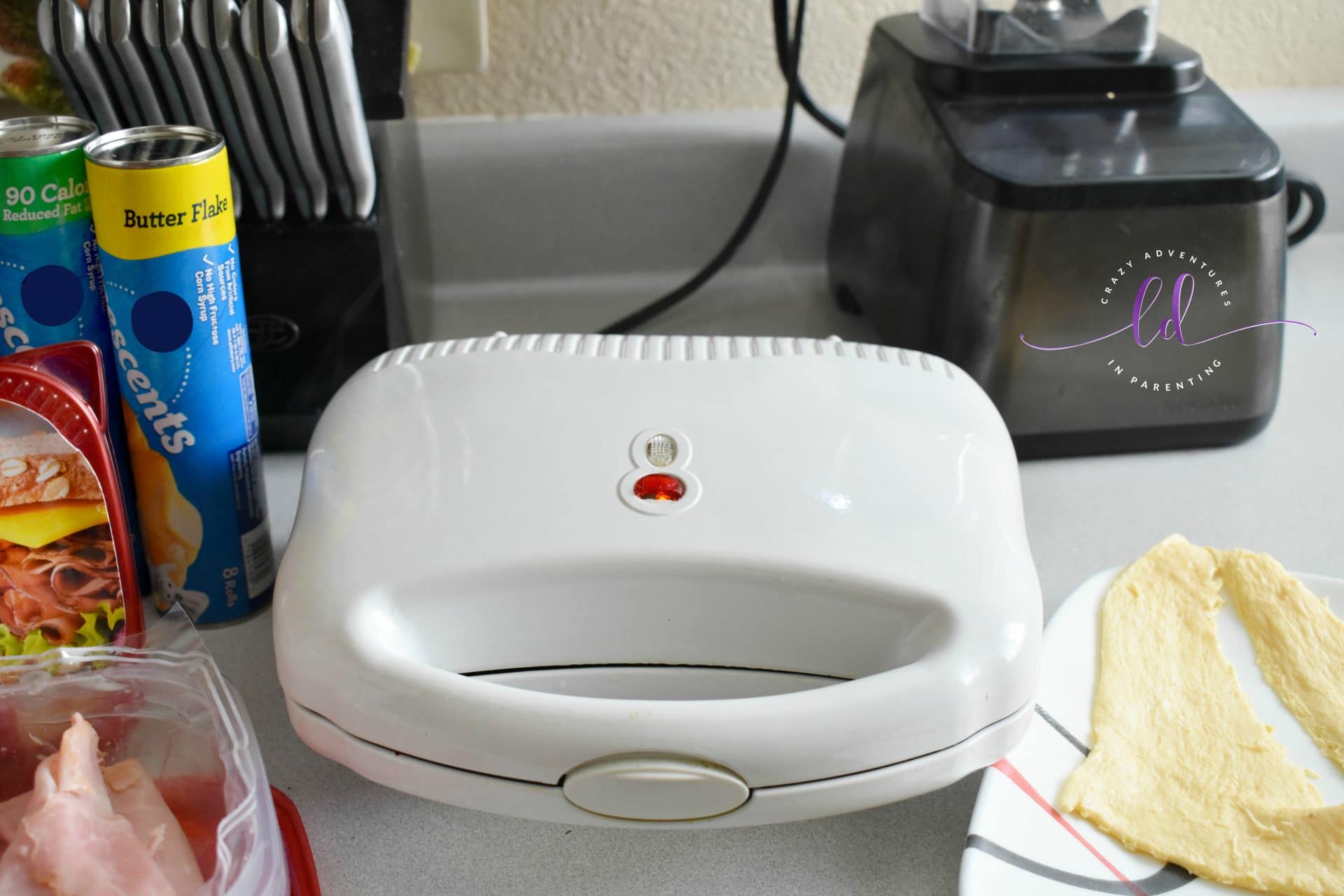 The crescent roll sandwich maker sandwich will be nice and golden brown when finished, like this, shaped into triangles.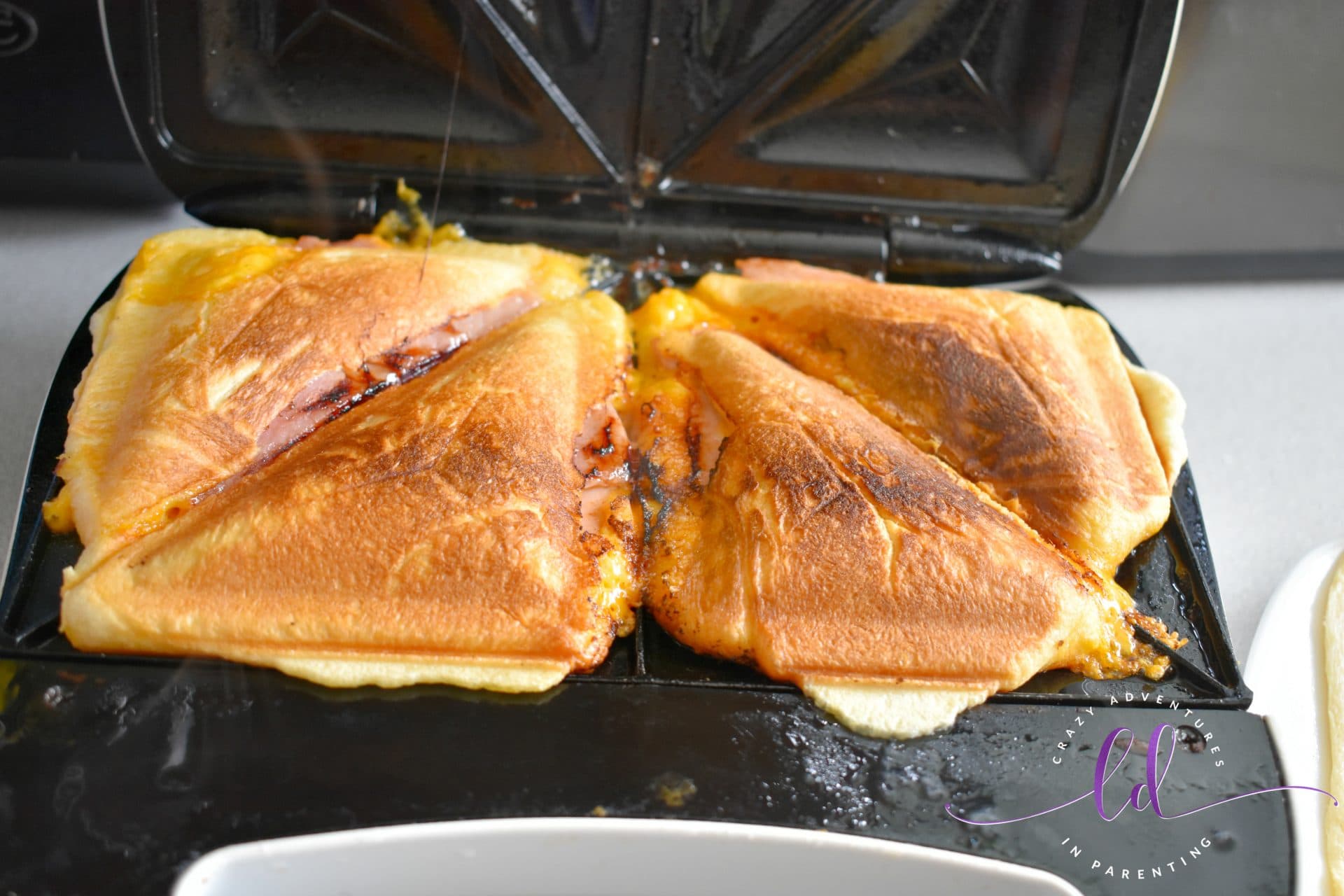 Remove the sandwich maker sandwiches from the heat and onto a plate to cool nearby, separating the triangles from one another.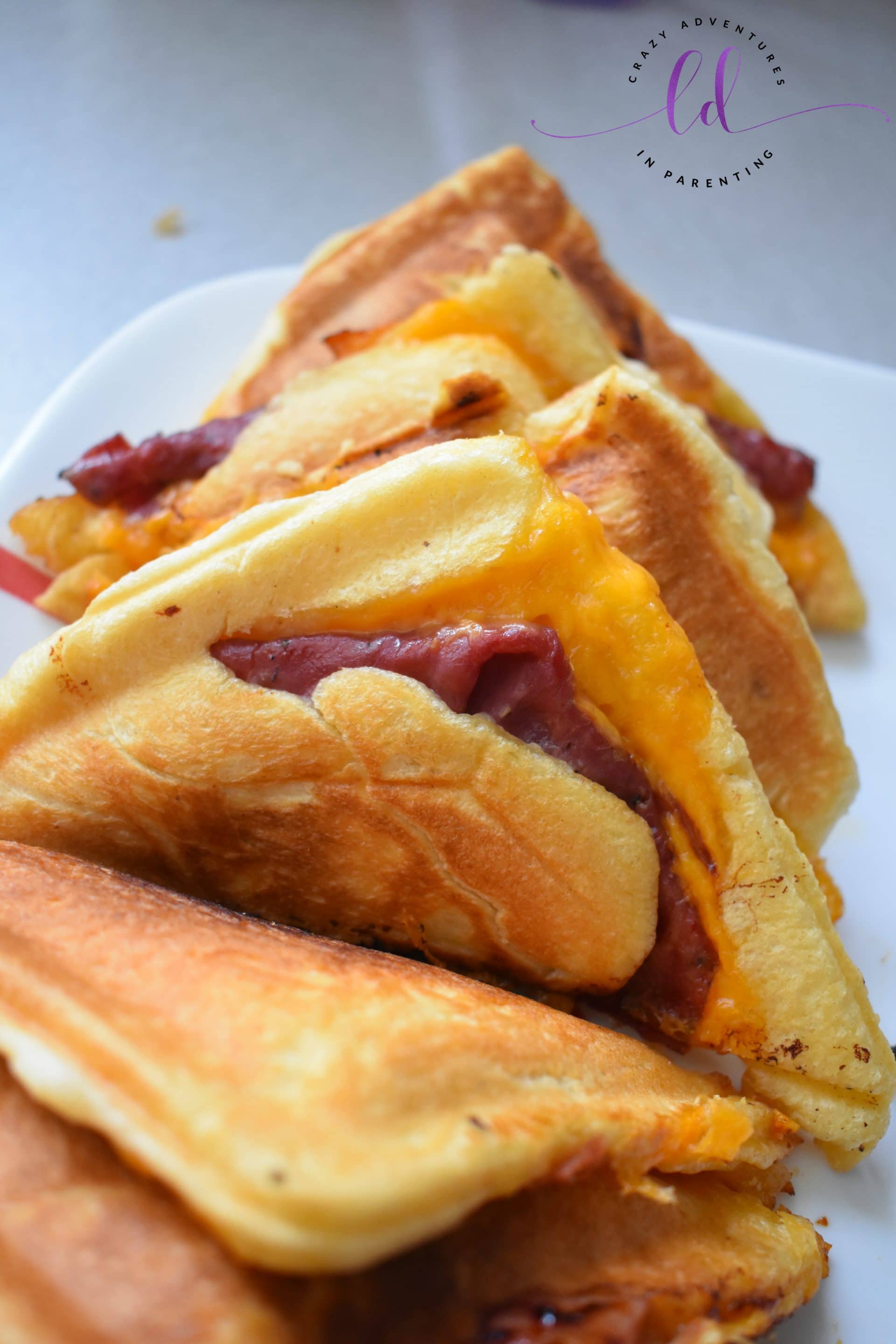 Continue with the above steps until all of your crescent roll dough has been used (each can of dough will make eight crescent roll sandwiches). Look at the beautifulness!!!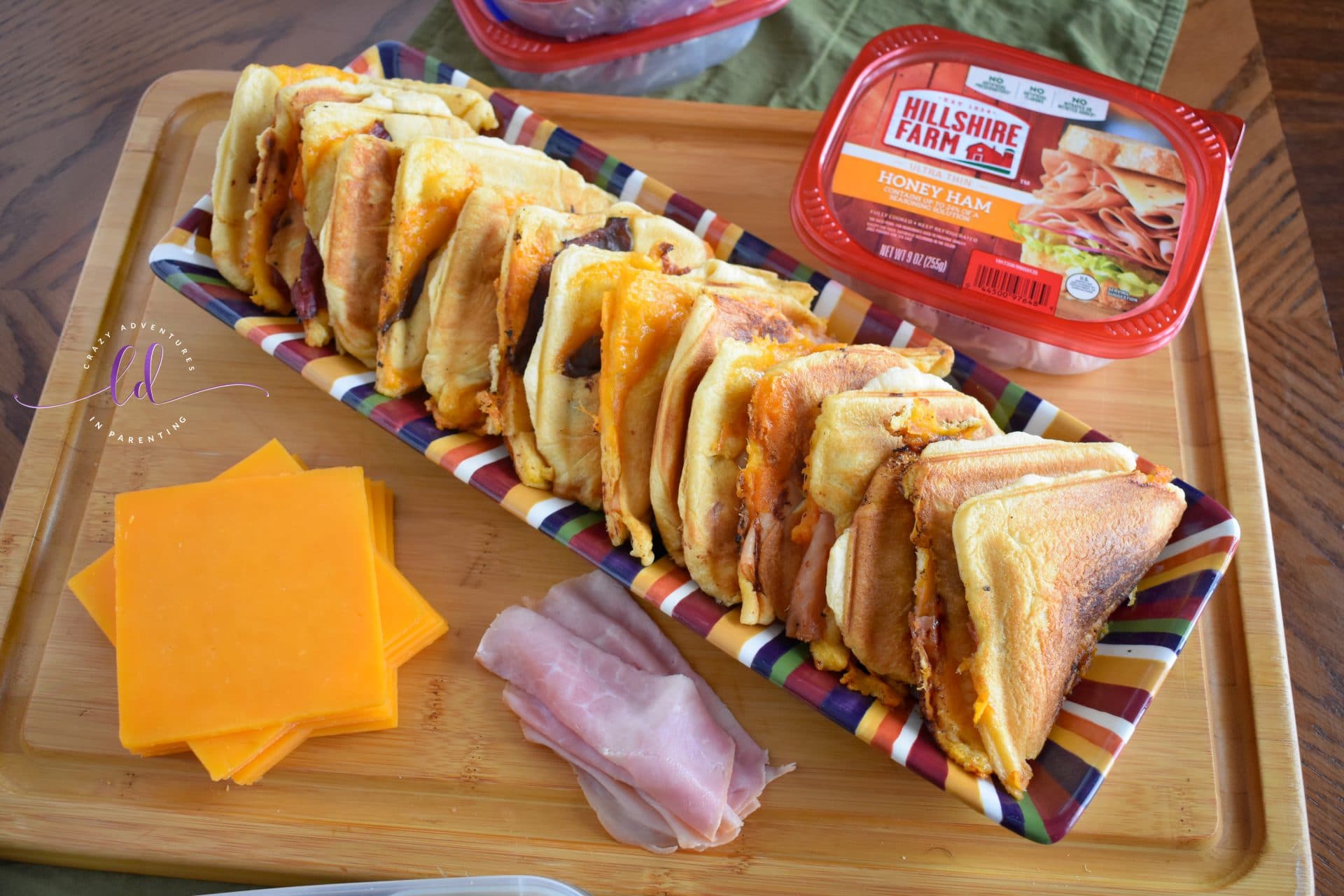 I tell ya, creating your school lunches in advance like this is so handy! Hillshire Farm lunchmeat all melted into ooey goey cheese, all ready to be devoured. These never last, and with good reason, because they are delicious!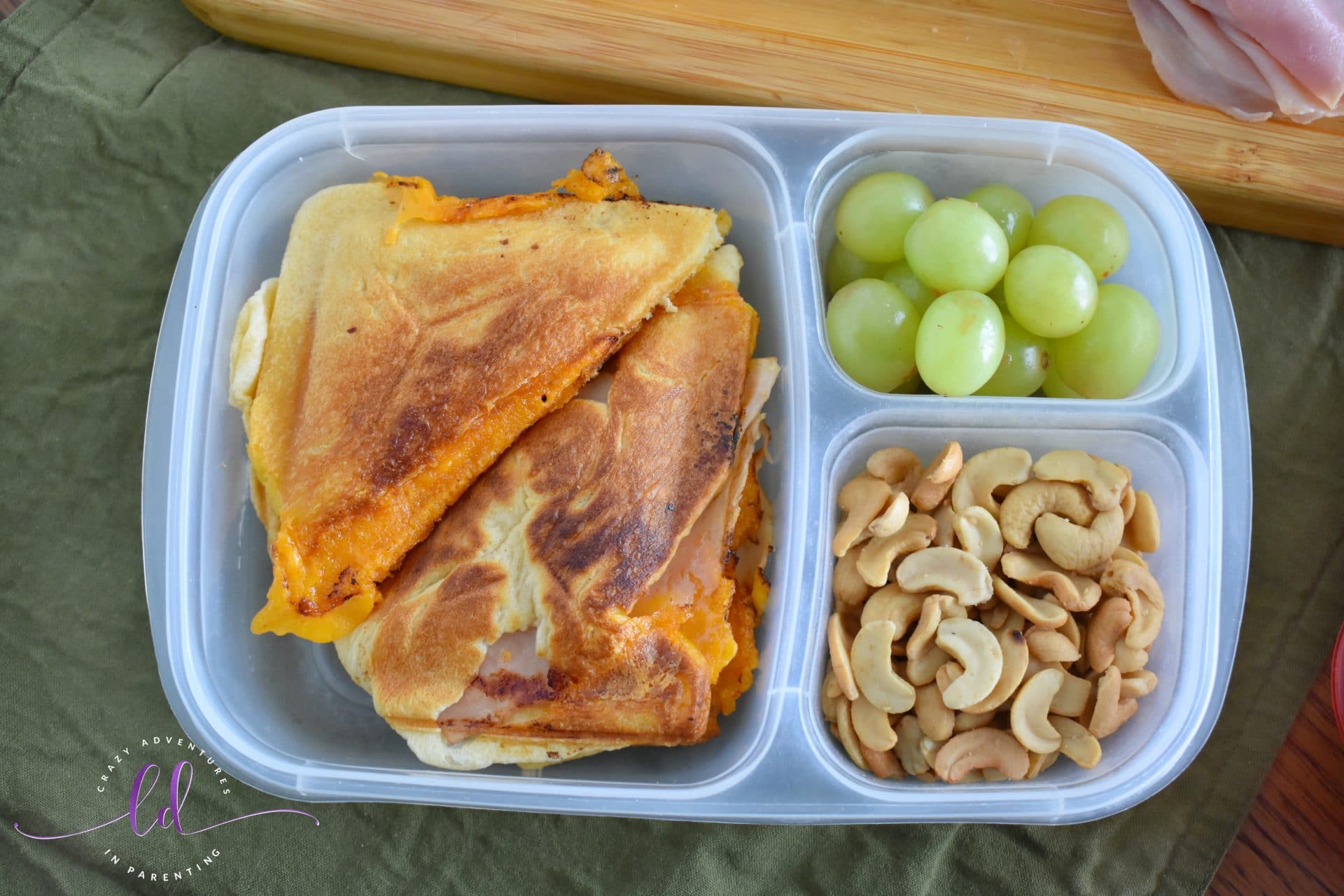 Send the kids to school with a little container of their favorite dressing or condiment, too, because these are the perfect size and shape for dipping!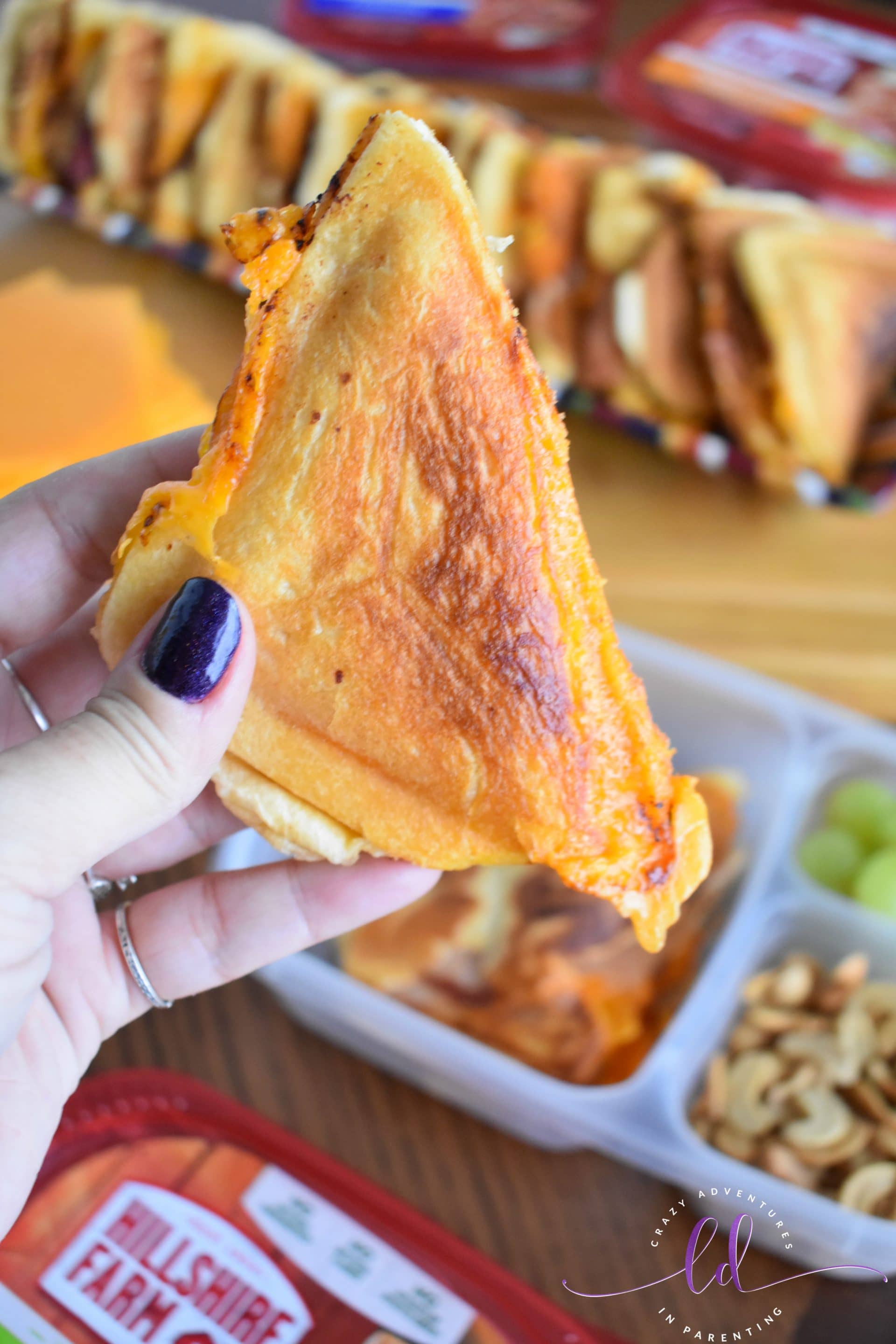 Pair these Hillshire Farm crescent roll sandwiches with your favorite sides for your child's lunch, and be prepared for their friends to want to share!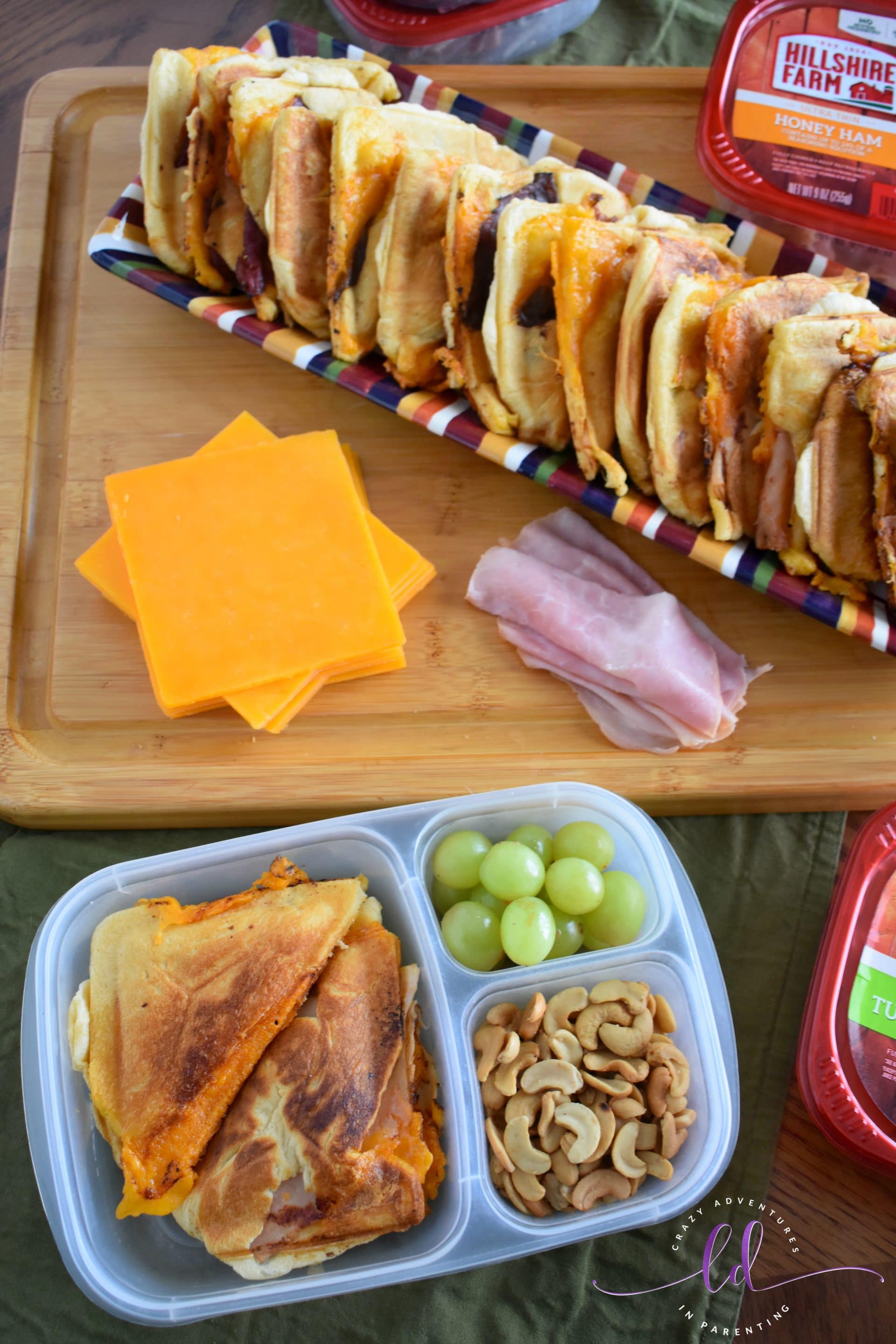 Shopkick app users, check out this great Shopkick deal at Walmart! You can earn up to 400 kicks (100 per product – Tyson Chicken Nuggets or Strips, Hillshire Farm Lunchmeats, State Fair Corn Dogs, and Jimmy Dean Frozen Breakfast) that can be redeemed for gift cards or Fandango movie tickets!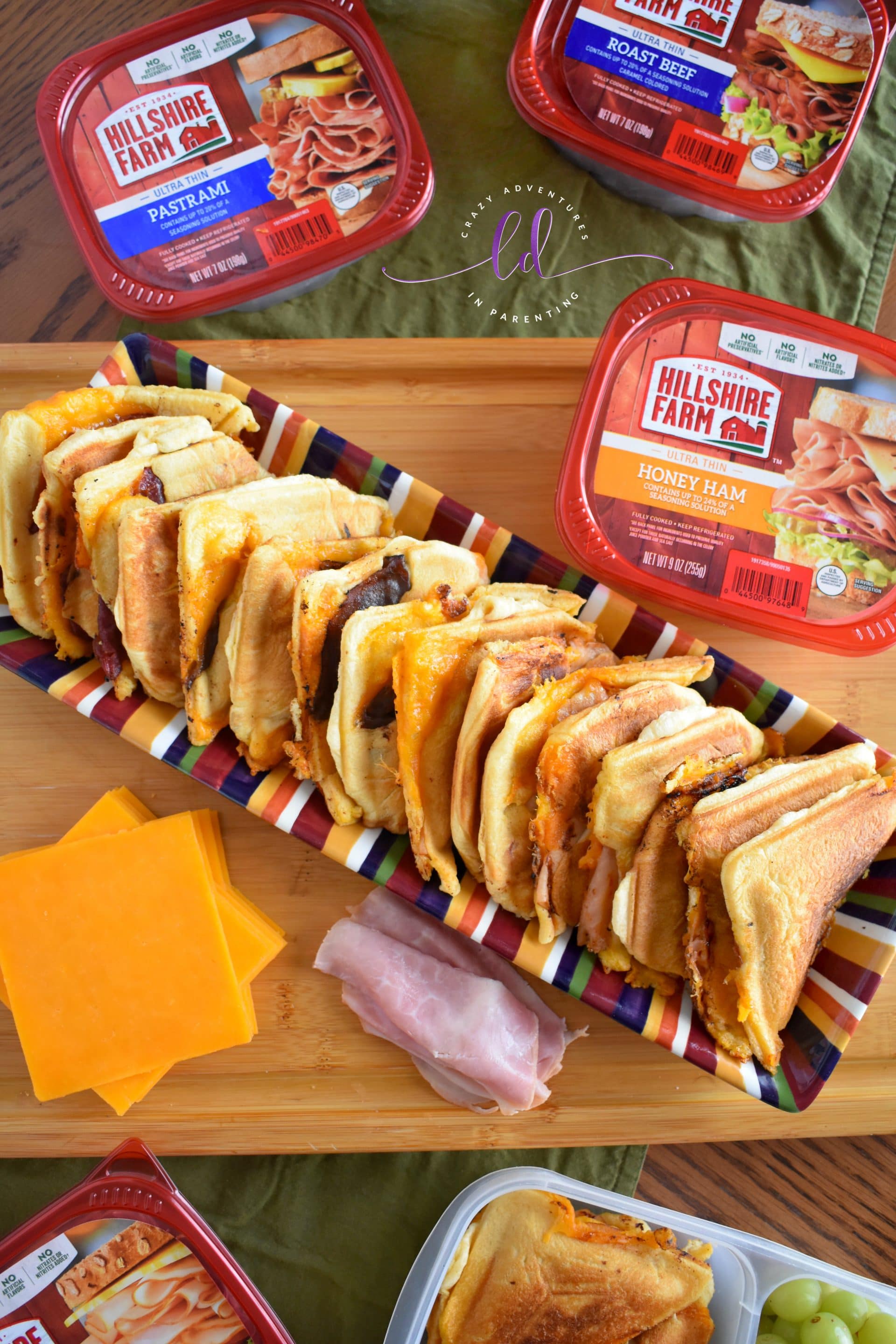 And if you're a fan of Teen Titans Go!, did you know about the upcoming Teen Titans Go! movie coming out? Visit this Teen Titans Go! website to take a quiz to see what character you are, special Teen Titans Go! frames for your images, and much more!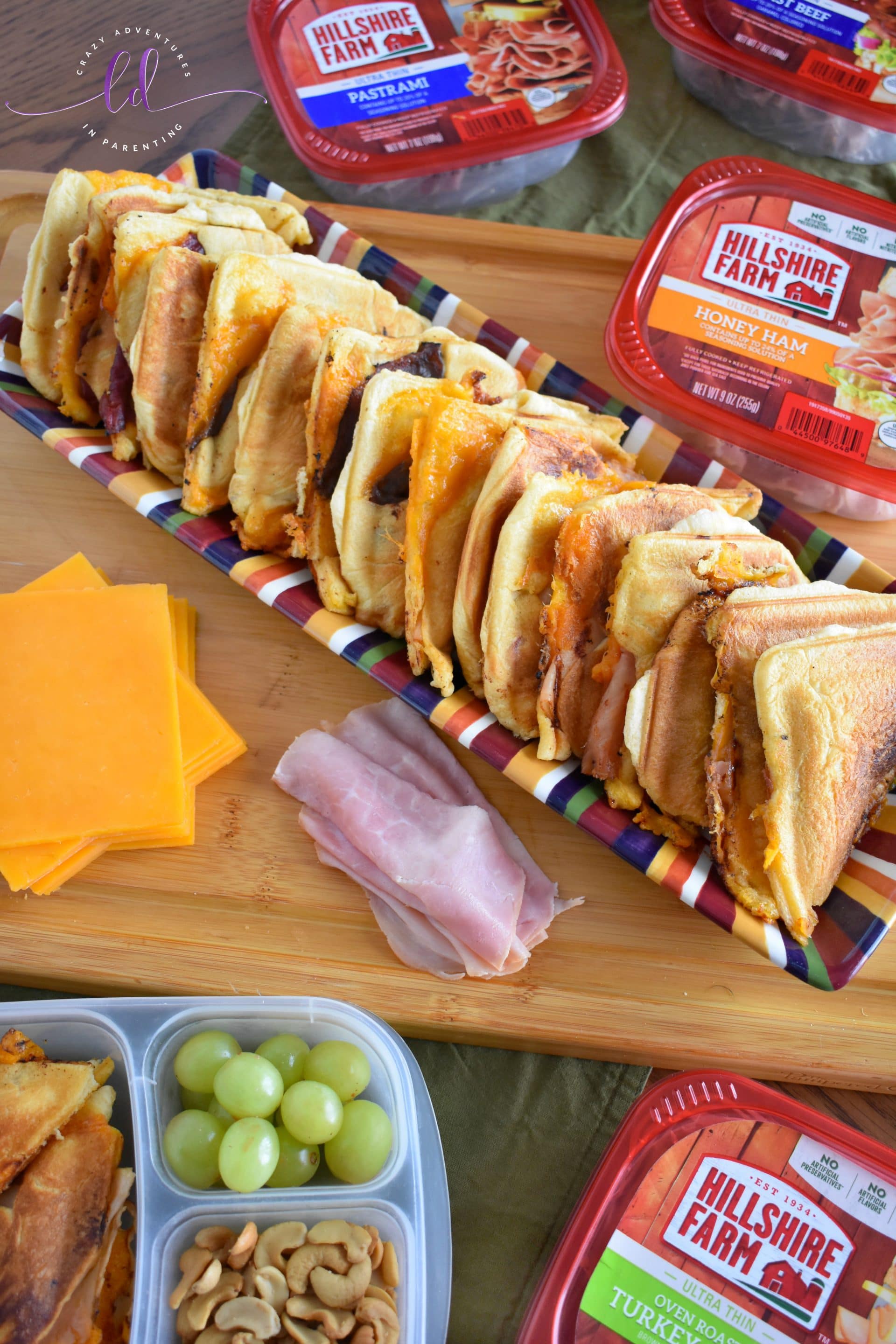 Giveaway!
Want to win tickets to Teen Titans Go! To The Movies? To enter, post an image of your own back to school meal with a Tyson, Jimmy Dean, State Fair, or Hillshire Farm brand product (product packaging must be visible in image) tagging me (@crazyadventuresinparenting) and using hashtag #LisaHillshireFarmBTS on Instagram. Comment on my Instagram image to let me know you've entered from now through 7/30/18! One winner will be chosen randomly by me to win and will receive a DM from me on 7/31/18! One entry per person. Make sure your account is public. Must be 18 or older to participate. Good luck!